Users might get This app has been blocked by your system administrator error message when starting a pre-installed app on Windows 11/10. This error occurs when a PC is connected to a domain network, and the administrator has used the AppLocker to deploy a restriction over the software installation policy. Here is how you, as an administrator, can bypass that error and allow a specific or all users to run a program.
An Administrator has blocked you from running this app
The primary reason for this problem is an application control policy designed by the administrator of your system. Many system administrators do not allow users to install or run various applications during working hours. In most cases, administrators use AppLocker to prevent people from opening Microsoft Store apps on all the computers. You can get the specific error if you are under that restriction, and you are trying to open a Microsoft Store app.
However, many times you may need to allow a specific department to access all the apps due to some work purpose. In that case, you need to create a new rule to allow everyone or a particular user in your network to access apps made by Microsoft. Your system should have Remote Server Administration Tools. Also, you need to create the rule from either Windows 11/10/8-based or Windows Server 2012-based domain controller.
This app has been blocked for your protection by your system administrator
To fix This app has been blocked by your system administrator error, follow these steps-
Open Local Security Policy
Create a new rule in the Packaged app Rules section
At first, you need to open the Local Security Policy on your computer. For that, you can open the Start Menu and search for it. Alternatively, you can press Win+R, type secpol.msc, and hit the Enter button. After that, go to Application Control Policies > AppLocker > Packaged app Rules. You need to right-click on the Packaged app Rules button and select Create New Rule option.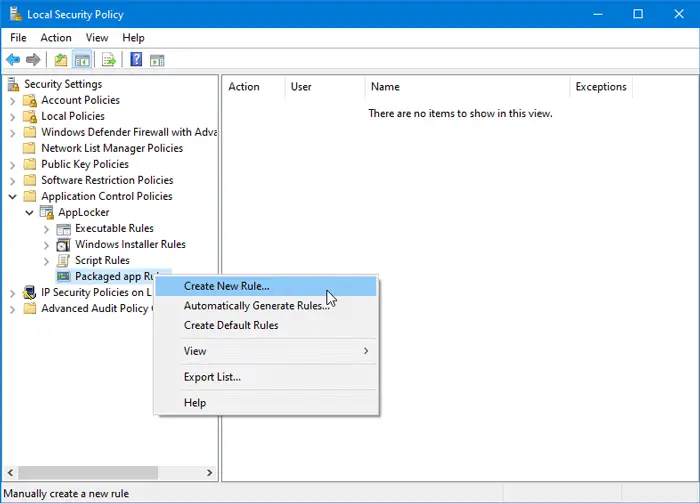 It should open a window where you can find the Next button. It shows all the essential information about creating a rule in the Local Security Policy panel.
In the Permissions window, you need to select the action that you want to perform. That implies you need to choose either Allow or Deny. As you are going to let others run installed programs, you should select Allow. Next, it asks you to select the user or group. If you want to allow everyone across your network to run Microsoft Store apps on the respective computers, you should go with Everyone. If you're going to allow a specific department (sales, HR, accounting, etc.) or user, you must click the Select button, and choose the corresponding username.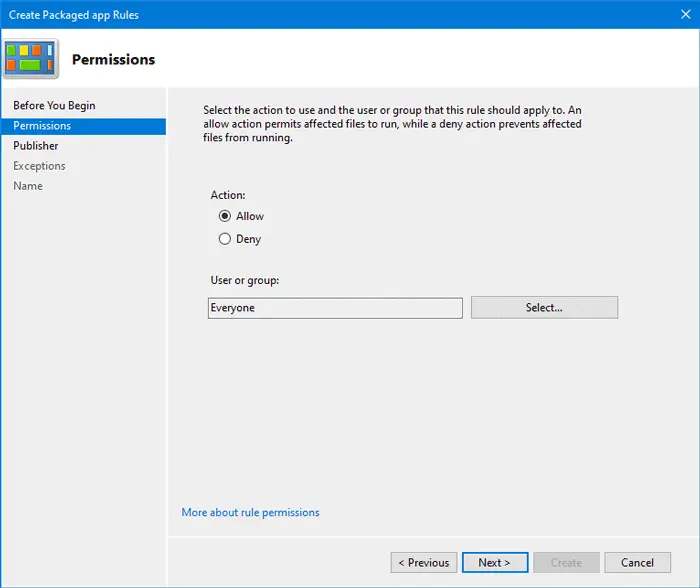 After making all the selections, click the Next button to visit the Publisher tab. Here you can see two primary options-
Use an installed packaged app as a reference
Use a packaged app installer as a reference
If you want to select a specific application, do choose the first option. You need to choose the second option if you're going to include a .appx file or a packaged app installer file as an example or reference. For the second option, you must have the .appx file's path.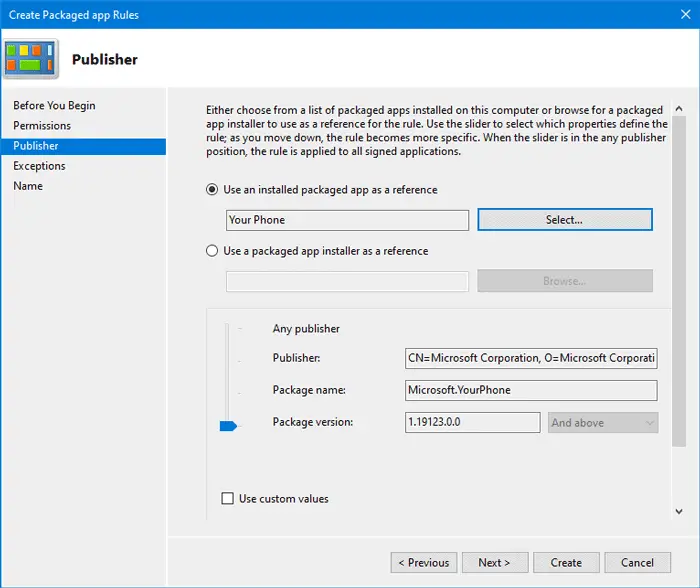 Depending upon your preference, you need to click the Select/Browse button to confirm the reference. After choosing the app or installer file, you should see some other unlocked options-
Any publisher: Users can run programs from any signed publisher.
Publisher: Users can run apps made by one specific publisher. For your information, if the publisher has five apps in the system, users can run all of them. According to the screenshot, it is Microsoft Corporation.
Package name: Users can use only one specific application that carries the given package name. Although it doesn't happen, if multiple apps have the same package name, users can run all of them.
Package version: If you do not want to allow users to update and run a newer version of an app, you should specify the app version.
To select any specific rule, make a tick in the Use custom values checkbox, and use the lever on the left side to choose an option.
At last, click the Next button to visit the Exceptions tab. This facility is handy when you want to override your custom rule in different situations. You can click the Add button to create an exception.
If you do not want to create an exception, click the Next button to enter a name and description for your rule. It will let you recognize the rule in the future.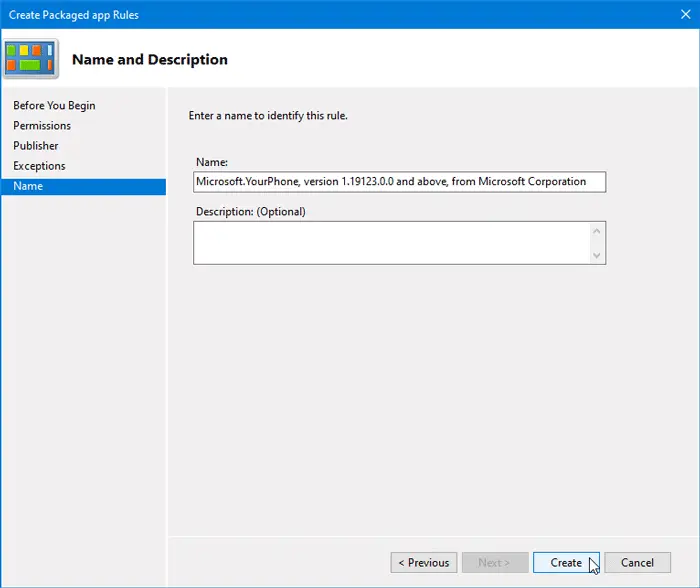 After doing that, click the Create button. Now you should see the newly created rule in the Packaged app Rules section. In case you want to delete this rule, right-click on it and select Delete. Following that, you have to confirm the deletion.
That's it! This tip should help you fix Your system administrator error that has blocked this app on Windows 11/10.
Related read: This app has been blocked due to Company Policy.
How to open a file blocked by Microsoft Security SmartScreen?
Press the Start button, and search Windows Security, and open it once it appears
Click on App and browser control
Open Reputation-based protection settings
Click on Protection History
Locate the app which Microsoft Security blocked
Unblock, and you should be able to use the app.
So if you want to see what Microsoft Security or Windows Defender is blocking, this is the place to check.
My PC is not part of any organization; why are the downloaded files being blocked?
It's not about your PC, but it is Microsoft Edge or Chrome feature that blocked unwanted apps, i.e., apps reported to be rouge or new. However, you can always allow it and use it if you trust them enough.
Read: This app has been blocked for your protection
How do I unblock a blocked website?
If you are trying to access a website that is not accessible, you should use a VPN to bypass the restriction. If your PC is restricted using the Microsoft Family feature or any other software, you need to ask the admin to give you access. Lastly, if the browser is blocking, check with another browser, and if it's blocked everywhere for security reasons, it's best not to access it.