Windows 11/10 includes several new security features for your protection. One of them prevents unauthorized access to system files. While this is good for your safety, at times it may block legitimate access, and you may end up with an error – This app has been blocked for your protection, An administrator has blocked you from running this app.
This app has been blocked for your protection
If you receive This app has been blocked for your protection message while running a program, you have the following methods to fix the issue on Windows 11/10:
Run the executable using elevated CMD
Disable SmartScreen
Run net user command
Temporarily disable UAC
Use GPEDIT
Use REGEDIT.
1] Run the executable using elevated CMD
From the WinX Menu open Command Prompt as Administrator and try to open it.
It should work. If it is gpedit.msc or regedit.exe, simply type these words and hit Enter.
If it is some installed program, type the path to the executable and hit Enter. To get the path, right-click the exe file and press Ctrl+Shift+C to copy its path.
2] Disable SmartScreen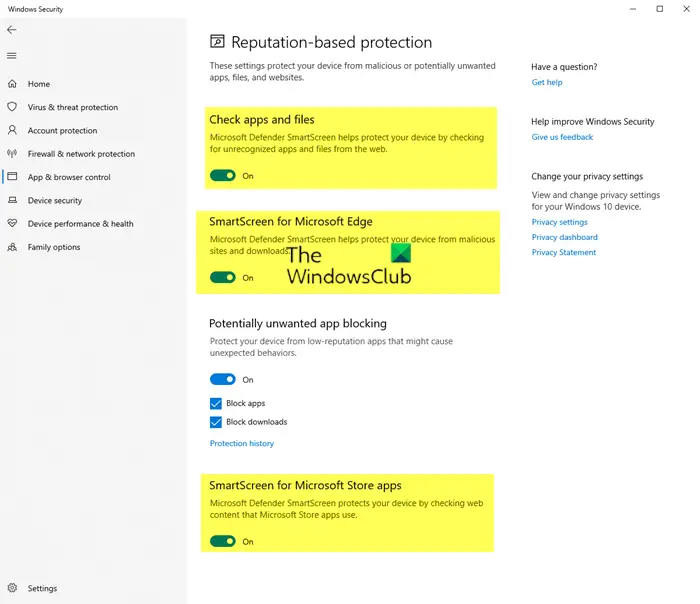 If you receive this error message, here is a way to bypass the issue. But before that, we would suggest you turn off the SmartScreen filter and see if it helps. You may use our Ultimate Windows Tweaker to do so in a click.
If toggling the SmartScreen filter doesn't help, try running the program from an elevated command prompt. If all the mentioned steps fail to help you install the program then, you may be required to temporarily bypass the issue. This will of course work on Windows 10/8.1 and Windows 7, as well.
3] Run net user command
The steps outlined below will help you bypass the issue:
Open "WinX Menu" and select "Command Prompt (Admin)".
Once the command prompt window is opened, just punch in the following command and hit Enter:
net user administrator /active:yes
After entering the command, you will see a message that says "The command completed successfully".
What you have done is enabled the hidden super administrative user account.
Restart your computer.
At the login screen, again log into your Administrator account. SmartScreen protection for the operating system will be turned off.
At this juncture, there should be absolutely no problem in installing any programs and once you are done with the necessary installations, log out of the admin account, and use any account of your choice.
It is not very safe to keep this Super Admin account active, as this super administrator account has elevated privileges, and so we would suggest you to disable the account, once your work is done, so as to keep hackers and cybercriminals at bay.
To disable it, go to command prompt and execute the following command
net user administrator /active:no
4] Temporarily disable UAC
Temporarily turn off UAC and see if you can run the app.
Do not forget to enable it back again.
5] Use GPEDIT
Run gpedit.msc to open the Local Group Policy Editor.
Navigate to Computer Configuration > Windows Settings > Security Settings > Local Policies > Security Options.
In the right pane look for User Account Control: Run all administrators in Admin Approval Mode.
This policy setting controls the behavior of all User Account Control (UAC) policy settings for the computer. If you change this policy setting, you must restart your computer.

The options are:

Enabled: (Default) Admin Approval Mode is enabled. This policy must be enabled and related UAC policy settings must also be set appropriately to allow the built-in Administrator account and all other users who are members of the Administrators group to run in Admin Approval Mode.

Disabled: Admin Approval Mode and all related UAC policy settings are disabled. Note: If this policy setting is disabled, the Security Center notifies you that the overall security of the operating system has been reduced.
Double-click the policy to open its Properties box.
Select Disabled, click Apply, and exit.
Similar read:
6] Use REGEDIT
Run regedit to open the Registry Editor.
Navigate to the following key:
Computer\HKEY_LOCAL_MACHINE\SOFTWARE\Microsoft\Windows\CurrentVersion\Policies\System
Now on the right, double click on EnableLUA and set the Value data to 0.
Please note that when you disable the UAC, you do reduce the security level of your computer – and so this must not be looked upon as a permanent solution.
Related reads:
This app has been blocked for your protection by your system administrator