Remote Server Administration Tools (RSAT) for Windows 10 is a collection of programs for IT pro. It helps to manage Servers from a Windows 10 computer. Starting with Windows 10 v1809 aka October 2018 update, one needs to Install Remote Server Administration Tools for Windows 10 as Optional Features or as Features on Demand. 
The program includes Server Manager, Microsoft Management Console (MMC) snap-ins, consoles, Windows PowerShell cmdlets and providers, and command-line tools for managing roles and features that run on Windows Server.
Install Remote Server Administration Tools on Windows 10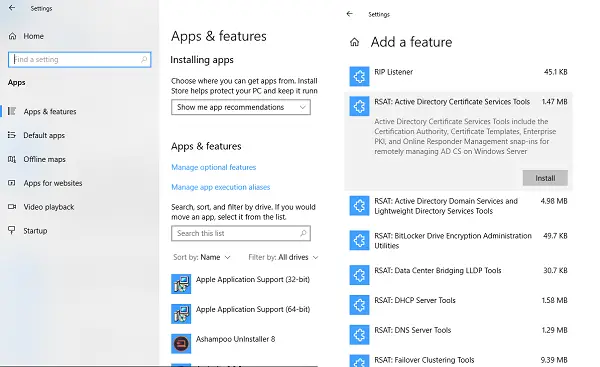 If you are running Windows 10 v1809 or later, RSAT tool needs to be installed as a set of "Features on Demand" right from Windows 10. You can install RSAT tools on Windows 10 Professional or Windows 10 Enterprise. That said, make sure that you do not install RSAT directly from Microsoft Download page.
Open Settings, and navigate to Apps > Apps & Features
Click on Manage Optional Features > Add a Feature.  This will load all the optional features one can install.
Scroll to find the listing of all RSAT tools.
As of now, there are like 18 RSAT tools. Depending on what you need, click and install it.
Go back, and you should be able to see the installation progress. Click on Manage Optional Features Page to see the status. If you are comfortable with command line, or automation, you can install Remote Server Administration Tools for Windows 10 using DISM /add-capability. Read more about this on Microsoft.
Note: When you install anything using "Features on Demand", they stay across Windows 10 version upgrades.
How to uninstall specific RSAT tools on Windows 10 v1809 and later
If you feel you don't need an RSAT feature, you can uninstall from Manage Option Features. However, do remember that some tools depend on another. So if you uninstall anything, and if it has a dependency, it will fail.
Navigate to Settings > Apps > Manage Optional Features.
Find the list of installed feature that appears post this.
Next, select the feature you want to uninstall and go back.
Note: You can also uninstall it using command-line tools or automation using DISM /remove-capability.
Read: RSAT missing DNS server tool in Windows 10?
To install Remote Server Administration Tools for Windows 10 (before v1809)
If you haven't installed the October update yet, you can install the RSAT tool by directly downloading from Microsoft. Make sure to select the right language and Windows versions. It is available in the following languages: cs-CZ, de-DE, en-US, es-ES, fr-FR, hu-HU, it-IT, ja-JP, ko-KR, nl-NL, pl-PL, pt-BR, pt-PT, ru-RU, sv-SE, tr-TR, zh-CN, and zh-TW. This means you will need to install a relevant language pack if its different from what you want to use.
Once installed, you can use the same Manage Optional Features section. Add or remove part of the tools which is not needed anymore.