EventSentry Light is a free System Monitoring, Log Management software for Windows systems that will interest System & Network Administrators. This free tool will allow you to manage and monitor system and network logs as well as monitors the health of your system. While one can always use the built-in Event Viewer to monitor the logs, for those who may be looking for a more feature-rich robust software, EventSentry Light could well be the answer.
EventSentry Light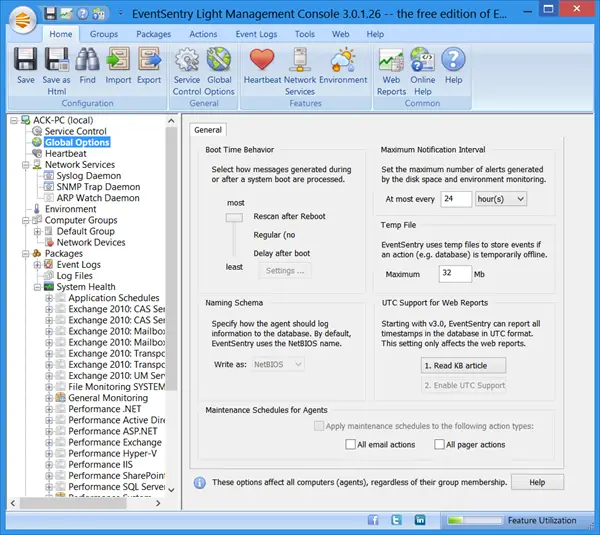 EventSentry Light comes in two versions, the paid version and the free EventSentry Light version. The free EventSentry Light version offers the following features:
Advanced Event Log Monitoring
Basic Log File Monitoring
Advanced Notification Types
Advanced System Health Monitoring
The free version does not include Remote Update Utility, EventSentry Database Import Utility, Tracking features, and a few other features.
EventSentry Light lets you receive critical alerts and allows you to consolidate all your logs in one place with real-time event logs, log files, and system log monitoring. Sophisticated rule sets ensure you only get the alerts you need, but the tool also gives you insights into all of your logs.
The Performance Monitoring module can track and log your computer's CPU and Memory usage.
Its Software Monitoring option will log whenever any software is installed or uninstalled and record those programs that have configured themselves to load when Windows starts.
The Disk Space monitor is a pretty handy module as it can alert you if the disk space drops below a certain level. It can also monitor the size of the folders.
While the built-in tools and modules can be seen to be neatly arranged, the amount of information that the free software can provide can be pretty overwhelming to the beginner.
EventSentry Light free download
You can download EventSentry Light free from its download page.