If when you visit the Microsoft Windows Store to download one or more games to your Windows 11/10 device, but some of the games Install buttons are greyed out, then you're at the right place for a fix to this issue. In this post, we will present a case scenario and then offer a potential solution to fix the issue.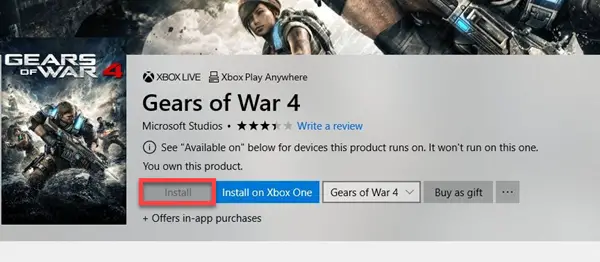 Microsoft Store Install button is greyed out
If the Install button is greyed out for some Apps or Games in Microsoft Store, you may try the following suggestions:
Restart your PC and check.
Clear browser cache or use a different browser and see.
Change your Internet connection and see. This has been known to help!
Check if your default Windows Firewall is disabled. It needs to be enabled.
Disable your Antivirus and VPN software and see.
Sign out and then sign in to the Store again.
Run the Windows Store Apps Troubleshooter.
Incidentally, our freeware FixWin for Windows, lets you reset Windows Store Cache, run Troubleshooters, etc, in a click.
Our freeware 10AppsManager will also let you reinstall the Windows Store with a click.
We hope that something here has helped you resolve the issue.