I was browsing the Windows forums to check out some of the common issues, and I found that many were looking for a solution to fix the error message The update is not applicable to your computer. So I decided to collect as much as information I can and make an article which might help some of you who may be facing the same issue.
The update is not applicable to your computer
The scenario is that, when you try to install Windows 10/8.1, using Windows Update Standalone Installer, you might receive this error message – The update is not applicable to your computer. After some research, I found out that this happens mainly because of two reasons.
The first reason if you have a different language version that the Windows supported ones. What you can do is you can download the Windows 10/8.1 ISO and upgrade your Windows version. Here is the kicker – by doing so you'll lose all the applications. According to the Windows FAQ, if you install Windows in a language that's different from the language currently on your PC, you can only keep your files, not your apps or settings. Then if you're running Windows OS and have installed a language pack or a language interface pack (LIP), then they'll be removed when you install the later Windows OS version.
Read: The update isn't applicable to your computer error message while updating Windows.
Then when it comes to Windows 8.1 RT users, Microsoft warns not to change the base language just to install Windows 8.1 preview since that will permanently change the base language since Microsoft has created a new restore image based on your selected 8.1 base language during install. Microsoft has released a Windows update KB2865138 that prevents users from installing Language packs. This update is installed when you update to Windows 8.1 Preview.
Now how do you get your language back:
Press Win + X and select Windows PowerShell (Admin)
Type dism /online /get-intl and hit Enter.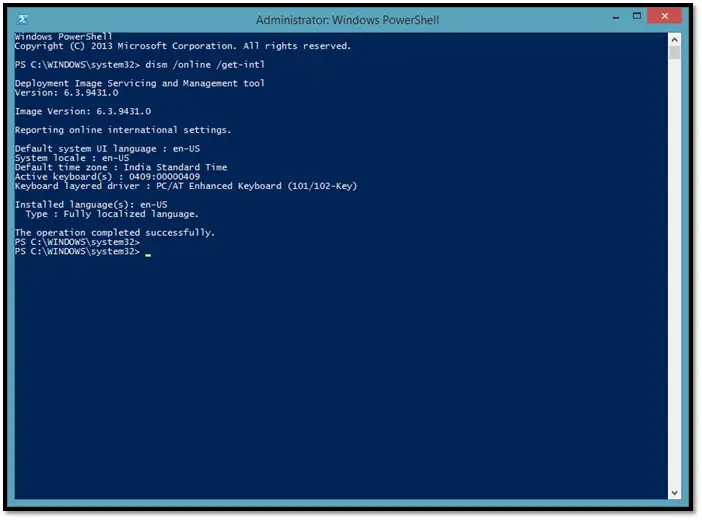 This should get you the language pack installed on your operating system. So this will be a good step to try to check if your machine is now compatible.
The other scenario is if you're running Windows Enterprise. Then you'll need to download the ISO image. I have to stress this point again you cannot upgrade or keep your Windows settings, personal files, or applications if you are performing a cross-language installation. You can only keep your files during a cross-language installation using Windows Setup.
Now there are few workarounds to bypass the error. The first one is to change the base language of the operating system to a supported one then apply the update. The next one is to manually apply the Windows update file.
Manually Install Windows
Download the required Windows Update package by clicking on "Get the update."
Then create a folder under C drive called Win8. Then move the downloaded file there. Next, open a command prompt as administrator and type in
Expand -F:* C:\Win8\Windows8-RT-KB2849636-x64.

msu

 C:\Win8\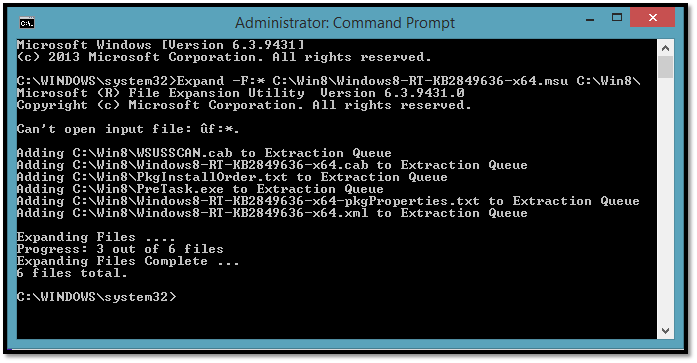 Now open a command prompt as administrator and type in
DISM.exe /Online /Add-Package /PackagePath:C:\Win8\Windows8-RT-KB2849636-x64.cab



Reboot your system, and you should be getting the notification to download Windows. If that does not work, then try to change the Language pack from Control Panel.
Go to Windows UI screen and type in Language
Click on Region and Language Setting
Click on Add a Language and download and install "English (United States)" then set as primary. Now it should work.
If the above setup does not work, then I'm afraid you need to do a clean install. I hope you find this article helpful. In case if you have any issues, please feel free to post it under the comments section.
I would like to thank Michael, Charles [MSFT] at Answers forum for the tips and Martin Hinshelwood.
Check this post if you receive Your Windows install couldn't be completed error message.