When browsing through your folder structure on your Windows system drive, you may have wondered why your System32 folder is too big on your Windows 11/10 computer. If you have this question, then this post is sure to help you.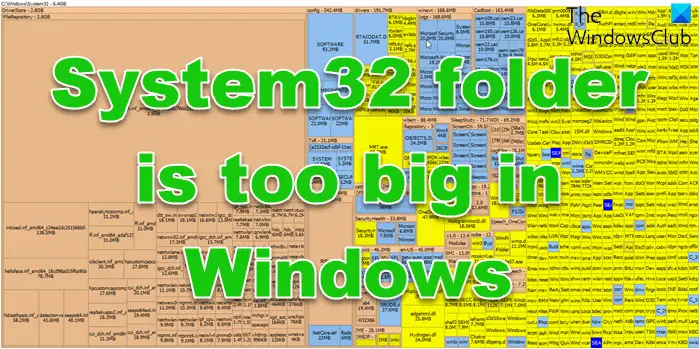 The System32 folder is a crucial directory on your PC containing essential system files and libraries needed for your PC to function properly. It contains some rather critical subfolders. For example, the Regback folder holds a registry backup, while the systemprofile folder is a template or configuration for a system account. Similarly, you have a Drivers folder that stores the configuration for all the drivers and a BCD-template file that includes settings for Windows Boot Manager and is useful when you need to fix the BCD.
System32 folder is too big in Windows 11/10
The main subfolders of the System32 folder that normally occupy ample space are DriverStore, FileRepository, Config, drivers, winevt, catroot, Log Files, etc. Here is more about each of the folders.
1] DriverStore, Drivers, and DriverState
These three folders hold all the files that are related to Driver. Typically, the Drivers folder houses .sys files which act as device driver files for various components of your computer. On the other hand, the DriverStore folder stores .inf files utilized for driver installation when necessary.
2] FileRepository
The FileRepository is a directory present in Windows and designed to store driver packages from third-party sources and Original Equipment Manufacturers (OEMs). Before their installation, these drivers are populated in this specific directory.
3] Winevt
The Winevt folder in Windows is where event logs are kept. Winevt means Windows Events. Inside this folder, there's a Logs subfolder that holds these event logs. These logs are detailed records of what's been happening on your computer, including regular updates, warnings, and any problems reported by Windows or the apps you have installed.
4] Config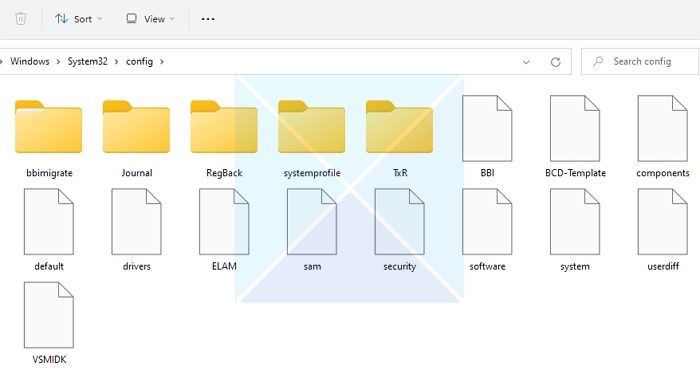 Inside is a System32/Config folder with crucial configuration files vital for Windows to start and operate correctly. Hence, any changes to the System32 or its Config folder may lead to your PC not working.
The config file is located within the System 32 directory. It holds essential configuration files needed for Windows to start and run properly. These configuration files store system settings and registry hives or databases that contain information about software, hardware, user profiles, or other system-related data.
The System32/Config folder has components like:
Security: It contains security information like user permission and encryption keys.
Software: It contains information about system settings, preferences, and installed software.
System: This file contains information about device configuration, operating system settings, and hardware configurations.
Default: This file serves as a template for creating user profiles.
All of these files mentioned above ensure Windows is running correctly. If any of these files gets deleted or corrupted, it can lead to system instability, booth problems, etc.
Reasons for System32/Config folder size increase
Out of all the folders in System32, the DriverStore and Config folders are primarily responsible for the increased size. Here is the list of reasons why the Config folder keeps growing.
a) Accumulation of system and application files
As you use your PC, Windows accumulates many system and application files over time, such as registry settings that store configuration settings for Windows and installed software. Over time, you make changes to your system or perform updates. These activities can accumulate data that may or may not be used. As a result, it increases the size of the System32/Config file.
b) Installation and uninstallation of software
While using a PC, it is normal for a user to install and uninstall different applications. However, this practice also results in increasing the System32 folder size. As you install or uninstall apps, Windows saves up different data for the programs, increasing the config folder size.
c) Creation and storage of backup files
Creating storage or backup files or registry backup also adds to the System32 file size, as they are stored in your System32/Config folder. To deal with this, you must perform regular cleanups.
d) Logging and diagnostic data generated by Windows
Some applications and Windows system components generate logs to record events, errors, and other activities. These logs are often stored in the System32/Config or other subfolders. As a result, it increases the System32 folder, and you must clean up the files from time to time to reduce the size of it.
What can you do if the System32 folder is too large?
1] Use Disk Analyzer software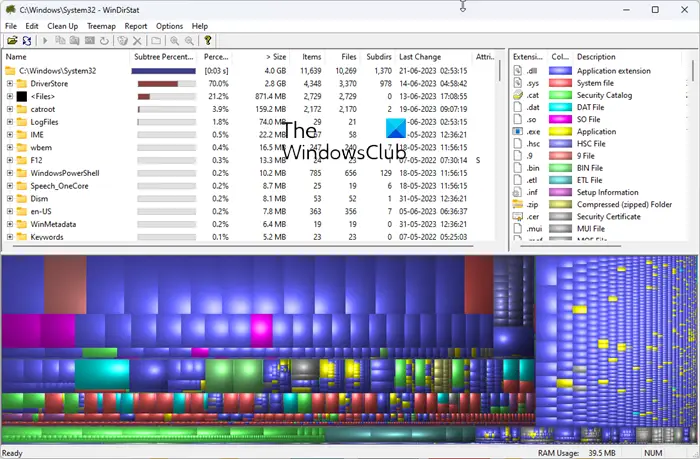 Use a free disk analyzer software like WinDirStat that analyzes the disk space on a computer system and shows the tree view of the files, folders, and subfolders along with their sizes. It will make it easier for you to know which files and folders inside the System32 folder are eating the most space on your C drive. As you can see, it is usually the DriverStore or the Config folders that consume disk space.
2] Cleanup DriverStore folder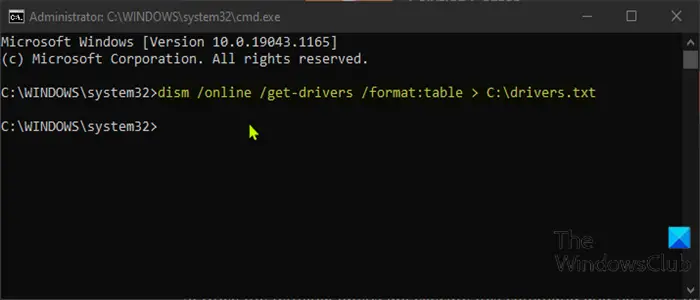 The Driver Store is a trusted collection of third-party driver packages as well as native device drivers that ship with the system, which is maintained in a secure location on the local hard disk. Before a driver can be installed, it must first be injected into the driver store which is located under C:\Windows\System32\DriverStore\FileRepository. All files that are in the driver package are considered critical to the device installation. Follow this post to safely clean up the DriverStore folder.
Should I delete files directly from SYSTEM32 folder?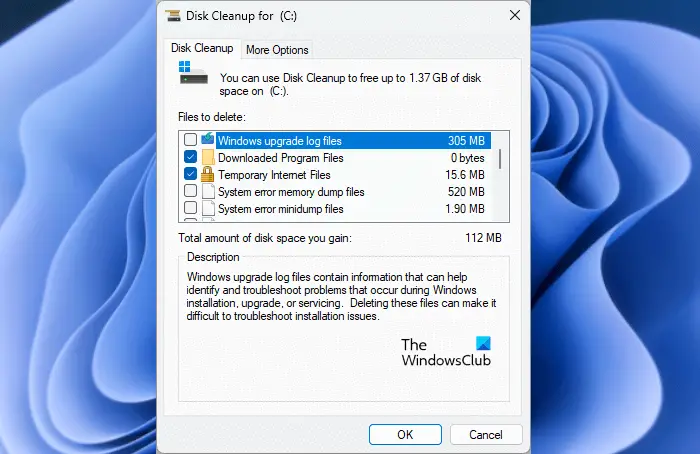 The right thing to do is never delete anything directly from the System32 folder at all. If anything takes up a lot of disk space in that folder, the best way is to use Disk Cleanup Tool or Storage Sense.
TIP: This post will help you if your Windows folder is too big.
Here is the list of precautions and best practices to manage the size of the System32 folder.
A] Exercise caution when deleting files from SYSTEM32 folder
Be careful whenever you delete any files inside the System32 folder. You don't want to delete any critical files or folders that can lead your PC to malfunction. You must only delete files or folders that you are fully aware of. In any case, you should know that in most cases, Windows will not allow you to delete system-critical files, and you will see an Access denied message.
B] Create backups before making any changes
Whenever you change the System32 folder, create a proper backup of your important files. So in case your PC doesn't work, you will always have access to your files. Alternatively, you can also create a system restore point.
C] Regularly maintain and monitor the SYSTEM32 folder
You should also regularly maintain and monitor the System32 folder to enjoy better system stability, security, or file integrity. To do so, you can consider backing up configuration files, monitoring file integrity, updating and scanning for malware, performing a disk cleanup, and more.
D] Keep the operating system and software up to date
Finally, always keep your Windows and other applications up to date. This would ensure that your System has the latest security updates and is protected against the latest hacks, malware, or Trojans. Also, it helps in improving the overall performance of your PC.
Make sure to perform regular disk cleanups to manage and maintain an optimal size for the folder.
General tips to free up more disk space: