Disappearing Disk Space is a common scenario for most computer users, and you must clear up your Disk Space from time to time. Most of us use the built-in Disk Cleanup Tool or some free junk file cleaner to do the job. Windows 11/10 users have another option, and that is via Windows Settings.
Clean up Hard Disk using Windows 11/10 Settings
Windows offers a built-in solution that can clear up occupied space occasionally. Even if you do not want to clean up, you can clearly understand what is occupying space on the system drive.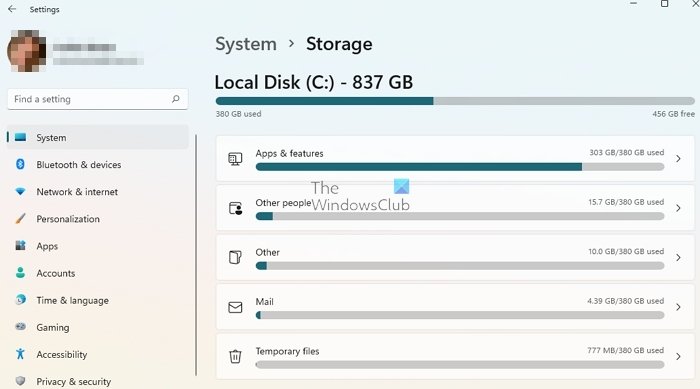 Use Win + I keyboard shortcut to open Settings of  Windows. Then select System and then click on Storage. The following section will reveal the details of the C drive or the System drive.
Windows 10 will first display a list of all connected storage, and you need to click on it to see a detailed view.
To manually clear the space or find out what is occupying the storage, click on the drive, and Windows will reveal a categorized view. You can see space taken by Apps, System Reserved, Other people, mail, document, temporary files, etc.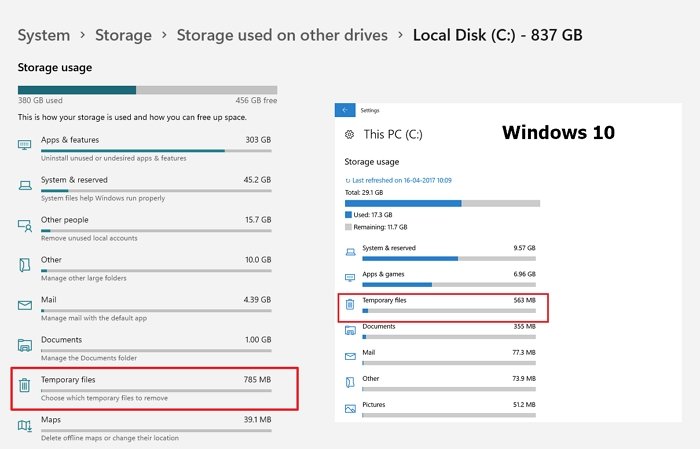 Clicking on any item will open up another panel where you will see a button that lets you manage that item and the disk space it occupies. This post shows more in detail how to manage Disk Space & Storage using Windows 11/10 Settings.
To delete the temporary junk files, scroll down to the Temporary Files option and click on the opportunity. The next panel will open.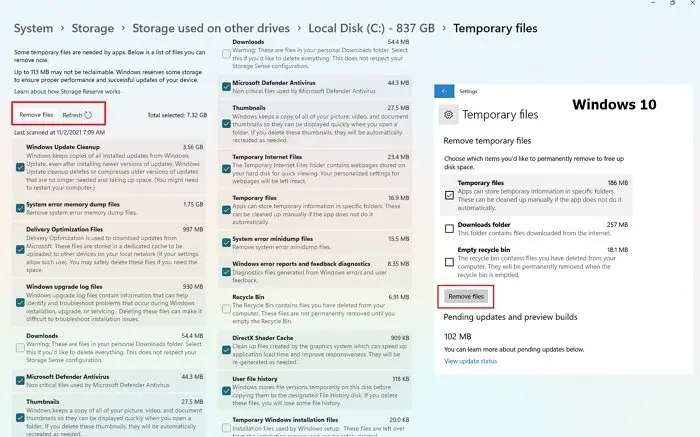 The options available for removing four different types of temporary files will be listed. Select Remove files to clean up the unwanted files. Depending on what is available for deletion, you will see the following options for cleaning up four categories of files from your disk drive:
Temporary Files
Downloads Folder
Empty Recycle Bin
A previous version of Windows
Windows Update Cleanup
System error memory dump files
Delivery optimization files
Windows Upgrade log files
Microsoft Defender Antivirus
Thumbnails
Temporary Internet Files
Temporary files
System error minidump files
Windows error reports and feedback diagnostics
DirectX Shader Cache
Temporary Windows Installation Files.
Please note that the option to clean up files would not appear on your computer screen if there's no previous version of Windows on your system. Select the files you want to delete and then press the Remove files button.
What is the Cleanup Recommendations feature?
If you find it difficult to figure out what you should delete, then cleanup recommendations can be handy. Available in the Storage section, it will recommend which folders you can empty, large or unused files, files that are in sync with the cloud, unused apps which you have barely used. Make your selection, and then it will delete the file and app.
What is Storage Sense?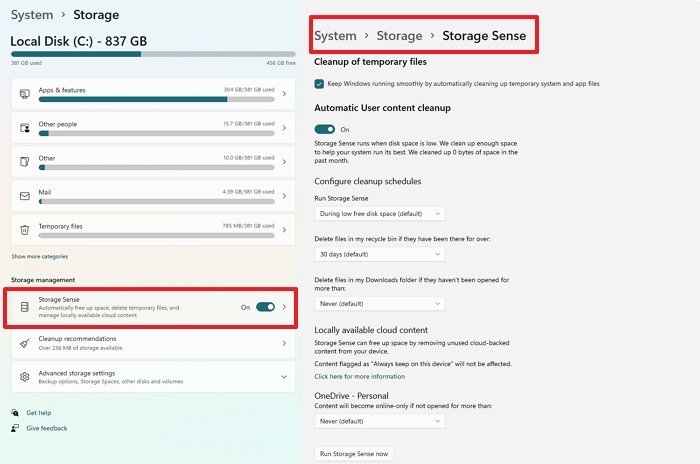 This feature allows you to automatically clear files from predefined folders which Windows think can be emptied. Storage Sense only triggers when disk space is low. It empties recycle bin, downloads the folder,  and OneDrive. All this can be configured under Settings > Storage Sense.
How to View Storage of Other Drivers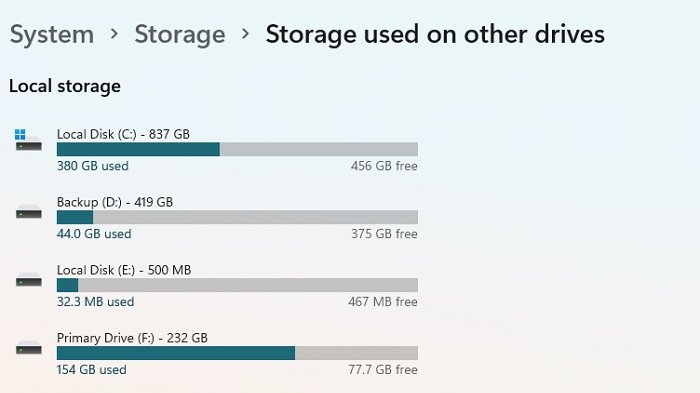 While on Windows 10,  you will see your drives listed along with the disk space that has been used right up front, Windows 11 is different. You need to expand the Advanced storage settings panel and then click on Storage used on other drives. Select the drive you would like to know more details like the nature of stored files and the disk space they consume.
I hope the post was easy to follow, and now you know that Widows offers a built-in solution that can help you claim back storage space occupied by temporary files and unused apps.