When some Outlook users tried inserting hyperlinks mapped to a drive or opening an external hyperlink, they got an error that says Something unexpected went wrong with this URL. This is a very serious issue, especially for organizations that rely on Outlook to share data. In this post, we will discuss this issue and see what you need to do to resolve the issue.
Something unexpected went wrong with this URL
Fix Something unexpected went wrong with this URL in Outlook
If you get Something unexpected went wrong with this URL in Outlook, follow the solutions mentioned below to resolve the issue.
Use Outlook Web
Change the default browser in Outlook
Clear Outlook cache
Repair Office
Let us talk about them in detail.
1] Use Outlook Web
You can go to the web version of Outlook and then send or open a hyperlink. Do keep in mind that this is not a solution, but instead, a workaround that you can try to get the work done if you are in a hurry. Now that your work is done let us go through the solutions mentioned hereinafter to resolve the issue. Even if Outlook web too, didn't work for you, go through the following solutions.
2] Change the default browser in Outlook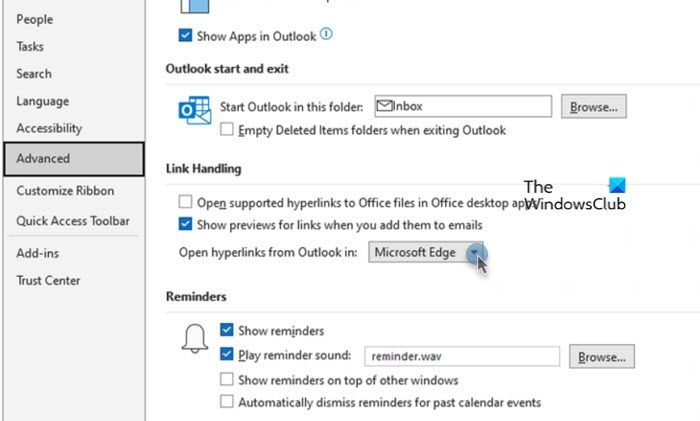 Sometimes, Outlook hyperlink fails to work with a certain browser. However, this is a temporary issue as developers at both ends are eager to release an update that will sort things out; meanwhile, we can change the default browser in Outlook as that should do the job for you. Follow the steps given below to do the same.
Launch the Outlook app on your computer.
Now, go to the File tab and click the Options button.
Then click on Advanced from the Outlook options section.
Under Link Handling, look for Open hyperlinks from Outlook and select a different from the drop-down menu associated with it.
At last, click on the Ok button to save the changes made.
Once you have made the changes, restart Outlook. When closing the app, don't just click on the cross button, but open Task Manager, right-click on Outlook, and select End Task. Finally, launch the app and then check if the issue is resolved. In case, the issue persists, change the default browser from Windows Setting as well and then check the status.
Read: How to change default browser when opening hyperlinks in Excel?
3] Clear Outlook cache
You may face issues when using hyperlinks if the Outlook cache is corrupted. In that case, we need to clear the Outlook cache, do keep in mind that removing caches will not delete all personal files as caches are nothing but metadata about the most frequently used information related to Outlook. To delete the Outlook cache, follow the steps given below.
Close Outlook from the Task Manager.
Now, open File Explorer and navigate to the following location.
%localappdata%\Microsoft\Outlook
Find RoamCache and delete it.
Finally, restart your computer and check if the issue is resolved.
4] Repair Office
If nothing worked, your last resort is to run the Office repair tool. Since Microsoft 365 or Office are vulnerable and have a habit of failing repeatedly, Microsoft has provided a tool to resolve this issue.
To do the same, open Settings and go to Apps > Installed apps or Apps & features. You then have to search for Office or Microsoft 364.
If you are on Windows 11, click on the three dots
Windows 10 users need to click on the app.
Then select Modify. Finally, click on Quick Repair > Repair. If Quick Repair didn't work, do Online Repair.
We hope that you can resolve the issue.
Read: Outlook MailTo link not working
How do you fix Outlook when it says something went wrong?
If Outlook says Something went wrong, first of all, restart the app. This should work for you if some temporary glitch causes the issue. If restarting is to no avail, follow the solutions mentioned earlier to resolve the issue and get Outlook back on track.
Read: Signature button not working in Outlook
Why are my hyperlinks not working in Outlook?
If Hyperlinks are opening in Outlook, there have been some configurations made by you or your organization or an update to stop this action. You check our guide to know what to do when Hyperlinks are not working in Outlook.