Are MailTo links not opening or working properly in Microsoft Outlook? MailTo links are used to produce such hyperlinks that link users directly to a specific email address. You can find such links on websites. Using MailTo links, you can directly open the email address in your default email app and send emails without copying the email ID.
As per some Windows users, the MailTo links won't open or work in Microsoft Outlook. Some users said that whenever they click on the MailTo link, it won't open a reply in Outlook, while others said the links would open in another email app or a web browser.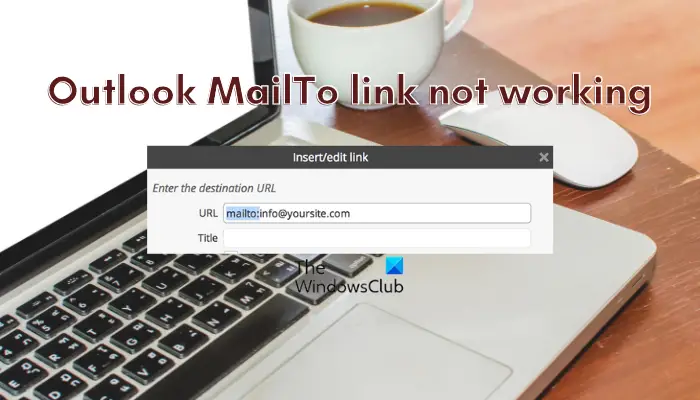 This issue could be caused because the default app association for the MailTo link is set to a different app. Another reason might be that you are disconnected from the internet. Outdated Windows OS, incompatible Outlook version, and some cache issues are other reasons for the same problem.
Outlook MailTo link not working in Windows 11/10
If the MailTo link is not working or opening in Microsoft Outlook on your Windows 11/10 PC, we suggest restarting your computer first and then seeing if the issue is resolved. If that doesn't help, you need to set Outlook as the default app for MailTo links.
Initial checklist
Make sure that your internet connection is working fine.
Ensure that the right email address is configured in Outlook.
Check whether your version of MS Outlook is compatible with MailTo or not.
If there are pending Windows updates, make sure you have downloaded and installed them.
Close your web browser and reopen it to check if MailTo links open in Outlook.
Check your browser security settings or extensions and make sure none of them prevent MailTo links from opening in Outlook.
Read: How to show Toolbar in Outlook email
How to set Outlook as the default app for MailTo links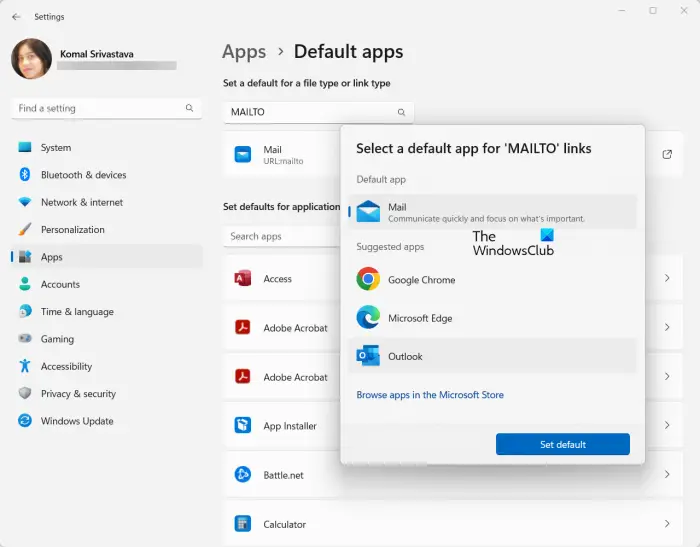 If MailTo links are not opening in Microsoft Outlook on your PC, it is likely that the default app set to open MailTo links is different. Hence, you can change the app association for MailTo links to Microsoft Outlook. Once done, all MailTo links should open in Outlook by default.
Here's how to do that:
Firstly, hit the Win+I hotkey to open the Settings app.
Now, go to the Apps tab from the left-side pane.
Next, click on the Default apps option present in the right-side pane.
After that, in the search box available on the top, enter MAILTO, and from the appeared results, click on the MailTo option.
A Select a default app for "MAILTO" links dialog will open up; simply choose the Outlook app and press the Set default button.
MailTo links will open in the Microsoft Outlook app by default. Hopefully, you won't face the same issue now.
See: Outlook cannot connect to Gmail, keeps asking for password.
Why hyperlinks are not working in Outlook Windows 11?
If you cannot open Hyperlinks in Outlook email on Windows 11, it might be due to incorrect file association settings on your computer. Besides that, certain corrupted or invalid Registry entries can be another reason for this issue. You might also experience this problem if the settings in your default web browser are corrupted. Another reason for the same could be corruption in the Outlook app.
See: Can't open links and attachments in Windows Mail app.
How do I open MailTo links in Outlook instead of Chrome?
To make sure that the MailTo links open in Outlook instead of a web browser like Chrome, you need to change Windows settings. If the default association for MailTo links is set to Chrome, the links won't open in Outlook. So, open the Settings app, go to Apps > Default apps, type MailTo inside the Set a default for a file type or link type box, and select the MailTo option. After that, choose the Outlook app and press the Set default button.
Now read: How to make Outlook download all emails from server?