Outlook is the Office suite's email and Callender software which provides a wide array of features. Although started off as an email client (which it still is), people use it for managing tasks on the calendar, taking notes, arranging file backups, etc. An error commonly associated with Outlook, one that restricts you from accessing some of its folders and you see an error message that says "The set of folders cannot be opened." This error can pop up on your screen unusually when you're trying to launch Outlook. In this article, we will look at a few ways in which this issue can be remediated.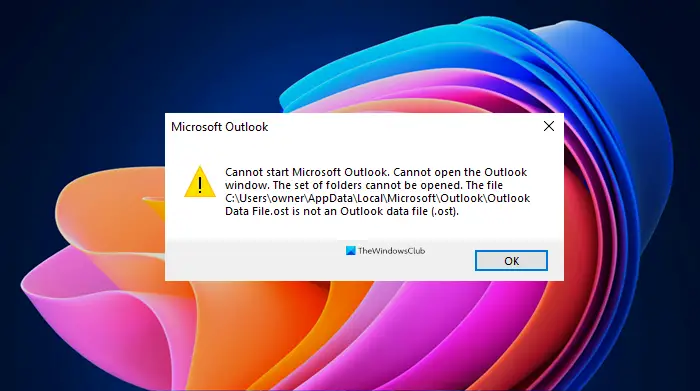 Cannot start Microsoft Outlook. Cannot open the Outlook window. The set of folders cannot be opened, The information store could not be opened, The operation failed.
Why can't I access my folders in Outlook?
If your Outlook data size is large, or if it has become corrupted then the Outlook app may not be able to access or open the data files and folders. You need to reduce the Outlook data size or repair the Outlook installation.
Fix The set of folders cannot be opened Outlook error
Usually, this error indicates that the Outlook data file, one with all the relevant information, cannot be opened. Make sure that the file isn't synced with any other backup software at the time when you encounter this error, because if that file is in use, then Outlook won't get access to it.
Reset the Navigation Pane on Outlook
Disable your Outlook Add-ins
Reduce Outlook Data Size
Recreate your Outlook profile
Repair Microsoft Office
1] Reset the Navigation Pane on Outlook
The first thing you can try right off the bat is resetting your Outlook's navigation bar using a run command.
Open the Run command window with the Win+R shortcut key
Paste the following command and press enter:
outlook.exe /resetnavpane
There's a chance that this fixes things for you, but if it doesn't, then you can try renaming the Outlook.xml file
Paste the following command in the Run prompt:
%appdata%\Microsoft\Outlook
This will take you to the Outlook appdata folder. Here, locate Outlook.xml, right-click on it, select Rename and enter its new name 'Outlook.old'
Reopen Outlook and check if the issue has been resolved
This fix is, like the rest, only to be implemented if you have an Outlook account set up.
Read: How to speed up Outlook.
2] Disable your Outlook Add-ins
Launch Outlook and head over to File
From the settings pane on your left, select Options
This will open the Outlook Options window. Here, select Add-ins
Here, select the Add-ins that you want to disable and save the changes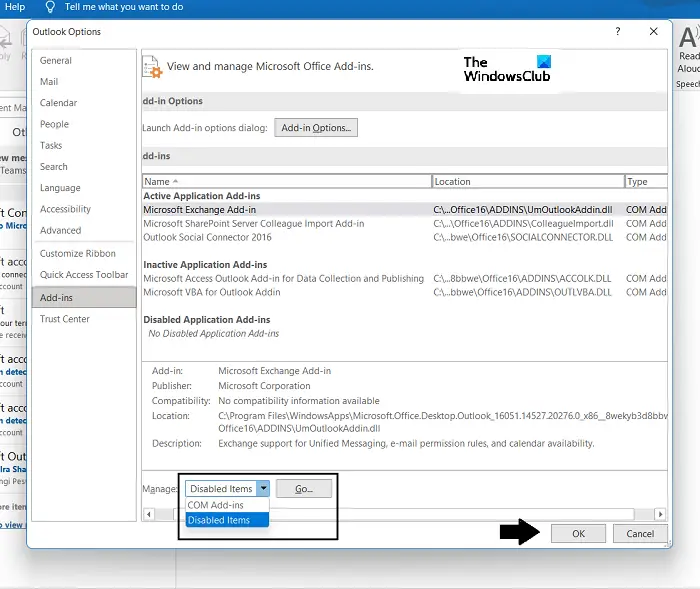 It is also necessary for you to update your Outlook version. Open File > Office account > Office update. Click on Update options and further select Update Now.
Read: Outlook is very slow to load; takes a long time to start.
3] Reduce Outlook Data Size
If it is the large file size of your mailbox that is causing this error to occur, you can tweak the Outlook options to reduce the data size that its files take. Here's how you can do that:
Launch Outlook on your PC and click on File. Here, select Tools and further click on Mailbox Cleanup
Single out the items that are needless and can be deleted and confirm it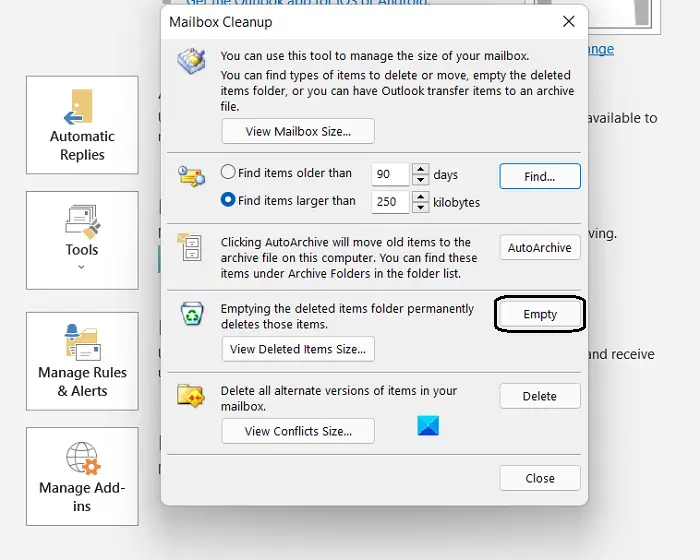 You can empty the Deleted Items folder to cut back on the size of the data file
After that, go back to the File page and click on Account Settings
Go to Data Files and from the list of files appearing on your screen, select the ones you want to compact
Visit the File Settings > click on the Advanced tab > click on Outlook Data File settings and then select Compact Now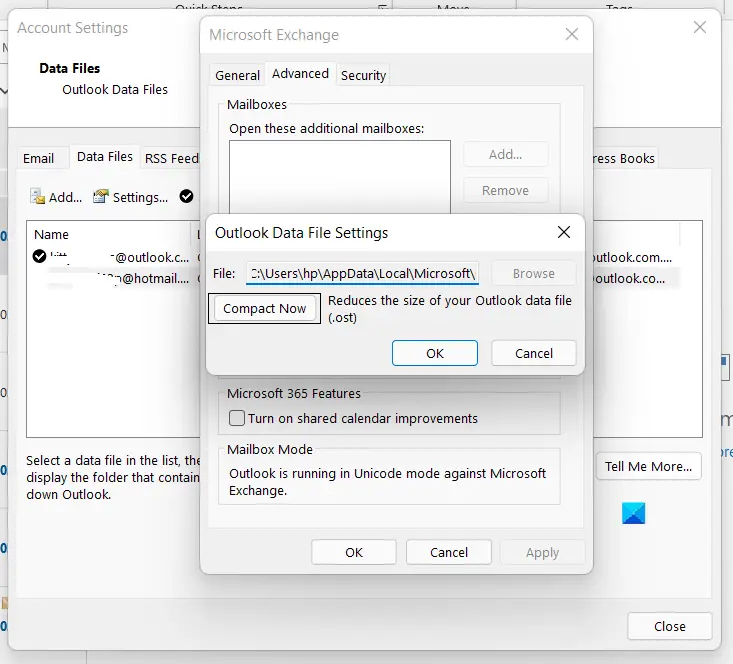 4] Recreate your Outlook profile
Another solution to the problem is to recreate your Outlook profile. This may fix the issue if there are any corruption issues with your profile.
Firstly, you have to erase your profile data using the Registry Editor. Open the Registry Editor and enter the following command line:
Computer\HKEY_CURRENT_USER\SOFTWARE\Microsoft\Office\16.0\Outlook\Profiles
Depending on the version of your Microsoft Office, you may have to use the following command line:
Computer\HKEY_CURRENT_USER\SOFTWARE\Microsoft\Office\15
Here, delete all the profile folders
Now, launch Outlook and click on File
Open the Account Settings drop-down and click on Manage Profiles
Here, select Show Profiles and click on Add to enter a new user profile by your name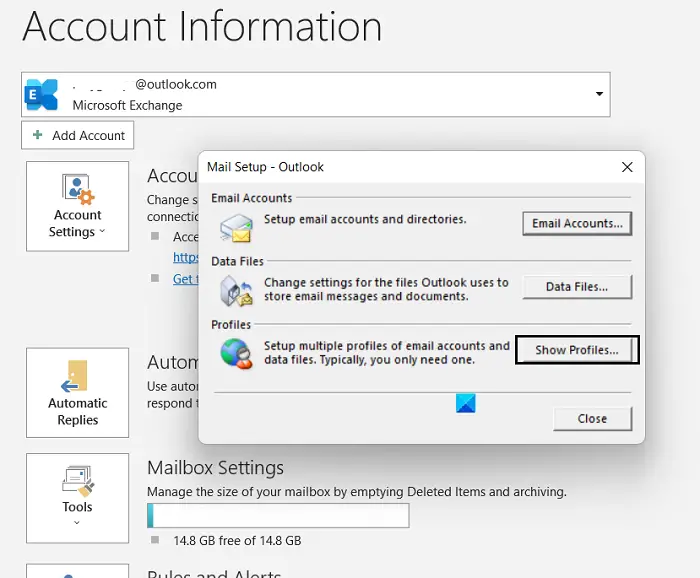 Fill in all the necessary credentials and save the changes.
5] Repair Microsoft Office
Open the Control Panel and select Programs and Features
Here, locate the Office suite option and click on it to repair it
opt for the Quick Repair option. If that doesn't work, you can initiate the Online Repair too
Relaunch Outlook to check if the issue has been fixed.
One of the aforementioned solutions would fix up this issue for you, but in the odd chance they don't work, you can always reinstall Outlook on your PC. We hope that this post was of help to you!