If Microsoft Outlook or Outlook 365 is very slow to load, it takes a long time to start and is stuck on the loading profile; then, this post will help you. The issue can occur because of many reasons, of which one is the UE-V Sync, which prolongs the startup of Outlook and, ultimately, times out.  Follow the steps to resolve and quickly loads Outlook in a shorter time.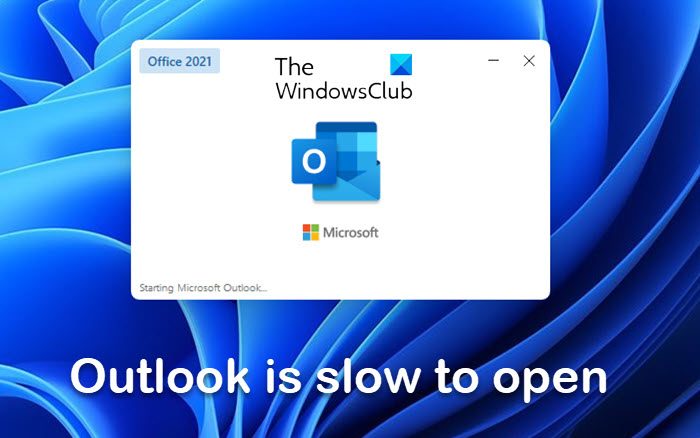 Outlook is very slow to load
Follow the methods one by one, and check if the issue gets resolved after each try.
Change User Experience Virtualization (UE-V) Sync Method
Large PST File
Check for non-essential add-ins
Check if AppData folder is redirected to a network location
Windows Search Indexing Outlook
Create a new Outlook profile
One of the major reasons Outlook gets slow is because of the recent feature updates.
1] Change User Experience Virtualization (UE-V) Sync Method
The issue has occurred to many on the recent feature update who have installed a cumulative update or if the IT has deployed User Experience Virtualization (UE-V) that has the Sync Method set to None. It is also applicable to if MicrosoftOutlook2016CAWinXX.xml UE-V template was registered.
Change Sync method: When the sync method is set to None, Windows ignores the synchronize timeout, which by default, is only two seconds. It results in UE-V timing out after one minute. Change the default Sync method SyncProvider. According to Microsoft, None is specific to a workstation that has a permanent network connection to the SettingsStoragePath.
Make changes to the template:  Navigate to the TemplateCatalog path that is defined in the UEV Configuration settings located here:
%ProgramData%\Microsoft\UEV\InboxTemplates\MicrosoftOutlook2016CAWinXX.xml
Change Version to 3 and Asynchronous to true.
<Version>3</Version>
<Asynchronous>true</Asynchronous>
Note: This is only applicable to Office 2019 and Office 2016.
2] Large PST File
Outlook stores all the data in the PST file, if the file size is enormous, then it could slow down the loading process. Apart from loading, it also increases the time taken for reading, moving, and deleting email messages. It would be a good idea to delete your emails or find a way to split PST files to reduce the lag.
Read: Outlook is not responding; it has stopped working, freezes, or hangs.
3] Check for non-essential add-ins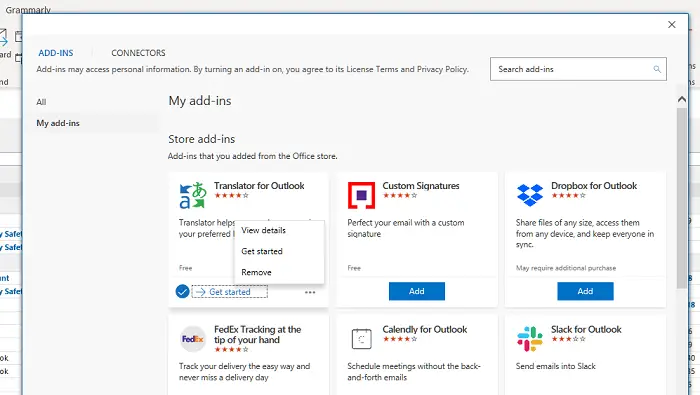 Most of the add-ins in Outlook load when the software is loaded. If there are too many outdated or non-essential plugins, then it would be a good idea to get rid of them. They are available under the Office Add-in section or simply click on Get Add-ins button, and switch to My Add-ins section.
Here you will find list of all the add-ins available. If there are add-ins that you do not use anymore, uninstall them. If you see any of them is due an update, make sure to do it.  Another approach will be to disable all the add-ins and then enable then one by one to find out what is causing the problem.
Read: How to optimize and speed up Microsoft Outlook.
4] Check if AppData folder is redirected to a network location
The User AppData folder is one location where Outlook stores certain data. If the AppData folder is set to a network location and the network has an issue, it will result in a slow loading time of Outlook. It is always a good idea to set it to a local folder on the same computer.
Open Registry Editor by typing Regedit in the Run prompt followed by pressing the Enter key
Navigate to the following path
HKEY_CURRENT_USER\Software\Microsoft\Windows\CurrentVersion\Explorer\User Shell Folders
Locate the AppData string and double click on it to edit the value
Set it to the following path for the best performance
%USERPROFILE%\AppData\Roaming
Next time when you open Outlook, it will make sure it loads up faster than before.
5] Windows Search Indexing Outlook
If you have a large PST file, and Windows Search start indexing when you are working, it will result in slowness. It would be best to make sure the Windows search runs the indexer during offtime or keep it running at night, so the indexing completes the job. to check if the indexing is still left follow this process
Open Outlook, and click on the Search bar on the top. It will reveal the Search tab.
Under Options, click Search Tools, and then select Indexing Status.
In the Indexing Status dialog box, view the number of items that remain to be indexed.
It should give you a clear idea of how many are left. If there are too many, keep it running unless it completes the operation.
6] Create a New Outlook Profile
If nothing else works, then it would be the best idea is to create a new Outlook Profile. If the profile for some reason is misconfigured, and you are not able to repair it, then creating a new one will definitely help you out.
I hope you were able to resolve the problem and make Outlook start and run faster.