Several users reported that Ride 4 keeps crashing or freezing on their Windows computers. For some users, the game crashes at startup, whereas for some, it stutters a bit, and the program suddenly terminates. In this post, we will discuss this issue and see what you can do to resolve it.
Ride 4 keeps freezing or crashing with black screen on startup
If Ride 4 is not starting or keeps freezing or crashing with a black screen on startup on Windows 11/10, ensure your computer meets the system requirement. And then start the troubleshooting process by checking for updates. Once it's done, try these solutions:
Update the Graphics Driver
Disable the Steam overlays
Verify game files
Troubleshoot in Clean Boot
Adjust Discord settings
Set default CPU and Graphics speed
Let's get to work.
1] Update the Graphics Driver
Although Graphics Driver is pretty easy to update, most people ignore it, which later causes havoc in games. Generally, updating Windows OS, will update Graphics Driver. However, if it is not updated, then here are some of the ways you can:
Use the manufacturer's website to download the driver
Install Driver and Optional Update
Once the driver is updated, reopen the game and see if the issue is fixed.
2] Disable Steam overlays
Steam Overlays can affect the game and you can disable the Steam overlays. This will solve the crashing or freezing issues, and you can follow the steps to do the same:
Launch Steam and click on Steam > Settings.
Select the In-Game options and uncheck the box next to Enable the Steam Overlay while in-game.
Select the OK button to save the changes.
Restart your game and see if you can play the game smoothly. If not then check the solution.
Note: If you have some other Overlay of some other program, disable them as well.
Read: Steam Overlay not working in Windows 11 
3] Verify game files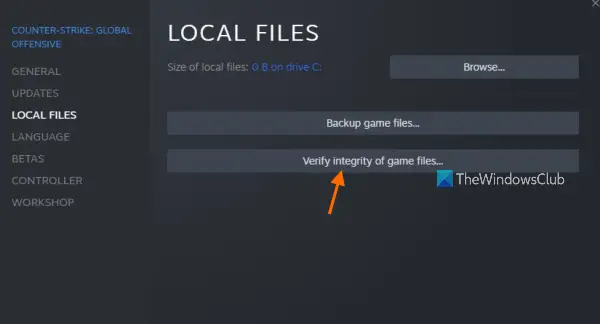 It is most likely that your game files are missing or turned corrupted. Verifying the game files can solve the issue if it happens because of the said reason. follow the given steps to do the same.
Launch Steam.
Go to Library and right-click on Ride 4.
Select the Properties option and then click on the Local Files tab.
Select Verify Integrity of game files.
It will take some time to do the process. Launch Ride 4 and check for any issues.
4] Troubleshoot in Clean Boot
Usually, when a game crashes, you will be recommended to disable Overclocking apps. Even though it is an option, we would want you to first get conclusive evidence before deleting any Overclocking app. To do the same, perform Clean Boot, but don't disable your game's services. If Ride 4 runs in a Clean Boot state without crashing, enable processes manually to find the culprit. It can be on overclocking app or something else. Whatever it is, remove that program and you should be able to enjoy racing.
5] Adjust Discord Settings
Some Discord settings will crash your game, and you can disable these settings to resolve the issues.
Open Discord and go to Users Settings.
Click on Voice and Video.
In the Advanced section, disable OpenH264 Video Codec provided by the Cisco system and Enable Quality of Service High Packet Priority.
Navigate to the Advanced tab and disable Hardware Acceleration.
After doing so, don't forget to disable In-game overlays and restart your PC. Check whether you are still facing the issue and if yes, see the next solution.
6] Set Default CPU and Graphics settings
If you are using CPU and Graphics settings at high speeds, stop overclocking your CPU and Graphics Settings. Overclocking CPU and Graphics setting do wonders when gamers want to have better gameplay. However, sometimes, it leads to compatibility issues, and the game crashes or freezes. Hence, switching the CPU and Graphics Settings to Default settings is recommended, and disable any overclocking app.
System Requirement of Ride 4
As mentioned above, it's necessary to ensure that your PC has all the system requirements to run the Ride 4 game.
Minimum
Operating System:

Windows 8.1 64-Bit or later

Processor:

Intel Core i5-2500K / AMD FX-6350

Memory:

8 GB RAM

Graphics:

GeForce GTX 960 / GeForce GTX 1050

DirectX:

Version 11

Storage:

43 GB of available space

Sound Card: DirectX compatible
Recommended
Operating System:

Windows 8.1 64-Bit or later

Processor:

Intel Core i7-5820K / AMD Ryzen 5 2600

Memory:

16 GB RAM

Graphics:

GeForce GTX 1060 / Radeon RX 580

DirectX:

Version 11

Storage:

43 GB of available space

Sound Card: DirectX compatible
Why does my game keep freezing on PC?
There's a long list of culprits that can crash or freeze the game. Starting with the simplest, outdated Graphics Driver can be one of the reasons behind the said error. Also, if your computer is just meeting the minimum requirements of the game and you are playing the game for a long time or have a lot of apps running in the background, Ride 4 will start freezing. It indicates that you may need to either restart your system or close redundant apps.
Why does my PC keep crashing when I play my games on Windows 11?
The main reason behind game crashing is compatibility issues that may happen if you haven't updated your Graphics Driver in a long time. Overclocking CPU and GPU can lead to compatibility issues, crashing or freezing issues. These reasons are the tip of the iceberg, you should check our guide on what to do if the computer crashes when playing a game.
Also Read: Fortnite keeps crashing or freezing on Windows PC.