When trying to play a game, especially Xbox 360 games or you're downloading your profile to your Xbox console, you may get the error message Sorry, there's a problem with the credentials that you're using to sign in, Error 801540A9. This post provides the most suitable solutions. The error message is usually accompanied by different error codes; the solutions in this post still applies.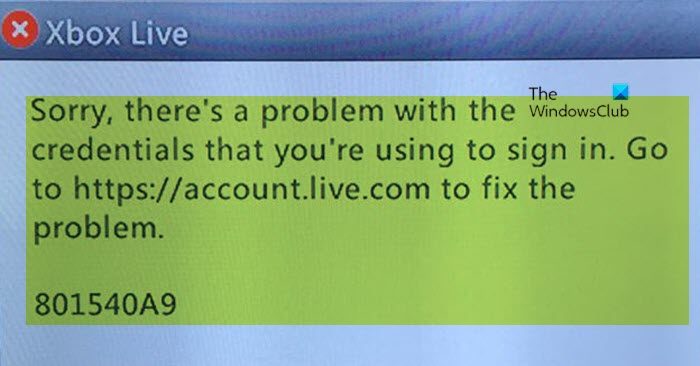 The full error message displayed is along the following lines;
Xbox Live
Sorry, there's a problem with the credentials that you're using to sign in. Go to https://account.live.com to fix the problem.
801540A9
When you encounter this issue, it could mean or due to the following reasons:
There's a temporary problem with the service.
The Microsoft account security information you provided is incorrect or does not match.
The Xbox Live profile stored on your console is corrupted.
Read: Fix Xbox Live error 121010 while playing Microsoft Solitaire Collection
Sorry, there's a problem with the credentials that you're using to sign in – Xbox Live error 801540A9
If you have encountered the Xbox Live error message Sorry, there's a problem with the credentials that you're using to sign in on your Xbox console, you can try our recommended fixes below in no particular order (but first begin with the initial checklist) to resolve the issue on your gaming system.
Initial checklist
Remove and re-add Xbox profile
Reset Xbox
Contact Xbox Support
Let's take a look at the description of the process involved concerning each of the listed solutions.
1] Initial checklist
Before you proceed with the indepth solutions below, you can as a quick fix perform and complete the following pre-checks, and after each task see if the Xbox Live error you're presently facing is resolved or not:
Clear system cache and restart Xbox console. You can clear the system cache by pressing the Guide button, then go to Settings > System Settings > Storage/Memory – highlight any storage device, then go back to your controller and press Y. Select Clear System Cache, and select Yes to confirm, then restart your Xbox console.
Check Xbox server status. As far as Xbox Live issues goes, in most cases, if not all, it could be due to Xbox server is offline or down. So, if you find any service alerts when you check Xbox Live service status support.xbox.com/en-US/xbox-live-status, there's nothing much you can do but wait for a while before trying again – usually, the status will be displayed as up and running in green color with a green tick next to Xbox Live Core Services.
Check if the game is backward-compatible. Go to My games & apps > See all > Full library > All owned games, Then filter on All console types. Select Xbox 360 & Xbox games or Xbox One games.
Verify your Microsoft account credentials. This issue could be due to your Microsoft account's security information is incorrect. So, sign in to your Microsoft account; in case you have forgotten your password or you're unable to sign in using the password, you can reset the password through Microsoft's website. Once you're signed in, go to Security & Privacy > Change password & more – now, verify your email addresses and phone number and you can add or update your security information if need be. Once done, sign out and sign in again. Then, you can now try to sign in to Xbox Live.
Turn off Two-factor Authentication (2FA). For some reason this worked for some affected gamers. So, you can disable 2-step verification for your Microsoft Account and see if that works for you too!
Make sure you're not already signed in on another Xbox console. If there's a suspended game using your profile on another Xbox, even though the console is off, it will still count as a session on the Xbox Live servers. In this case, you need to "quit" the game on the other console (instead of suspending the game) so your profile can download or be accessed on the console you're currently logged on.
Read: Xbox Error 80151006, Sorry, this profile can't connect to Xbox Live on this console
2] Remove and re-add Xbox profile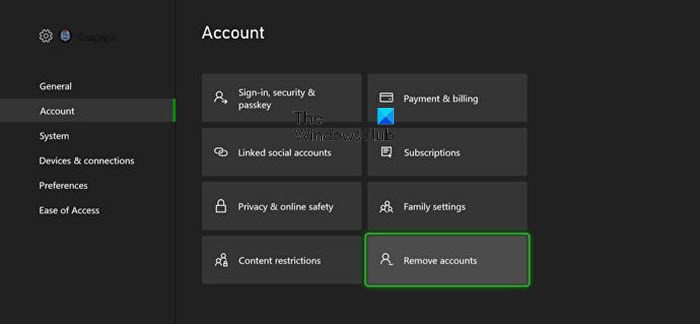 Now, that you have cleared the initial checklist, but the issue in hand isn't resolved yet, you can remove and re-add your Xbox profile on your console, as the issue could be a case of corrupted profile stored on your console.
Do the following:
Press the Xbox button on your controller to open the guide.
Go to Profile & system > Settings > Account.
Under Account, select Remove accounts.
Select the account that you want to remove.
Select Remove to confirm.
Select Close when done.
You have now successfully removed the Xbox profile on your gaming device. To now redownload and re-add your profile, do the following:
Press the Xbox button on your controller again.
Select Add new in Profile & system.
Note: You won't be creating a new account when you select this option. You're just adding your existing profile to the Xbox console.
If you've forgotten it, select I forgot my password, and then follow the instructions to recover your account
Review the privacy statement summary, and then select Next.
Select your Sign-in and security preferences.
Check out how you look on Xbox, and then select Next.
Choose your color, and then select Next.
Note: The preference that you're currently using at home appears with a checked box.
Press the Xbox button on your controller to return to the Home screen.
Scroll left from Home, find and select your gamertag, and then select Sign in.
You can also try moving your Xbox Live profile by using a USB flash drive. Plug in a USB drive into your console then go to Settings > Storage > All devices > Gamer profiles. Select your Gamer profile > Move, then select the plugged in USB drive. Once done, remove the USB flash from your console, then clear the system cache and restart your Xbox console afterwards. Finally, insert the USB drive and redownload your Xbox Live profile.
If the error in focus reoccurs, you can try the next solution.
Read: Fix Xbox Error Code 0x8007045D, Xbox Live profiles can't be downloaded
3] Reset Xbox
In severe gaming system cases, like OS corruption, you can reset your Xbox console – but make sure to select the Reset and keep my games & apps option when performing the reset procedure. More often than not, this action will resolve most issues you encounter on your console. Otherwise try the next solution.
4] Contact Xbox Support
It's recommended and always a good idea to contact Xbox Support if having issues on your Xbox console and after you have tried all possible solutions and fixes you're still unable to resolve the issue. It could be the issue is 'bug-related' which Microsoft is aware of and currently working on a fix.
Hope this helps!
Related post: How to remove Xbox Live Sign in Error 80048821
Why does my Xbox say there's a problem with credentials?
If you're having credentials issues on your Xbox console, it could be a network issue; either with Xbox Live or with your network connectivity. Also, it could be that the region you've designated in your account doesn't match the region you're in.
What is error code 0x80a4001a on Xbox One?
The Xbox error code 0x80a4001a occurs when you're prompted for your Microsoft account password. This might mean that your account credentials have become corrupted. To resolve the issue, you need to remove and re-add your account on your console.