After plugging in a removable drive or pen drive or any USB drive, if you see Please insert a disk into Removable Disk message in Windows 11/10/8/7, here is how to fix that problem. Although sometimes this problem gets fixed by re-inserting the USB drive – if it is not being solved, you can try out the following possible solutions.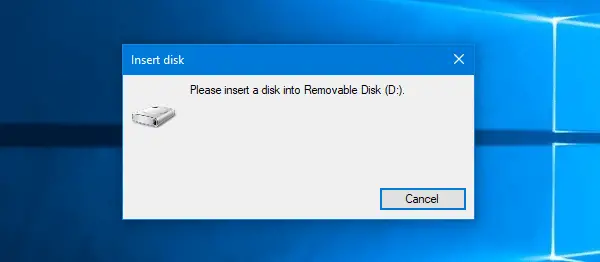 Please insert a disk into Removable Disk
1] Change drive letter
If the USB drive is working fine with other computers except yours, you can try changing the drive letter. If your computer is causing the issue due to the drive letter conflict, it may fix that instantly. For doing so, insert the removable disk and open File Explorer. You should find This PC on your left-hand side. Right-click on it and select Manage. After that, click on Disk Management under Storage. If you see the removable disk in the list, right-click on it and select Change Drive Letter and Paths for [current-drive-letter].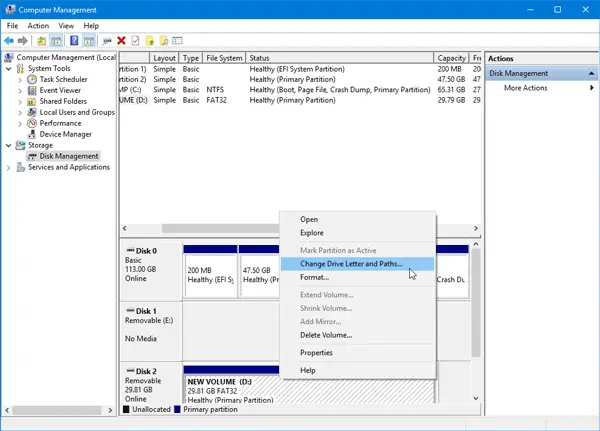 Following that, you will see a Change button that you need to click. Do that, select a new drive letter and hit the OK button.
Restart your PC and check if it is working or not.
2] Hardware and Devices troubleshooter
If you are using Windows 10, you will find the Hardware and Devices Troubleshooter in the Troubleshooters section of the Windows Settings Panel. It will let you fix common hardware and external device related issues without additional effort. Press Win + I to open Windows Settings and navigate to Update & Security > Troubleshoot. On your right-hand side, you will see the Hardware and Devices option. Click on the Run the troubleshooter button to open the corresponding troubleshooter and follow screen options to fix basic problems. You may also run the USB Troubleshooter and see if that helps you.
If your removable disk is not being detected by any computer and all the Windows 10 machines are showing the same message, you have two options and those are mentioned below.
Read: Remount ejected USB Drive without physically reconnecting it
3] Format USB drive using Command Prompt
This solution takes a lot of time but it solves the issue, as reported by many. If the removable disk is displaying the same error message on various computers, you should format the drive using CMD. Before doing that, you should know that all your data will be lost once you format it.
4] Delete Volume/Partition
Sometimes the existing partition creates problems even after formatting. In that case, you should delete the volume or the partition. You can do that using Disk Management.
Open Disk Management, right-click on the external drive, select Delete Volume option.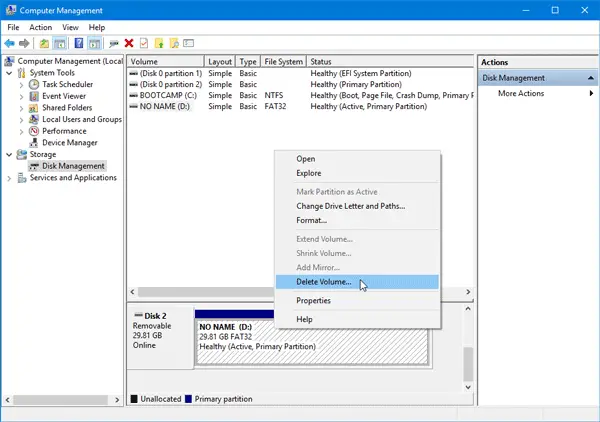 Next, right-click on the same external drive, and select New Simple Volume.
Follow the screen options to assign allocation size, drive letter, etc. After completing the process, reinsert the drive and check whether it is working or not.
Hope you will find these solutions helpful.
Related reads that may interest you: