Whenever we connect a USB Flash Drive on any external hard drive to our Windows computer, it is mounted, and we are able to access it and carry out file operations on it. When we complete our work, to disconnect it, rather than directly pulling it out physically, it is recommended that we use the Safely Remove Hardware or Eject Drive option. This ensures that any incomplete file operations are completed, and data corruption is avoided. Only after it is safe to disconnect the USB, should we physically remove the USB.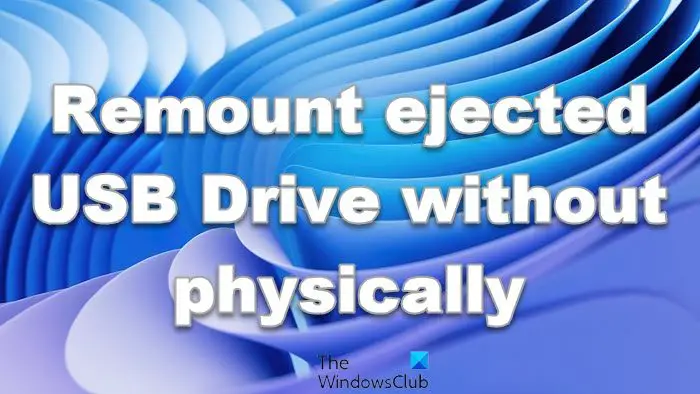 But what if we feel the need to use the media again? We will have to connect it physically. And what if we have used the Eject Media option to dismount the media, but not physically unplugged it, and you now want to use the media again?
You would normally physically remove the USB and after waiting for a few seconds, plug it back again. This is all fine if you are on a laptop, but it can get tedious if you are on a Desktop and your CPU is kept at an odd place or maybe under your table. In such cases physically unplugging it and plugging it back can become a tedious task.
Unfortunately, Windows does not offer the function to let you easily remount the ejected USB Drive or media. But if you ever feel the need to remount the ejected USB Drive, without physically reconnecting it, follow this procedure.
Remount ejected USB Drive in Windows 11/10
In Windows 11/10, right-click on the Start Button to bring up the WinX Menu. Select Device Manager. Scroll down to the entry USB Mass Storage Device, with the yellow exclamation mark. Right-click on it and select Properties.
You will see the Device status under the General tab, mentioned as:
Windows cannot use this hardware device because it has been prepared for "safe removal", but it has not been removed from the computer. (Code 47) To fix this problem, unplug this device from your computer and then plug it in again.
Well, right-click on this USB Mass Storage Device and select Disable.
You will see this confirmation box. Click on Yes.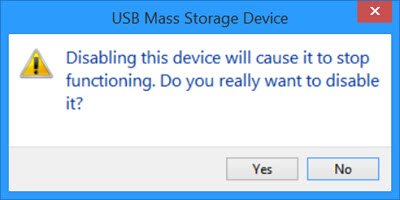 Now again right-click on the USB Mass Storage Device entry. This time you will be offered the Enable option. Click on it.
You will see the following dialog box. Do not restart your computer. Select the No option.

That is all you need to do! Disable and then Enable the device! Check your My PC folder, and you will see this USB remounted and offered.
This worked for me, and I am sure that it should work for you too.
This option is much better than physically unplugging and then reconnecting the device again, but I would have been happy, if Microsoft had offered an easy option to remount the ejected USB drive or media, along with the Eject Media option.
Read next: Automatically create shortcuts to USB Removable Media on Windows desktop.