For some Windows users, the Pale Moon browser is almost unusable! For some, their Pale Moon browser is not responding, and sometimes, it even crashes in the middle of a session. In this post, we are going to talk about this issue and see what you can do if Pale Moon is working on your Windows system.
Why is Pale Moon not responding?
Pale Moon browser can stop responding because of various reasons. One of the most common ones is the prescence of corrupted extensions. If one or more extensions are corrupted, the moment they are triggered your browser will stop responding. Also, your app data can get corrupted as a result of which, your browser will stop responding. For some users, the reason was their GPU drivers. A particular version of the driver was causing issues for them. In that case, something as simple as an update will do the job.
Fix Pale Moon not responding on Windows PC
Is Pale Moon not responding on your Windows 11/10 computer? If yes, try the following solutions.
Close all the other apps
Turn off extensions
Try using a different profile
Uninstall and reinstall Pale Browser
Update GPU Drivers
Let us talk about them in detail.
1] Close all the other apps
When you open an app, and it's running in the background, it takes up your resources. Even when you are not using a particular app, it will take a share of the resources, which should have been used by the apps that you are actually using. What this does, is leaving little to no CPU and Memory for other apps, and this might be your case as well. If you have a lot of apps running in the background, resources allocated to the Pale Moon Browser won't be enough as a result of which, the app tends to not respond.
What you can do in this case, is close all the apps, go to Task Manager, and in the Process tab, right-click on the resource-hogging process and select End Task. Do this to every single redundant process and your issue will be resolved.
If you don't want to do all this, you can just restart your computer as that too will flush your RAM.
2] Turn off extensions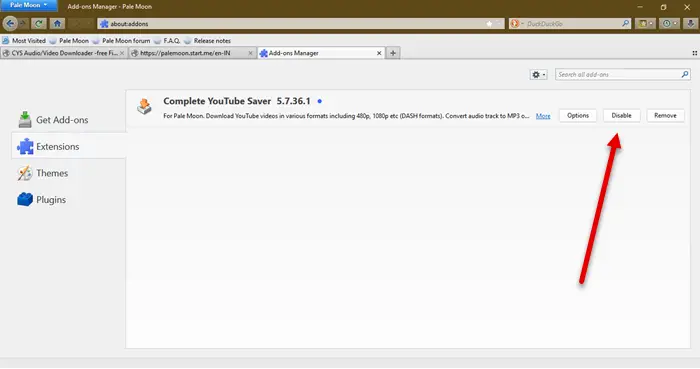 There are a lot of extensions that you might be using. If any one of them is corrupted, you will see the issue in question. We can turn off the extensions one by one to find out who the culprit is in this case. If there is one, all we have to do is remove it and your browser will work just fine.
To disable the extensions, open Pale Browser, hit Ctrl + Shift + A, go to the Extensions tab, and click on Disable to turn off the extensions. You can do this to each one of them one by one, and if after disabling a particular plugin, your browser starts performing, just delete it from the same window, and your issue will be resolved. In case, this solution didn't work for you, move to the next one.
3] Try using a different profile
You can also try using a different profile as the browser may also fail to work if there is an issue with your profile. To do the same, you need to sign out and sign back in. It is an easy solution that you can try and in case this didn't work, you can go back to your original profile. So, follow the given steps to do the same.
Open Pale Browser.
Go to the Homepage if you are not on it.
Click on the Profile picture and select Sign out.
Click on the Login button and then on Sign up.
Follow the on-screen instructions to create a new account.
Hopefully, this will do the job for you.
4] Uninstall and reinstall Pale Browser
If Pale Browser got corrupted, it should not even launch on your system, but sometimes, there is a particular file that's corrupted and can not be repaired. In that case, we can just have to reinstall the app and see if that helps. So, just go ahead and uninstall the program and then download it from palemoon.org. Once you have installed the fresh copy of the browser, your issue should be resolved.
5] Update GPU Drivers
If nothing works, then maybe the issue was not because of the browser but because of the drivers on your computer. You need to update Graphics drivers in order to resolve the issue. Following are some of the methods to do the same.
Some of you may want to use free Driver Update software or tools like AMD Driver Autodetect, Intel Driver Update Utility or Dell Update utility to update your device drivers. NV Updater will keep NVIDIA Graphic Card Driver updated.
Hopefully, you are able to resolve the issue and get the Pale Moon browser up and running with these solutions.
Is Pale Moon browser good?
Pale Moon browser is from Mozilla and is a great lightweight browser. It is built on top of an open-source Goanna-based browser. The best thing about this browser is its community and active developer support. So, if there is a security issue, you can bet that it will be rectified in its next iteration. Browser is also quite lightweight, so, if you don't want to put a lot of burden on your processor, you can download it. It also uses the DuckDuckGo search engine instead of Google by default, to get quicker results. However, if you want, you can always switch to the infamous Google. All-in-all, the Pale Moon browser is good and if you are in the market for a lightweight browser, then download it.
Does Pale Moon browser support NPAPI?
Yes, the Pale Moon browser does support the NPAPI plugin. Firefox, recently, deprecated the support for these kinds of plugins, but the Pale Moon browser is not going to remove them and you will be able to use NPAPI plugins on it. This is another reason to use the Pale Moon browser.
Pale Moon not passing Cloudflare's Checking Your Browser test
There are some reports that Pale Moon's browser is not passing Cloudflare's Checking your browser test. The issue is noticed on certain websites, most of them had some issue with the SteamDB, Steam's database engine. The issue, however, should get resolved. So, you should keep checking for updates and make sure that you are on the latest.
Read: Browser stuck at Checking Your Browser Before Accessing message 
Why don't you try a different browser?
The Pale Moon is causing trouble for some users. If you are one of them, try switching to a different browser. Firefox is a close one, you can read our guide, Pale Browser vs Firefox to make your decision. Pale Moon is a stripped-down version of Firefox, this has its own perks as the browser will be light and won't put a lot of pressure on your computer. Still, go through the guide to know more.
That's it!
Also Read: Backup Pale Moon User Profile with Pale Moon Profile Backup Tool.