Microsoft Paint is a graphics editor that allows users to use its tools to edit images quickly and save them in almost every format. Some users have reported that they experience some errors when opening, uploading, or editing files in MS Paint. In this article, we will look at ways to fix Paint cannot read this file, This is not a valid bitmap file error that seems to come out of 'nowhere'.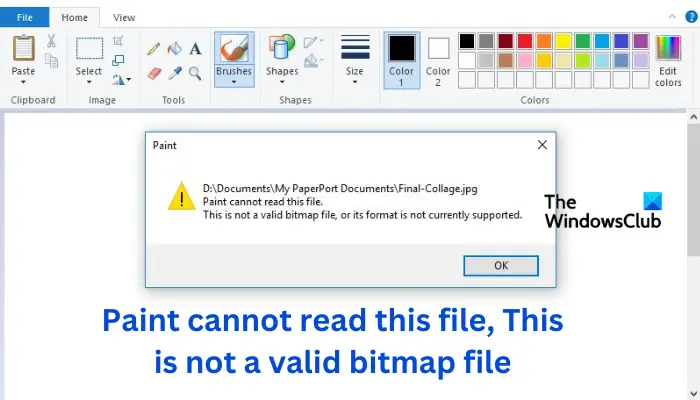 Paint cannot read this file. This is not a valid bitmap file, or its format is not currently supported.
However, the same files can be opened using apps like GIMP, Photoshop, Paint 3D, IrfanView, Paint.net, etc. This leads to the conclusion that the issue might be the image itself or the Paint app.
Why does Paint say it cannot read this file?
This issue can occur if you have saved a BMP with a jpg/png extension, edited JPG/PNG file in Paint, or changed the resolution – or if the file is high resolution. You may also see this error message for files you downloaded from the internet or while opening photos from your DSLR camera. Other causes could be:
Microsoft Paint app issues. Paint could be corrupted or outdated, making it unable to install the latest updates to fix some bugs. The app incompatibility might also cause the Paint error and this can only be solved by having the latest MS Paint version.
Wrong file format. Paint supports only specific file formats which are Bitmap (BMP), PNG, JPEG/JPG, TIFF, and GIF. If you use the wrong file format, you will get the error 'Paint cannot read this file'.
Corrupted images. If the files you are trying to open are damaged or corrupted, you might get the error.
Fix Paint cannot read this file, This is not a valid bitmap file
When you try to open a file, and you get Paint cannot read this file, This is not a valid bitmap file error, try the following solutions;
Start with the basic steps
Repair Microsoft Paint
Update Microsoft Paint
Use an alternative Image Editor
Let us now cover these solutions in detail.
1] Start with the basic steps
We always advise starting with basic preliminary steps before heading to more advanced solutions. In this case, to fix the 'Paint cannot read this file, This is not a valid bitmap file' error, use the basic steps below;
Turn off any background apps
Ensure you are using the right file format
Make sure that the image is not corrupted
Scan your system for malware and viruses
If nothing after these basic steps, try the steps below.
2] Repair or reset Microsoft Paint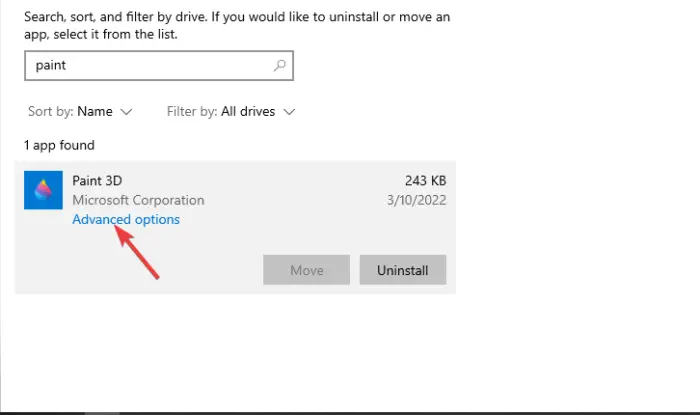 Repairing Paint fixes the app if it's not working properly. Unlike resettings, repairing a Windows program does not delete any data. To repair Microsoft Paint, follow the steps below;
Open your Windows Settings app and go to the System option.
Select Apps and then Apps & features
Scroll down and locate the Paint app and click on the three dots next to it.
Select Advanced options and then click on Repair/Reset.
Follow the on-screen directions to complete the process.
Read: Repair corrupted image files online free or using freeware
3] Update Microsoft Paint
Ensuring that Paint is updated fixes issues like compatibilities, corrupted app files, or unsuccessful installation. You can check the app updates in the Windows Updates settings under the Optional Updates section.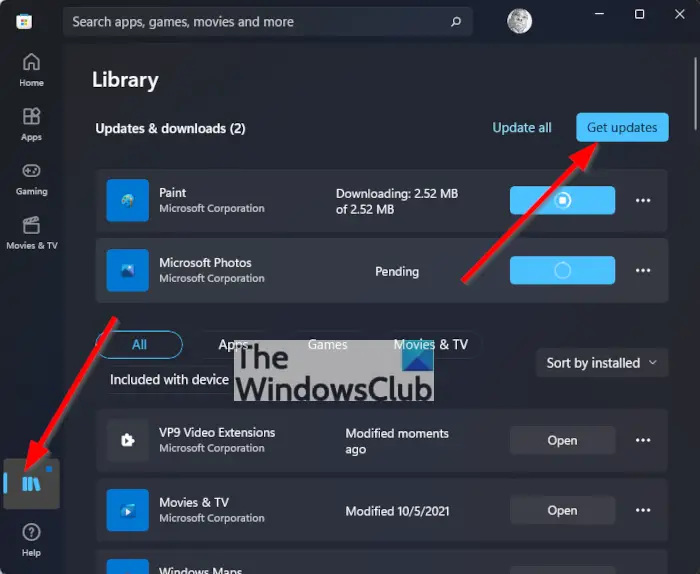 You can also visit Microsoft Store > Library >Downloads and updates > Get updates.
4] Use an alternative Image Editor
You could use an alternative free Image Editor like IrfanView.
We hope something here works for you.
Fix: Paint 3D app not working or opening, Error 0x803F8001
What are the supported file formats of MS Paint?
Microsoft Paint can modify, open, and save several file formats, which include single-page TIFF, PNG, JPEG, GIF, and BMP (Bitmap). However, the default file format for Paint is BMP.
Read: Best free Microsoft Paint alternative software for Windows
How do I fix Paint not working?
The reasons why Paint is not working can be because the app is outdated, attacked by malware or viruses, corrupted app files, lack of necessary permissions, etc. To fix this, you may access Paint as an admin if you are using a guest account. You may also need to close all apps and restart your device and see if Paint will work. Also, fix the paint not working by scanning your system with antivirus software. If nothing works you can reset the Paint app or reinstall it.