Many a time, the images you download including GIF files get corrupted. If not worse, it usually happens when the metadata of the image is corrupted, and Windows 10 PC cannot read it properly. Using these free damaged photo repair tools, you should be able to repair corrupted image files. These tools can repair only if the damage is to an extent. Images that are recovered using recovery software or from corrupted hard disk might not work with these tools.
Repair corrupted image files
1] Repair GIF Image File online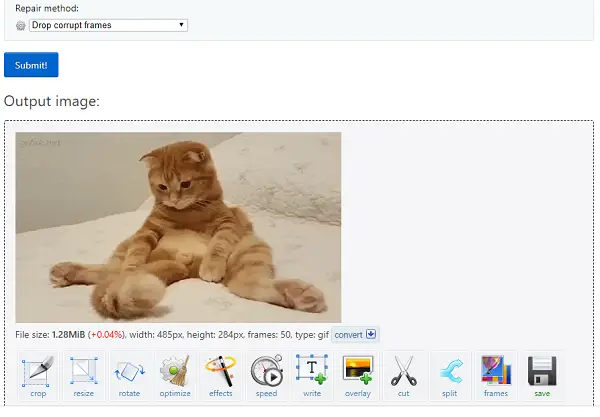 EZGif lets you repair corrupt gif images which either have a problem with frames or anything similar; this online tool can fix it. It can fix by removing corrupt frames, redrawing frames without optimizations, and even reset color tables.
Once you upload the file here, you can choose between ImageMagic Coalesce, Frame drop, gifsicle unoptimized, and so on. Post this; you can also choose to edit the image by change its aspect ratio, rotate it, add effects, change speed, add text and even split GIFs.
This tool is completely free, and the image can be downloaded without any restriction or watermark. The max size you can upload is 35 MB.
2] Use Image Converter Website
These websites should be able to fix the metadata of the uploaded images while converting to another format. You can keep the format the same, and after conversion, you should have a fixed image that you can open on your Windows 10 PC. Here is one such website.
3] Free JPG Image Repair software

If you have a copy of the image, which is in a different format or resolution or orientation, i.e., an image shared on social media or over WhatsApp, you can use this tool to repair the actual image by using a reference image. You may have to experiment with its exact size to get the best results.
Make sure to always keep a copy of your corrupted file before trying this tool. I have seen sometimes it fails to repair the corrupted image.
You can download the software from here. The freeware version of this JPG repair software is functional, but the batch mode is disabled.
While these tools works, nobody can give you a 100% guarantee. Corruption can be at various levels, and if your file is beyond repair by these simple tools, you need professional software to fix it.