Viewing graphics on Windows 10 is super easy due to the abundance of options available to the user. However, today are going to talk about a free-to-use program known as IrfanView Graphic Viewer, and from what we've gathered, it is one of the most popular graphic viewing tools for Windows 11/10.
Now, we have the 64-bit version, but there is also a 32-bit version as well for anyone lacking a 64-bit Windows machine. No matter which version you're using, everything works just the same, so worry not. In terms of installation, this doesn't take a long time to process, but be sure to decide if you want to associate all images and video extensions with IrfanView.
Once you've done this, then during the installation, go ahead and check the extensions you want to associate and continue. After you're done, all images and videos associated with the extensions you've chosen will open automatically in IrfanView going forward.
IrfanView Image Viewer and Editor software
IrfanView lets you view & edit a picture, insert, crop, compress, or cut out an image, and more. Let us take a look at this free image editor software.
1] Edit an image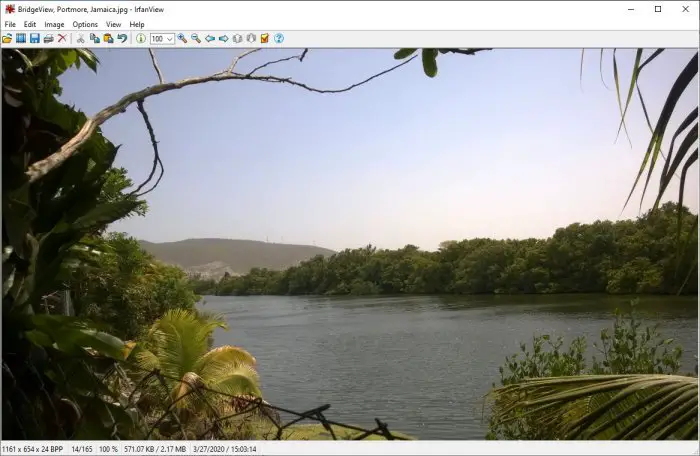 OK, so editing an image in IrfanView is simple, at least from our point of view. To open a picture, select a file from the section above, then click on Open. From there, a new window should appear for you to select the image you want to add for editing.
2] Insert Text
After adding your preferred image, it's now time to insert a text. This can be done by simply clicking on the Edit section from the top menu, and from there, select the option that says Insert Text. Adding text allows the user to Append Copyright, Append Date, Append Time, and more.
Just bear in mind that users can change the color of the font. By default, the color is green. To change, click on the color and select from the options and that's it. Be sure to add your text to the huge box opening, then hit the OK button to complete the task.
3] Insert Watermark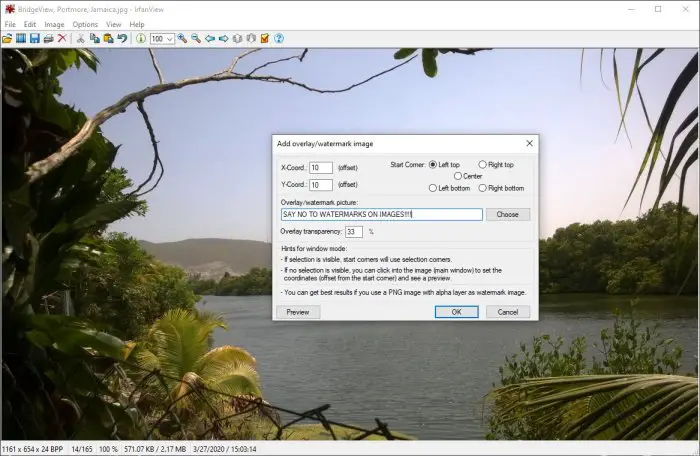 Depending on the type of business you are doing, there might be the need to add a watermark to an image. We can safely say that IfranView is one of the best tools to get the job done. Again, click on Edit, and after doing so, select Insert Overlay/Watermark Image.
A new window should pop up. This is where the user will add the text for the watermark, determine its transparency, and more.
4] Resize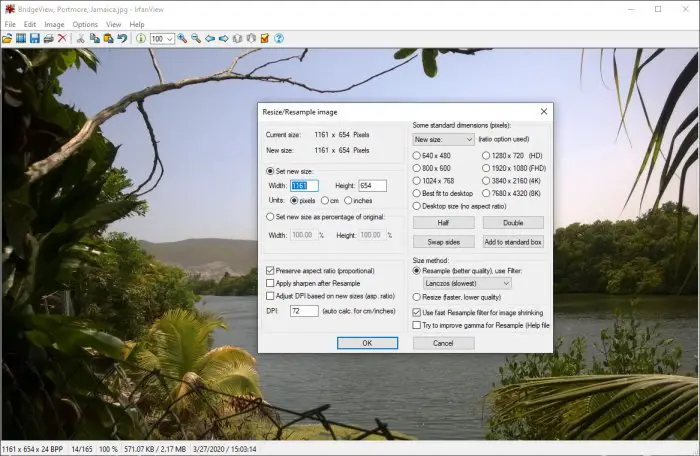 Yes, it is possible to resize images with IrfanView, and the task is super easy. Click on the section at the top that says Image, then select Resize/Resample Image to get going. From the new window that appears, choose the preferred size, and take advantage of the other features available. After that, hit the OK button and you're done.
It works well, and since it performs resampling techniques, the image should come out looking fine even after a downgrade.
5] Create image Histogram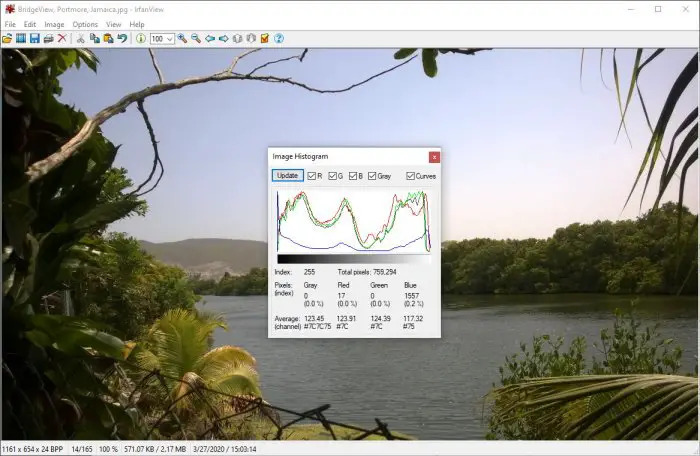 Seeing this feature reminded me of creating histograms and other types of graphs in R (programming language). I had no idea in all my years of using IrfanView that this option was available, or maybe it came in a recent update.
OK, so how do we create an image histogram? Simple really. Select Image, then scroll down to Histogram. Click it and automatically it should provide a graph of the current image. If need be, the user can add colors to the lines to make it stand out.
Overall, we enjoy using IrfanView. However, we have yet to scratch the service in terms of all the features this image viewer and editor brings to the table. Keep playing around with it to learn of all the things it can do. You can download it from its homepage.
TIP: Also take a look at PRIMA Rapid Image Viewer.