Microsoft Paint is the first painting application to be introduced on a computer, and its been around right from the early versions of Windows. It is a classic painting utility known for its simplicity, and it is undoubtedly the first application program that we will have ever used. Still, sadly, it is no longer in active development, and it might be removed in future releases. In recent versions of Windows 11/10, most of the features and functionalities were officially removed and deprecated Windows 11/10. Microsoft Paint is one of the listed features that were deprecated.
However, Microsoft has officially declared that Microsoft Paint will remain available through the Windows Store for free. Currently, Microsoft is focusing on the new Paint 3D, and Microsoft Paint will be integrated into the new Paint 3D. Paint 3D is the obvious replacement to Microsoft Paint, and if you want to try out some new functionality, you have to use Paint 3D that features new 2D and 3D tools.
While it is great news that Microsoft Paint is going nowhere, we should keep some alternatives ready that would offer similar features to MS Paint. Here is a list of some free Microsoft Paint alternatives that you may want o take a look at.
Free Microsoft Paint alternative software
In this article, we round some of the best alternatives to Microsoft Paint available for free. So let's get started.
Paint.NET
Krita
Artweaver
GIMP
IrfanView
Pinta
Vectr
Make sure to try each of them and make an informed choice.
1. Paint.NET
Paint.net is a powerful image and photo editing software that runs on Windows 11/10. It is an obvious replacement for MS Paint and supports a variety of useful tools. It offers a super-easy user interface just like MS Paint and is available for free download. It supports basic features like coloring, editing images, special effects,photoshop-Esque layers, etc. Additionally, you can benefit from advanced features like contrast, unlimited undo and redos, an array of drawing tools, color correction, various plugins, sharpen tools, and blur tools with a user interface almost similar to Microsoft Paint.
2. Krita
Krita is an open-source painting utility program offering a variety of drawing tools. This tool is an excellent option for professional artists, which provides a lot of artistic tools for free, which was absent in MS Paint. Krita is excellent for producing concept art, illustrations, and comics. It is also a  great tool option for budding texture and matte painters.
3. Artweaver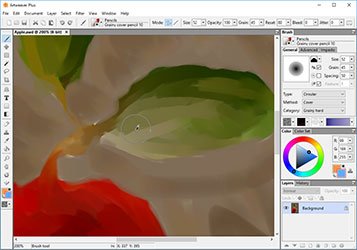 Artweaver is a full-featured painting utility offering a vast range of predefined realistic brushes. It is suitable for both beginners as well as advanced artists to create stunning art. It has a different brush configuration to optimize the workflow, provides easy to use user interface, and it allows you to work with multiple artists on the same document over the internet. Additionally, it is powered by a powerful core that utilizes the hardware to the maximum and in fact increases the functionality by supporting additional tools.
4. GIMP
GIMP is an open-source photo editing software available for Linux and Windows. It offers various art tools to create unique artwork creations for illustrators, painters, photographers, graphic designers, science and other beginner level artists. Unlike MS Paint it offers high-quality tools for high-quality photo manipulation and can be used for producing graphic design elements, creating art and icons.
5. IrfanView
IrfanView is a simple graphics viewer program that supports Windows 11/10. The software is compact and is very similar to MS paint. It is a great tool to edit images and perform basic operations like cut, crop, rotate, flip, sharpen and resize the images. It does all the basic jobs done in MS paint and is designed to be fast and powerful.
6. Pinta
Pinta is an open-source image and photo editing software available for Linux, Mac, and Windows. It offers basic art tools to create images, supports 35 adjustments and effects to manipulate images.  It also supports advanced features and allows users to use multiple layers for easy editing and track the complete history of your work.
7. Vectr
Vectr is a powerful image and photo editing software for creating exclusive graphic designs. It allows you to create vector graphics easily with the help of its vast art tools. The free tool is compatible with Linux, Mac, and Windows. Vectr users can also engage in a real-time collaboration that would allow you to send a Vectr document  URL to colleagues without hassle. Vectr is used to make crisp and clear presentations, invitations, greeting cards, websites, logos, icons, and other artwork. You can download it here.
Which one is your favorite?
Did Microsoft discontinue Paint?
Microsoft did discontinue Paint in one of the older versions of Windows, but then it came back. The modern version of MS Paint looks much better than compared to what it looked in Windows 7 and Windows 8. It is still the best tool if you want to edit an image using the most straightforward editing tool.
Can I download Microsoft Paint?
No, Microsoft Paint cannot be downloaded, not even from Microsoft Store. It is part of the Windows Installation. However, you can choose to uninstall Microsoft Paint if you don't need one. Microsoft recommends using Paint 3D, but it is too complex for basic image editing i.e. image resize, changing the file type, and so on.