If you find that your Outlook only opens in Safe Mode then this post will help you resolve the issue. When Outlook encounters a problem during its normal operation or is forced to shut down unexpectedly, it may be launched in safe mode to diagnose the root cause of the problem.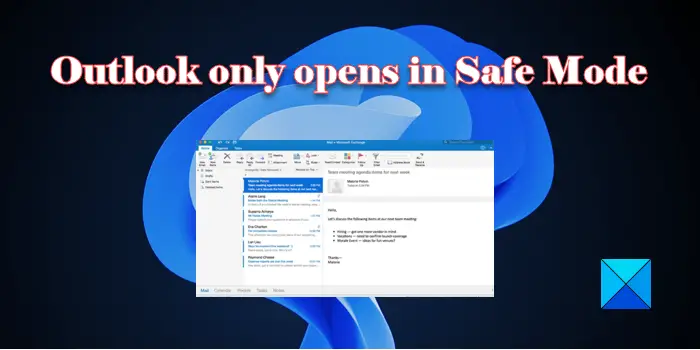 Safe mode is a way to access emails, calendar, and other features in Outlook when it can't be opened in normal mode. However, if you're stuck in safe mode and unable to get Outlook back to normal, then read this post to know how to resolve the issue.
Fix Outlook only opens in Safe Mode
In safe mode, Outlook runs without any additional add-ons or plugins. However, the installation of a conflicting add-on itself could be a reason for not letting Outlook run in normal mode. Other possible reasons could be OS compatibility issues, corrupt data files, or a corrupt Outlook profile.
If Outlook only opens in safe mode, we recommend creating a System Restore Point and then using the following solutions to fix the issue:
Remove incompatible add-ins.
Uninstall problematic update.
Check if Outlook is running in Compatibility mode.
Repair Outlook data files.
Reset Outlook profile.
Repair Office installation.
Let us see these in detail.
1] Remove incompatible add-ins

Run Outlook in safe mode and disable all plugins. Then re-enable plugins one by one to identify the conflicting plugin. Once you identify the plugin, consider removing it.
Choose Yes in the Outlook Safe Mode prompt.
Choose a profile and enter the password if required.
Click on File > Options.
Under Outlook Options, click on Add-ins in the left panel.
In the right panel, select COM Add-ins in the Manage dropdown at the bottom and click on the Go button.
Uncheck all available add-ins in the COM Add-ins window and click on the OK button. This will disable these add-ins.
Exit and relaunch Outlook.
Go to Outlook add-ins and re-enable one of the plugins.
Restart Outlook and see if the issues reappears. If it does, you have figured out the faulty plugin. Else, repeat the process until you re-enable all plugins.
Select the faulty plugin and click on the Remove button to remove it from Outlook.
Apart from the above, you may also remove navigation pane customizations by executing the Outlook.exe /resetnavpane command in the Run dialogue box to see if it helps.
2] Uninstall problematic update

This type of error may also occur after installing a Windows update. You may check Micosoft's official website to see if it has documented any update that's causing Outlook to open only in safe mode. For example, the KB3114409 update for Outlook is known to cause this error. If you've installed such an update, uninstalling it might help resolve the issue.
Click on the Start menu icon and select Settings.
Click on Windows Update at the bottom of the left panel.
Click on Update History under More Options.
Scroll down to the Related settings section and click on Uninstall updates.
Click on the Uninstall button next to the problematic update.
3] Check if Outlook is running in Compatibility mode

The compatibility mode allows you to run a program in an older operating system. According to a few users, the issue disappeared once they've deselected Outlook to run in the compatibility mode settings. If you're also running Outlook in compatibility mode (applicable to Outlook 2010 and 2013 only), disable it and see if it fixes the issue.
Locate Outlook.exe on your computer. For Outlook 2013, go to C:\Program Files\Microsoft Office\Office 15\ or C:\Program Files (x86)\Microsoft Office\Office 15\. For Outlook 2010, go to C:\Program Files\Microsoft Office\Office 14\ or C:\Program Files (x86)\Microsoft Office\Office 14\.
Right-click on the Outlook.exe file and select Properties.
In the Outlook Properties window, switch to the Compatibility tab.
Uncheck the 'Run this program in compatibility mode for' checkbox.
Click on the Apply button. Then click on the OK button
4] Repair Outlook data files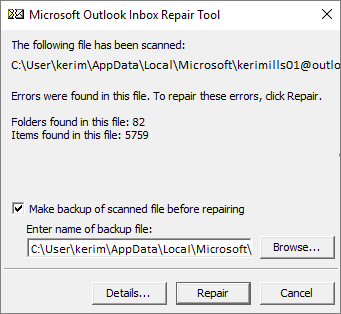 If the above solutions won't help, your Outlook data files may have got corrupted. Use the Inbox Repair Tool (scanpst.exe) to scan your personal folder files (.pst files) and repair any errors. Also use the OST Integrity Check Tool to scan corrupt OST data files and fix errors that may arise while synchronizing the offline folder to Outlook. Apart from this, we recommend using the freeware OLFix to repair issues with Outlook search, contacts, etc.
Also Read: Fix Outlook not connecting to Server.
5] Reset Outlook profile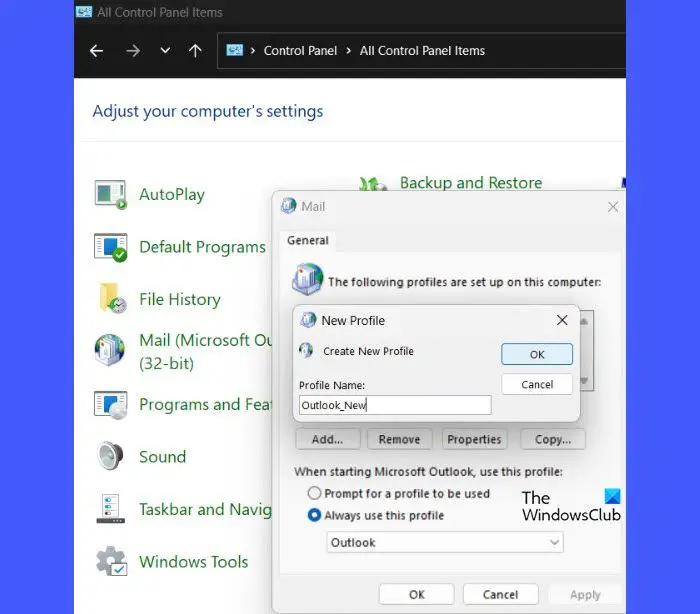 Resetting the profile will set Outlook to its default configuration and help resolve many issues. Follow these steps to reset the Outlook profile:
Exit Outlook (or make sure it is not running while you perform these steps).
Type 'control panel' in the Windows search bar and click on Open under Control Panel in the search results.
Switch the View to Large Icons.
Click on the Mail option.
Click on the Show Profiles button.
The current Outlook profile will shown highlighted. If not, select the profile and click on the Remove button.
Click on Yes in the confirmation prompt to delete the profile.
Now click on the Add button.
Enter a Profile Name in the New Profile dialogue box and click on the OK button.
In the Add Account window, fill in your account information, including your name, email, and password.
Click on the Next button.
Click on the Finish button.
Relauch Outlook to see if the issue is fixed.
Related: Outlook failed to launch in Safe Mode, Do you want to start repair?
6] Repair Office installation
If nothing helps, we suggest you Reset Office via Settings or use the Online Repair option to repair your Office installation.
I hope this helps.
Read next: Outlook not working after Windows 11 Update.