Computers runs a variety of programs in the background while it is running. This functionality is provided to enhance the productivity and efficiency of a computer. But this functionality is often misused by several programs and malware and hence results in a DDOS attack. Some websites with their own security mechanism or protection by various services like CloudFlare have an immunity to this kind of attacks. Google tracks the activity of a computer in a particular network and then prompt the machine with a message saying,
Our systems have detected unusual traffic from your computer network. This page checks to see if it's really you sending the requests, and not a robot. Please try your request again later.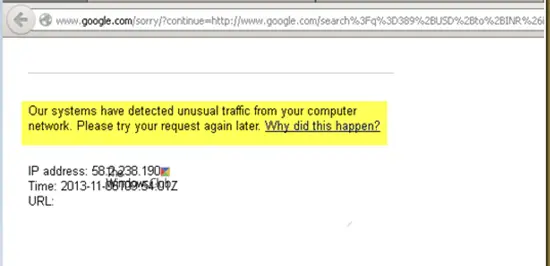 Our systems have detected unusual traffic from your computer network
If you see a Catcha, then you need to pass it. That is all! It typically blocks traffic from robots, automated services, or search scrapers.
But if you keep seeing it, then Google feels that there may be something wrong with your requests, then you can take a look at our following suggestions-
Disable Proxy or VPN
Disable proxy server for your LAN.
Perform a Malware Scan.
Reset your Browser.
Remove conflicting Browser Extensions
Reboot your network router.
1] Disable Proxy or VPN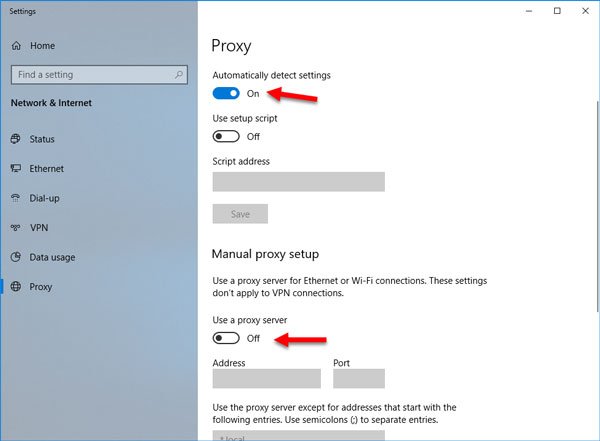 In Windows 10, there is an option in the Settings panel, which you can use to setup proxy. If you are getting this error message, you should disable it temporarily and check if the problem remains or not. For that, open Windows Settings by pressing Win + I button and go to Network & Internet > Proxy.
On your right-hand side, make sure the Automatically detect settings is enabled and Use a proxy server option is disabled under Manual proxy setup.
Now check if you can open it or not.
If you are using a VPN app, there is a chance of seeing this message. In that case, you should do these:
Change server and check if it is opening or not.
Disable the VPN temporarily and check if you can open the website or not.
Read: How to set up VPN in Windows 10.
2] Disable proxy server for your LAN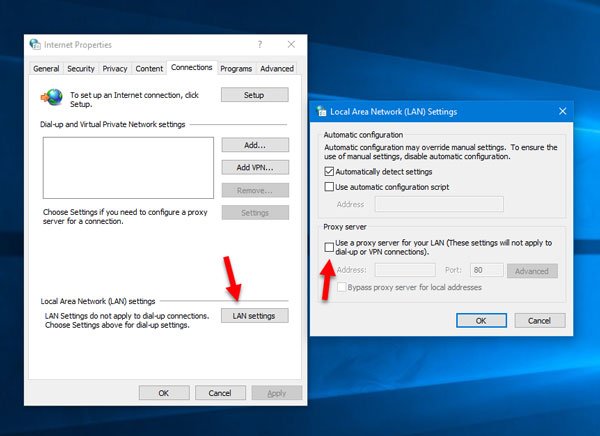 If your computer was recently attacked by malware or adware, there is a chance that it has changed your network settings to show custom spammy advertisements. This is a common situation when they change a setting in your system.
If so, you need to change it back. For that, search for Internet Options in the Cortana search box and open it. Following that, switch to Connections tab and click the LAN settings button. In this page, you should find an option called Use a proxy server for your LAN. If it is checked, you need to remove the tick to uncheck and save your settings.
3] Perform a Malware Scan
As mentioned before, this problem can occur due to some changes made by malware or adware. Therefore, scan your whole system for malware or adware. Use any antivirus software to scan your computer.
You may want to also use AdwCleaner. This useful freeware lets you carry out the following tasks with the click of your button:
4] Reset your Browser
Resetting your Browser will get you rid of all those suspicious system files stored by the browser accidentally. So you can learn more about how to reset Microsoft Edge, reset Google Chrome, reset Internet Explorer, or reset Mozilla Firefox in our guides. This will return your web browser to its default state with the OOBE.
5] Remove conflicting Browser Extensions
There are high chances that the extensions and toolbars installed on your browser might be conflicting with the loading of your website. So, in order to fix that, you need to remove or disable these extensions and toolbars.
6] Reboot your Network Router
You can also try to reboot your router from its Admin panel or just manually turn it off and turn it on after 10 seconds to reboot it completely.
7] Uninstall the suspicious programs installed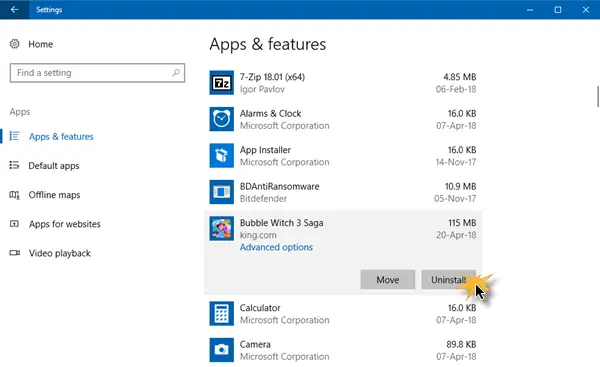 In case you suspect that some program may be causing conflicts, you need to uninstall it.
Start by hitting the WINKEY + R button combinations to open up the Run box. Inside it, type in appwiz.cpl and then hit Enter or just navigate to the Settings app and navigate to Apps > Apps & features.
This will now open up the Programs and Features section of the Control Panel or the UWP version of it. From the list of programs generated, you can select the program you want to install.
Right-click on it and click on Uninstall to uninstall it from your computer.
Reboot your computer for the changes to take effect. Check if this fixed the issue.
All the best!