Here is a quick tip that will show you how to quickly open an elevated Command Prompt window (CMD) from the Task Manager of your Windows 11/10 computer, with a click.
The Windows Task Manager helps in getting information about computer performance, running applications, processes, and more. The Task Manager has evolved with time right from Windows 3 to Windows 11 and the new Windows Task Manager, now offers a lot of information.
We have already seen how the Windows 7 Task Manager works and also the features of Windows 10 Task Manager, as well as the Windows 11 Task Manager, including how to understand the heat map of the Task Manager in Windows 11/10. Today we will take a look at this lesser-known feature.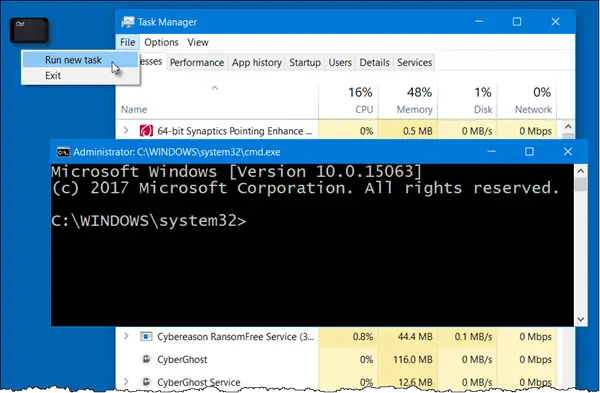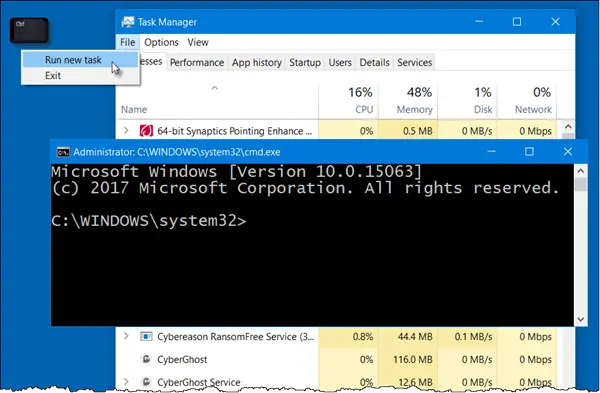 Open Command Prompt from Task Manager
Right-click on the Taskbar and select Task Manager to open the Windows Task Manager.
Click on the File tab, and you will see an option Run new task offered.
When you click on it, the Run box will open that will allow you to Run any task with administrative privileges.
But if you press the CTRL keyboard key and then click on Run new task, you will see an administrative Command Prompt window open.
This was actually a rogue feature introduced in Windows XP, and there was a reason why this was introduced. Over time, the original reason got left behind, but this feature still remains even on Windows 11/10.
Were you aware of it? Have you tried this feature?