There have been complaints that .ogg files cause File Explorer to crash on some Windows 11/10 computers. You can sometimes crash Windows Explorer simply by viewing the folder that contains a .ogg file. The same applies to all files in the .ogg format. If you're in the same boat as others, don't worry. The issues can be easily resolved by following the simple instructions given below. But first, let's clear up what an OGG file is since this is why you are here.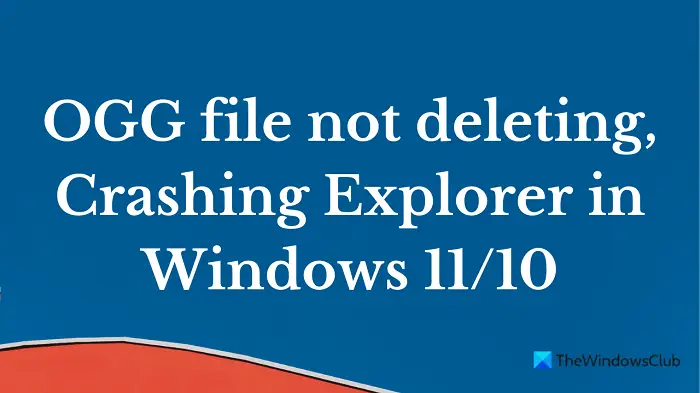 What is an OGG file?
Audio files compressed with Ogg Vorbis are known as OGG files. This file type looks and sounds similar to .MP3 files but is more high-quality sounding and could contain song metadata, such as information about the artist and the song's track. The OGG file format is supported by many audio players, including some portable devices as well.
OGG file not deleting; Crashing Windows Explorer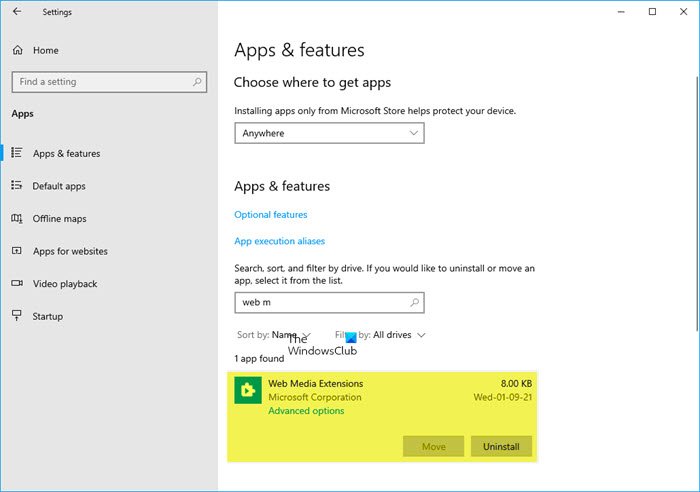 If you're experiencing this problem on your device, you can uninstall the Web Media Extensions and see. Several users have reported that they've been able to resolve this problem after uninstalling the Web Media Extensions application from their Windows computers. So, if you experience the same error on your computer, give this solution a try. Here is how to do it:
Now go to the Apps category.
Click on Apps & features.
Under App list, scroll down and select the Web Media Extensions application.
Click on the Uninstall button to remove the application.
Again click on Uninstall to confirm it.
Web Media Extensions allows you to play OGG, Vorbis, Theora coded videos on Windows 11/10. Uninstalling it and then re-installing it from the Microsoft Store has been known to help.
Let's now take a closer look at them:
To get it started, open the Windows Settings first. For this, right-click on the Start button and select the Settings option from the menu list. Alternatively, you can use the Windows + I keyboard shortcut to launch the Settings app directly.
For Windows 10, go to the Apps category then select Apps & features from the left pane.
For Windows 11, select the Apps section from the left side of the page and then click on the Apps & features option.
You will now see the Web Media Extensions application at the bottom of the screen, select it and click on the Uninstall button. Once again, click on Uninstall to confirm.
If this does not help then start your Windows in Safe Mode, and see if you can recreate the problem. If the problem has disappeared, then it's probably some startup program that causing Explorer to crash. Perform a Clean Boot and try to troubleshoot and identify the offending program.
Installed Add-ons are usually the culprit! Check if you have installed any helpers or add-ons to your explorer. Uninstall or disable them. Often, even 3rd-party shell extensions can cause Explorer to crash on particular actions. Several programs add items to the right-click context menu. To see them in detail, you may download the freeware utility ShellExView.
Hope something helps.
How to Convert an OGG File
You can convert an OGG file to MP3 format using free online OGG converters, but File Zig Zag or Zamzar is the best option to accomplish this task.
Related: Windows 11 is very slow to save files; Save As appears late.