Some users have reported that they are seeing an MSCOREE.DLL-related error. This obviously stops them from launching some applications which is very annoying. The error that appears says MSCOREE.DLL not found or is missing. However, the whole error varies, the following is one of the variants of this error, but it can be different. Whatever the error is if MSCOREE.DLL was not found or was missing, this article is for you.
<Application.exe>- System Error

The code execution cannot proceed because mscoree.dll was not found. Reinstalling the program may fix the problem.
Let us go to the troubleshooting guide.
MSCOREE.DLL is a part of the Microsoft .NET Framework. There are a lot of programs in need of an environment created by the .NET Framework to run on. If the environment won't be there, these programs will crash at startup. The DLL file provides the possibility to connect information, systems, people, and devices through software.
Now, the issue that you are facing may occur due to the fact that the .NET Framework on your device is either corrupted or turned off. The best part is, that they can be fixed easily if you follow the solutions mentioned.
Fix MSCOREE.DLL not found or is missing on Windows 11/10
Is MSCOREE.DLL not found or is missing on your computer? If so, try the following solutions:
Check if .NET is disabled
Reinstall the program
Run System File Checker
Scan for Viruses and Malware
Install Optional Updates
Repair .NET Framework
Troubleshoot in Clean Boot.
Let us talk about them in detail.
1] Check if .NET is disabled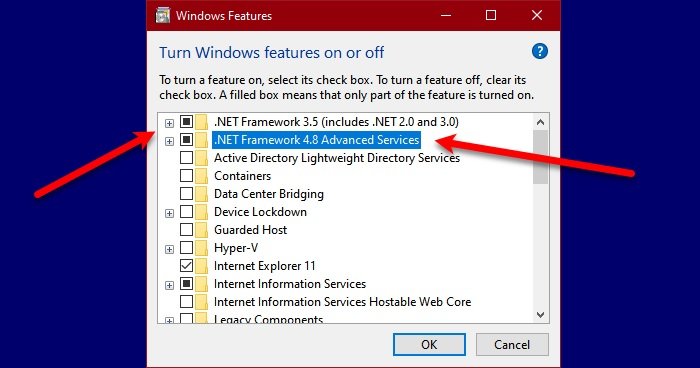 First up, we need to check if .NET is disabled on your computer. MSCOREE.DLL file is related to .NET and if it's disabled, you will see the error code in question. So, let us follow the prescribed steps to check the .NET feature.
Open Control Panel.
Change View by to Large icons.
Click on Programs & Features > Turn Windows features on or off.
Check if .NET Framework (all the versions) and make sure that it is enabled. If the option is unticked, tick the box. Also, expand the option if possible and check sub-options as well.
Click Ok.
Hopefully, this will do the job for you.
If the option was already enabled, try disabling and then reenabling it. This should work for you if .NET files are corrupted.
2] Reinstall the program
When you install a program, a lot of other related required features are installed. If for some reason, your installation package is corrupted or any of those files are missing, the error code in question can appear. That is why, if nothing worked for you, then you should uninstall the program and install its fresh copy.
3] Run System File Checker
If .NET is enabled, let us go and run System File Checker. This will scan and repair corrupted system files, which should resolve this issue for you. So, open Command Prompt and run the following command.
sfc /scannow
It may take some time, but when it's done, your problem should be resolved.
4] Scan for Viruses and Malware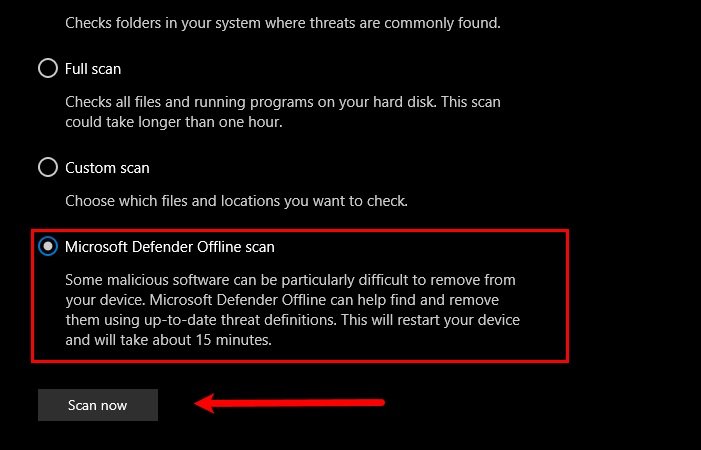 Next up, let us try to scan for viruses and malware as if they are present on your computer, you can expect to see these kinds of errors. You can use a third-party antivirus if you want. In case you don't have any, follow the prescribed steps to run Windows Defender Offline Scan.
Search for Windows Security.
Click on Virus & threat protection > Scan options.
Select Microsoft Defender Offline scan and click Scan now.
Let the process complete and check if the issue persists.
5] Install Optional Updates
As you may already know, .NET updates come in Optional Updates. These updates can resolve your trouble because the issue can either occur because of incompatibility or a bug. So, try installing Optional Updates and see if the issue persists.
6] Repair .NET Framework
Use the Microsoft .NET Framework Repair Tool to repair its installation. You should go to microsoft.com and download the tool. Then run it to repair the corrupted .NET installation. If the framework is actually corrupted, repairing it will do the job.
7] Troubleshoot in Clean Boot
You may also see the error code in question because of a third-party app. Since we don't know which app it is, try performing Clean Boot. Then enable processes one by one to find out the culprit. Once you have removed the troublemaker, your issue should be resolved.
Hopefully, these solutions will do the job for you.
Read: DLL is either not designed to run on Windows or it contains an error 
If Mscoree.dll is missing you can not just download the file separately, at least not from the most reliable source. And even if you manage to download the file, you won't be able to place it at the correct location. You can, however, follow the solutions mentioned in this post. Just go through them one by one and the problem that you are facing will be fixed.
Also read: How to fix Missing DLL files errors on Windows 11/10 PC.