Even though we have touch-screen-based Windows 11/10 devices, the mouse remains an important part of usage, especially when you want to do some hardcore work. When using Touch, it's a bit hard to drag – and when it comes to the editing of images, and videos, nothing beats the mouse. So if you are a mouse user, you may find it irritating if your mouse pointer or cursor is lagging or freezing on Windows 11/10; it's a big problem.
Why does my mouse keep freezing and lagging?
There can be a dozen of reasons why your mouse is freezing and lagging. The worst-case scenario is that your mouse has malfunctioned, as that involved money, and the best-case scenario is that it's just a glitch. Let us see talk about something in the middle, following are some of the reasons that can force your mouse to stutter.
Dirty Mouse and Pad
Faulty USB
Batteries running low
Long Distance between your mouse and computer
Mouse Driver issues
Misconfigured Settings
Fast Startup.
There are just some of the reasons, but there are a lot more. If you want to fix it, move to the troubleshooting guide.
Mouse Pointer and Cursor lagging, freezing or stuttering
In this guide, we are discussing a few tips which can help you get rid of this Mouse Pointer lags or freezes so you can use your mouse smoothly. Go through the entires list first and then decided which ones you want to try first.
Clean mouse and mouse pad
Change USB Port
Get back to Default Settings
Disable Smooth Scrolling
Update or Rollback Mouse Drivers
Check if your computer is turning off the mouse
Update Graphics Drivers
Set No-delay for Touchpad
Use new batteries
Check the mouse distance
Disable additional mouse drivers
Disable Enhanced Pointer Precision
Run Hardware and Device Troubleshooter
Disable Fast Startup
Restart File Explorer.
Fix Mouse lag on Windows PC
1] Clean mouse and mouse pad
This might just sound silly, but many a time either of these two is a problem. We don't have mouse balls anymore, but even those laser lights can get dirty. Clean the bottom of your mouse. The second is cleaning up your mouse pad which might have dust collected from years of usage! If this helps, make sure to keep this in mind for the future.
2] Change USB Port
Another basic tip, but chances are the USB port with which either your mouse is connected, or the dongle of your wireless mouse has gone rogue. Try connecting to a different port, and see if it works for you.
Read: How to perform Mouse Latency Test in Windows.
3] Get back to Default Settings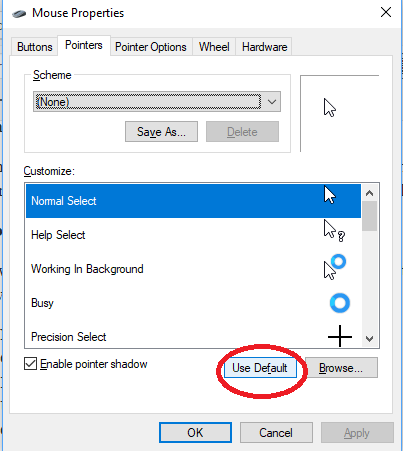 It's always a good idea to see if your mouse is working as expected under default settings. Since we are dealing with a pointer issue, follow the steps below:
Navigate to Start > Settings > Devices.

Click on Mouse and Touchpad.
In the right pane, click on Additional Mouse Settings.
Under Pointer tab, Click on Use Default.
Click on Apply and OK.
4] Disable Smooth Scrolling
You can slow down both horizontal, and vertical scrolling of the mouse in mouse settings. Also called as Smooth scrolling, it helps if you think websites are scrolling up and down way too quickly.
Related: Mouse Pointer keeps flickering.
5] Update or Rollback Mouse Drivers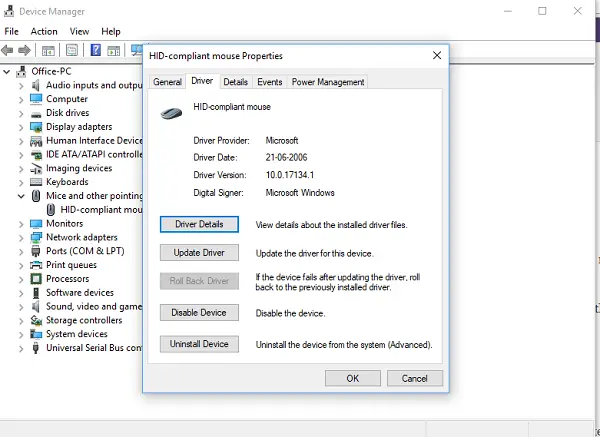 You need to either update or roll back the drivers. It is possible that after updating Windows, your driver needs a refresh. On the contrary, if you just updated the mouse driver, and the issue started after that you need to roll back the driver.
From the WinX Menu, open Device Manager. Select your Mouse, and open Properties with a right-click. Next switch to the Driver section. The rollback is only available if the update was recent. If that's, not the case, click on Update Driver, and Windows will automatically check for the problems.
Related: Mouse stuck in the middle of screen Windows
6] Check if your computer is turning off the mouse
If you are using a laptop, the power management might turn off the devices that are not in use to save power. This can happen with the USB based device.
To change this go to Device Manager > Universal serial bus controllers > USB Root Hub > Power management > uncheck "Allow the computer to turn off this device to save power".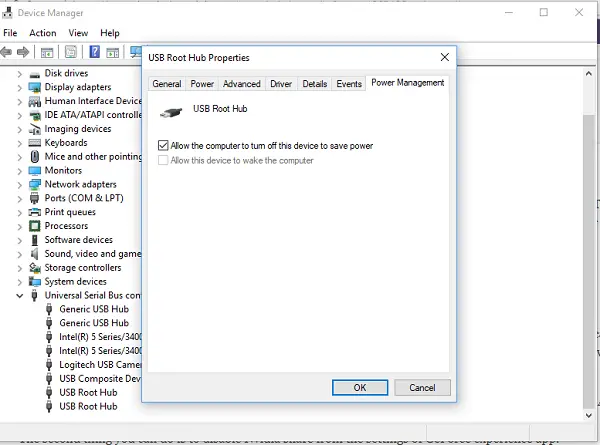 If you have multiple USB Root hubs, you can try changing them one by one, and see which one works for you.
7] Update Graphics Drivers
If you are facing an issue during any high graphics usage or when playing a game, it's best to update the graphics drivers. In case you have an Intel, update its graphics drivers from the device manager. In case you have NVIDIA, you can do the same. There are two more settings you need to change for NVIDIA.
Open the NVIDIA control panel from the system tray, and change the high-performance NVIDIA processor to Auto-select. This will make sure the driver uses the best options suitable for the mouse.
The second thing you can do is to disable Nvidia Share from the settings of GeForce experience app.
8] Set No-delay for Touchpad
If this is happening with your touchpad, you can try setting the delay to zero. Open Settings > Devices > Mouse and Touchpad. Here you can set the delay before clicks to No Delay.
9] Use new batteries
When you run low on batteries, your mouse starts showing signs before completely shutting down. If it is freezing, try getting a new set of batteries and see if that resolves the issue.
10] Check the mouse distance
Your mouse is connected to your computer via Bluetooth, which allows it to run even from a little longer distance. However, the farther you go from your system, the weaker the signal gets, as a result, your mouse starts stuttering and freezing. We would recommend you to keep your mouse as near to your computer as possible.
113] Disable additional mouse drivers
When you add a mouse to your system, chances are its driver will get installed. This usually doesn't cause any trouble, but in some cases, users have reported that disabling the additional mouse driver has improved the performance of their current pointer device. You can try this as it doesn't have any consequences, because next time, when you add that device, its driver will get installed.
To disable the additional mouse drivers, follow the prescribed steps.
Open Device Manager.
Expand Mice and other pointing devices.
Right-click on your driver and select Disable device.
Hopefully, this will do the job for you.
12] Disable Enhanced Pointer Precision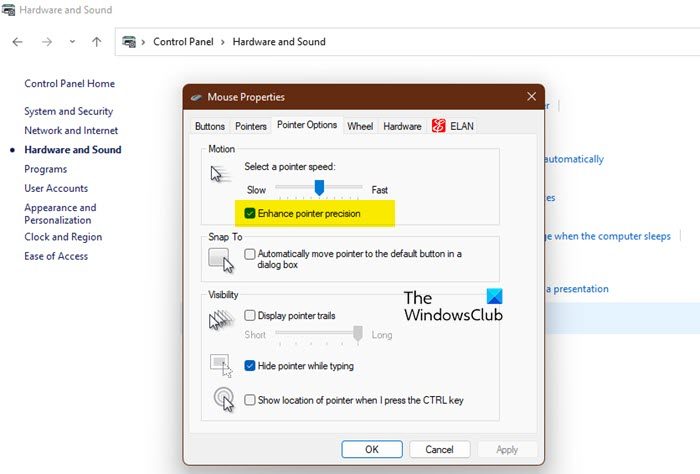 Enhanced Pointer Precision is meant to improve your mouse using experience. However, in reality, it's been causing trouble for some mice. We are going to disable the feature and see if that helps.
Open Control Panel.
Click Hardware and Sound > Mouse (from Device and Printers).
Go to the Pointer Options tab, and untick Enhance pointer precision.
Click Apply > Ok.
Hopefully, this will do the trick for you.
13] Run Hardware and Device Troubleshooter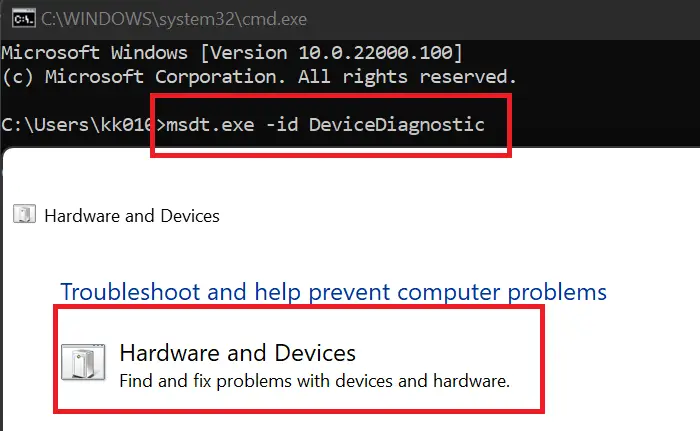 Hardware and Device Troubleshooter is meant to resolve hardware-related problems and guess what, your mouse is hardware. We need to run Hardware and Device Troubleshooter and see if that helps.
To do that, open Command Prompt as an administrator and run the following command.
msdt.exe -id DeviceDiagnostic
It will open a utility that will ask you to follow the on-screen instructions to run Hardware and Device Troubleshooter. Hopefully, this will scan and resolve the issue that you are facing.
Also Read: How to run Windows Troubleshooter from the command line 
14] Disable Fast Startup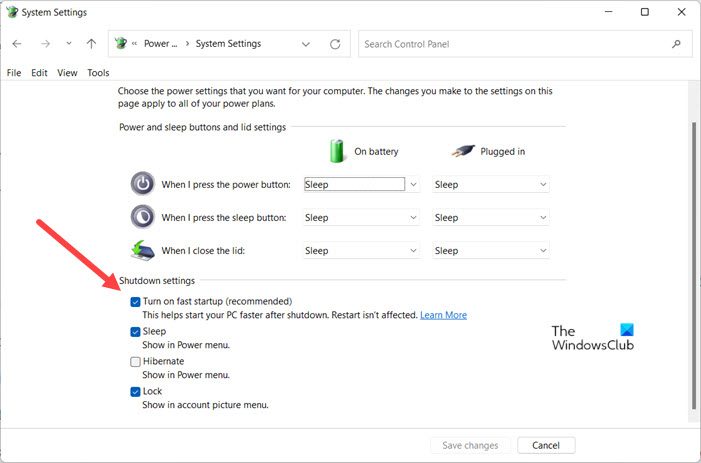 Fast Startup boots the system quicker than usual, but sometimes, it can disallow installation or initialization of some drivers, which can freeze your mouse. To disable Fast Startup, follow the prescribed steps.
Open Control Panel.
Set by View by to Large icons.
Click on Power Options.
Then, click on Choose what the power button does > Change settings that are currently unavailable.
Untick Turn on fast startup.
Click on Save changes.
Hopefully, it will do the trick for you.
15] Restart File Explorer
One of the ways to fix the stuttering of the mouse is by restarting File Explorer. To do the same, go to Task Manager, right-click on File Explorer and select Restart. It should do the job for you.
These tips should help you solve the mouse pointer lags or freezes on Windows issue. If you have any other suggestions, please do share.
Why is my mouse flickering in Windows 11/10?
If the mouse pointer keeps flickering on your Windows 11/10 computer, then it could be because of errors in the mouse driver and/or display driver. To fix the issue, update or re-install the mouse driver. You can also run the Hardware and Device troubleshooter of Windows 11/10 and it can help to automatically fix the issue.
Related reads: