You may have noticed that whenever you scroll up or down any document or web page using the mouse, it gets scrolled 3 lines at a time. This is the default setting in Windows, as a result of which, when you scroll your Word documents or any web page in any browser, a single scroll wheel notch makes the page jump 3 lines.
If you wish to change this setting on your Windows system-wide or in most major browsers like Microsoft Edge, Chrome, Firefox, Internet Explorer, and Opera – natively or by taking third-party tool help, follow this post until the end.
What is Smooth Scrolling in Windows?
Smooth scrolling is a feature in Windows that allows the user to scroll smoothly through web pages and documents. Instead of the content jumping abruptly from one position to another as you scroll, smooth scrolling causes the content to gradually move into position, creating a more natural and fluid scrolling experience. This can make reading and navigating web pages and documents easier, especially on large displays or when using a touchpad.
Some users may also find the smooth scrolling behavior distracting or confusing, especially if they are accustomed to the traditional jumping behavior of the scroll bar. If the speed is too much, then it's best to reduce the number of lines, which should be easy on your eyes. Ultimately, it's a personal choice, so what works well for one person may not be ideal for another.
Enable Smooth Scrolling in Windows 11/10
To change the scrolling settings system-wide on your Windows computer, open the Control Panel > Mouse > Wheels tab. Here you can change the figure from 3, to 2 or even 1 if you wish. This will make any page or document scroll 1 line at a time. If you change this setting, it will be changed system-wide, i.e. for your documents and browsers.
This may not make the scrolling smoother, but because it is scrolled 1 line at a time, it gives you more control and appears smoother.
If you wish to change it only for your web browsers and keep the default Windows setting as it is, you can do the following in Microsoft Edge, Internet Explorer, Chrome, Opera, and Firefox.
1] Enable Smooth Scrolling on Edge browser
Type systempropertiesadvanced in the Start search box and hit Enter
This will open the System Properties box.
Select Advanced tab > Performance > Settings button.
Under Visual Effects, locate and select the Smooth-scroll list boxes box.
Click Apply/OK and exit.
In the new Edge (Chromium), you can also do the following.
Type edge://flags and hit Enter.
Search for 'smooth'.
Select Enabled against Smooth scrolling and restart the browser.
2] Enable Smooth Scrolling in Chrome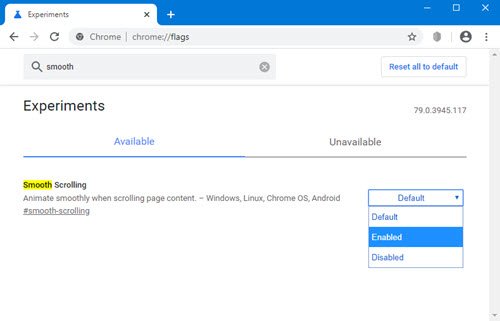 In the Chrome browser, do the following.
Type chrome://flags and hit Enter.
Search for 'smooth'.
Select Enabled against Smooth scrolling and restart the browser.
You can also use the Chromium Wheel Smooth Scroller add-on to achieve this. The Modern Scroll add-on will let you customize your scrolling experience.

3] Enable Smooth Scrolling on Firefox

Open Firefox Options > General tab > Browsing section> Ensure that Use smooth scrolling is checked.
Firefox users can also use the Yet Another Smooth Scrolling extension. It makes the mouse scrolling experience smoother and also supports keyboard scrolling. It even lets you customize your smooth scrolling behavior in step size, smoothness, and acceleration sensitivity.
4] Enable Smooth Scrolling in Opera
Type opera://flags in the address bar and hit Enter.
Search for 'smooth'.
Select Enabled against Smooth scrolling and restart the browser.
You could also check out the Classic Scroll add-on, which offers a smooth scrolling experience.
5] Enable Smooth Scrolling in Internet Explorer
Open Internet Options. Under Advanced, you will find an option to Use Smooth scrolling under the Browsing section. Select the check box and click Apply. You can even use our Ultimate Windows Tweaker to change this setting with a click.
Feedback and observations about these suggestions are most welcome.
Does smooth scrolling drain the battery of a Windows Laptop?
Smooth scrolling could have a negligible impact on the battery life of a laptop, but this would likely be minimal. Smooth scrolling is a software feature that relies on the processor and other hardware components. These components use some power, but the amount of power used by smooth scrolling is likely negligible. So, if you enable smooth scrolling and your experience is great, we suggest you keep it enabled. However, if it stresses your eyes too much, it's best to disable it from software and hardware.