Mass Effect has been one of the most anticipated games of the recent past. However, for some, the anticipation didn't turn out the way they expected. According to a lot of users, Mass Effect Legendary Edition is crashing on their Windows 11/10 computers.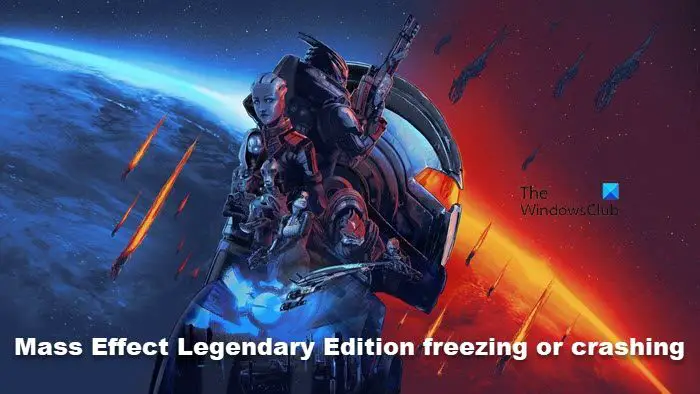 Why Mass Effect Legendary Edition is crashing?
The most common explanation for the crashing of Mass effect legendary edition is outdated Graphics Driver. As they can cause compatibility issues. You can also look out for corrupted game files as it is another reason that can make the game crash. There are many reasons why it got corrupted, but the solution is pretty simple, just repair it via Launcher, we will talk about it in detail.
But before moving forward, we should check the system requirements to play Mass Effect. In case your system is not matching the required configuration, there is no way the game will run on your computer. Even if it starts running on your system, you will experience FPS drop, freezing, overheating, and crashing. So, if you have an inferior system, try other games but not this one.
Mass Effect Legendary Edition is freezing or crashing on startup on PC
If Mass Effect legendary edition is crashing then follow the given fixes to solve the issues.
Verify the integrity of the game files
Updated your Graphics Drivers
Troubleshoot in Clean Boot
Disable all overlays
Turn off Vsync
Let's get started with our first solution.
1] Verify integrity of game files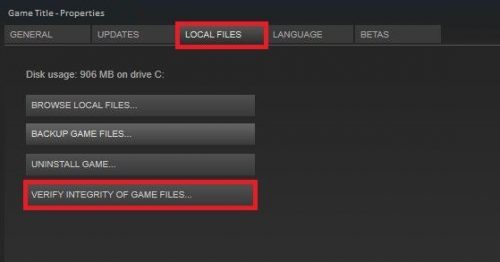 Corrupted game files and crashing issues live in a harmony. And missing files can also outcast smooth gameplay, literally. However, you can verify the integrity of the game files. Here's how you can do it.
Open Steam and navigate to the Library.
Right-click on Mass Effect Legendary edition and click on Properties.
Click on the Local Files tab.
Select Verify Integrity of Game Files.
The procedure will take some time and now go back to the game. Check for any errors. If it is still crashing, move to the next solution.
2] Update your Graphics Driver
Graphics drivers must stay updated every time. If it is outdated then you can bet that your game is going to have some issues. Sluggish gameplay, launching issues, and such problems can exist if you did not install the latest version of the GPU driver.
You can update the driver in any of the three ways. They are.
Update Windows, Graphics Driver will be automatically updated.
Use Device Manager to update Graphics Driver
Get the latest version from the Manufacturer's websites
Hopefully, updating the drive worked for you
3] Troubleshoot in Clean Boot
Overclocking software is said to be interfering with proper game functioning. In order to get rid of crashing, stuttering, lagging issues, you have to disable such Hardware monitors. However, we are not so sure about whether they are the culprit in this case or not. So, to find out which app is causing the issue, we have to perform Clean Boot. Once you know what's causing the issue, you can disable or remove it.
4] Disable all overlays
Yes, enabling overlays may get you access to advanced features in the game. But it can make you pay some price as well. Disabling all the overlays will provide you access to smooth gameplay, the reason why you enabled overlays in the first place.
Since the game is available on Steam, we are going to disable its Overlay first. Steps are mentioned below:
Launch Steam Client.
Click on Steam, and then go to Settings.
In the In-Game tab, untick Enable the Steam Overlay while in-game.
Click on the OK buttons to save the changes.
Restart your game, hopefully, you won't face the same issues.
5] Turn off Vsync
Last but not the least, VSync forces is what we need to take into account. It allows the game to run at 60 FPS. This may sound good, but the thing is, your computer is unable to handle high frame rates and is getting overcooked. What you need to do is turn VSync off. This way, we can remove a bit of strain off your GPU as well as possibly get rid of the crashing issue, for good.
System requirement for Mass Effect Legendary Edition
Here are the following system requirements for the Mass effect legendary edition:
Minimum
CPU: Intel Core i5 3570 or AMD FX-8350
RAM: 8 GB
OS: Windows 10 64-bit
VIDEO CARD: NVIDIA GTX 760, AMD Radeon 7970 / R9280X VRAM: 2 GB Video Memory
FREE DISK SPACE: 120 GB
DEDICATED VIDEO RAM: 2048 MB
Recommended
CPU: Intel Core i7-7700 or AMD Ryzen 7 3700X
RAM: 16 GB
OS: Windows 10 64-bit
VIDEO CARD: NVIDIA GTX 1070 / RTX 200, Radeon Vega 56, VRAM: 4 GB Video Memory
FREE DISK SPACE: 120 GB
DEDICATED VIDEO RAM: 4 GB
How do I repair Mass Effect Legendary Edition?
You can easily repair Mass Effect Legendary Edition from the launcher itself, aka, Steam. What, you need to do is go to the Library, right-click on the game and select Properties. Then click Local Flies > Verify Integrity of Game Files. This will take a few seconds and your game will be repaired.
That's it!
Also Check: