Protecting access to our Windows 10 PC is of paramount importance, and one way of doing it is protecting it with the help of a strong password. While most of us use a password to log in, quite a few do not care to protect it, when it resumes from Sleep or if you have gone away from it for a while. In this post, we will see how to make your Windows 10 PC require a password on wakeup from Sleep.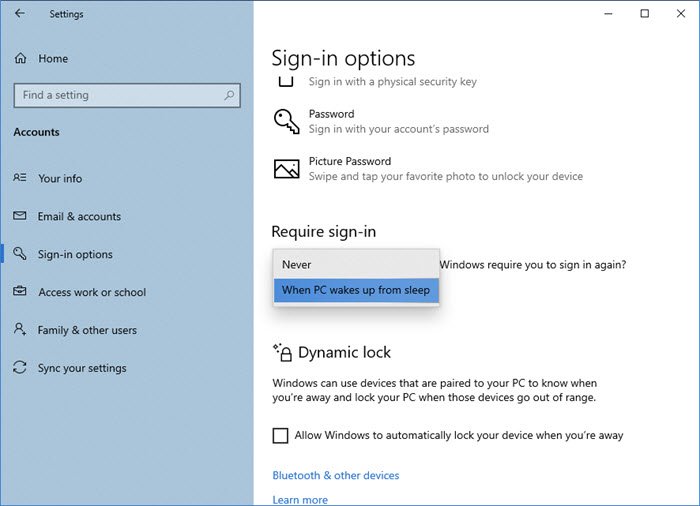 Sleep is a power-saving state that allows a computer to quickly resume full-power operation (typically within several seconds) when you want to start working again. Putting your computer into the sleep state is like pausing a DVD player; the computer immediately stops what it's doing and is ready to start again when you want to resume working.
Make Windows require a password on wakeup
This post assumes that you have gone through the Power & Sleep settings of your Windows 10 System settings and set your computer to Sleep after a period of inactivity.
Having done that, open Settings > Accounts > Sign in options.
Here, under Require Sign in, you will see a If you've been away, when should Windows require you to sign in setting.
The drop-down menu will offer you two options – Never and When PC wakes from sleep.
Select When PC wakes from sleep and you are all set! If you select Never, your PC will not ask you to enter a password, when you resume it from Sleep.
Now the next time you have to resume from Sleep state, your Windows 1o PC will ask you to enter your credentials and sign in.
You can also set your Window to lock the computer after inactivity.