As a security measure, you may want to lock your Windows computer, after a certain period of inactivity, so that when you are away from it, no one will be able to access it – and even you will be able to access it only after you enter your password. You can do so using GPEDIT, REGEDIT, Dynamic Lock, Screensaver settings or a free tool.
Automatically Lock computer after inactivity
You have 5 ways using which you can auto-lock your Windows 11/10 computer after inactivity:
Using built-in Dynamic Lock
Using Screensaver settings
Using Group Policy
Using the Registry method
Using a third-party tool.
Let us take a look at these methods.
1] Using built-in Dynamic Lock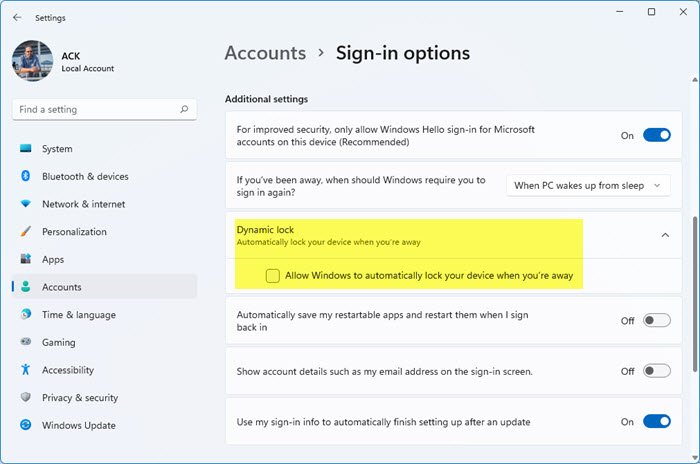 Dynamic Lock helps you lock Windows 11/10 automatically when you step away. It locks down the Windows computer automatically by using your mobile. But your mobile phone has to be connected all the time to your computer via Bluetooth. In other words, when you step away from your computer with your mobile, your computer will lock itself down – but it may not work properly if your computer doesn't support the Windows Hello function.
2] Using Screensaver settings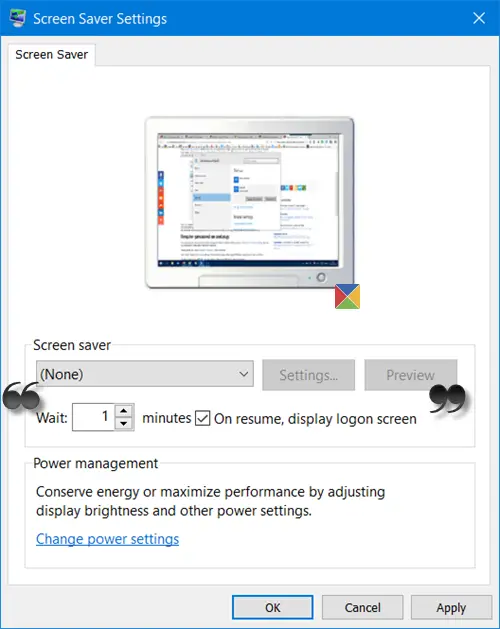 Well, if you would like to do this, the procedure is pretty simple and hasn't changed since the last few iterations of Windows OS.
To make your Windows computer ask for a password after a period of inactivity, type screen saver in the taskbar search and click on the Change screen saver result which appears.
The Screen Saver Settings box will open.
Here, under Wait – minutes – On resume, display logon screen settings, select the time after which you want Windows to ask for a password, and check the On resume, display logon screen box.
Click on Apply and exit.
If you have set the time at 10, then after 10 minutes of inactivity, you will be asked to enter your password, to be able to access your PC.
If you do not want a screen saver to be displayed, select None. If you wish to display it, you can select one. This setting is just above the "Wait …" setting.
3] Using Group Policy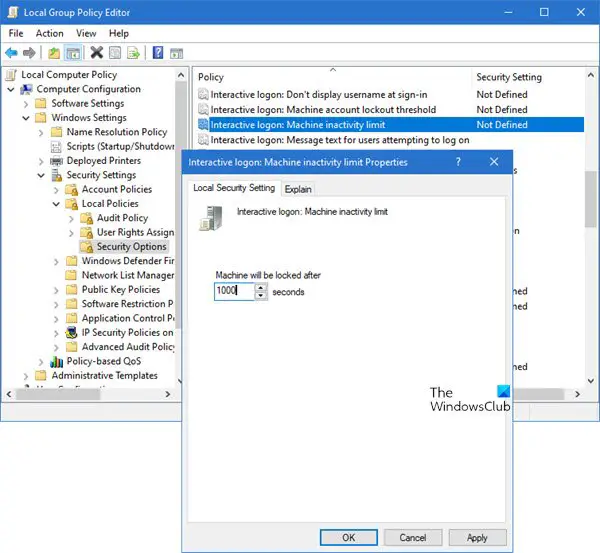 Open Group Policy Editor and navigate to the following setting:
Computer Configuration > Windows Settings > Security Settings > Local Policies > Security Options.
Double-click on Interactive Logon: Machine inactivity limit setting.
Windows notices inactivity of a logon session, and if the amount of inactive time exceeds the inactivity limit, then the screen saver will run, locking the session.
Give it a value between 1 and 599940 seconds, save, and exit.
4] Using the Registry method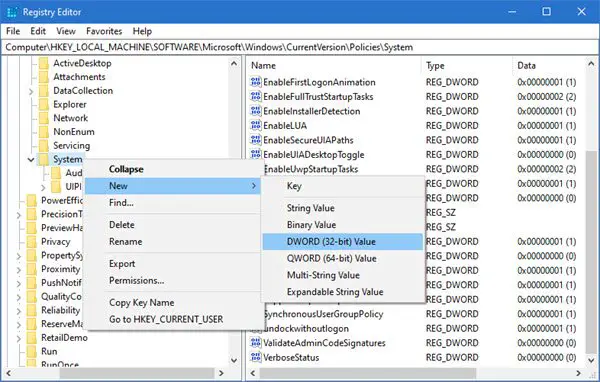 Open Registry Editor and navigate to the following key:
HKEY_LOCAL_MACHINE\SOFTWARE\Microsoft\Windows\CurrentVersion\Policies\System
Create a new DWORD value, name it InactivityTimeoutSecs, select the Decimal option, and enter the number of seconds (between 1 and 599940) in the field.
Click OK and exit.
5]  Using a third-party tool
Smart PC Locker Pro is a free tool that lets you easily lock your Windows computer. It offers several configuration options.
TIP: If you wish, you can also make Windows 11/10 PC require a password on wakeup from Sleep.