You can Lock your Windows 11/10/8/7 PC if you aren't using it, but don't want to sign out. This way, your running applications continue to remain open but your computer data is protected. At times you may also need to lock your Windows computer quickly, just in case someone comes, and you don't want the person to know what you were doing.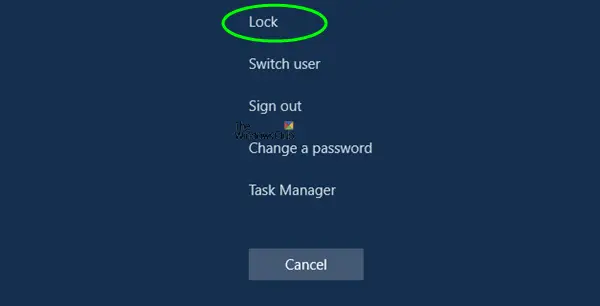 There are several ways to lock Windows 11/10 computers. Go through the post and see which method suits you the best.
How to Lock Windows 10
You have four ways using which you can lock your Windows computer immediately:
Press the WinKey+L keyboard shortcut. Your computer will get locked, and you will need to enter your password again to log in.
Press Ctrl+Alt+Del and select Lock.
Go to the Start Menu and click on your User picture. Select Lock.
Create a desktop shortcut for locking down and securing your computer.
To create a shortcut on your desktop right-click on desktop > New > Shortcut
In the Location box, type-
%windir%\System32\rundll32.exe user32.dll,LockWorkStation
Click Next. Give a name box type a name for the shortcut eg Lock Computer. Click Finish. Then select an appropriate icon for it.
If you wish, you can drag and add the shortcut to your Taskbar or Start Menu.
Incidentally, you can also use the above-mentioned command in the Run box or the Command Prompt.
NOTE for Point 4: Please read the comment below by Anonymous.
Speaking of desktop shortcuts, you might want to check out Handy Shortcuts, – our freeware which lets you create tons of shortcuts, including the Lock computer shortcut, in a click.
You might want to check out these articles too: