Many institutions are embracing the LockDown Browser to improve digital exam integrity. With intelligent features like a browser webcam, it prevents cheating when students are taking exams. However, some students have reported that the LockDown Browser webcam is not working on their PCs. At times, it displays the message 'Your face cannot be detected' or shows a spinning wheel. These prompts can be annoying, especially when you are all set to start your session.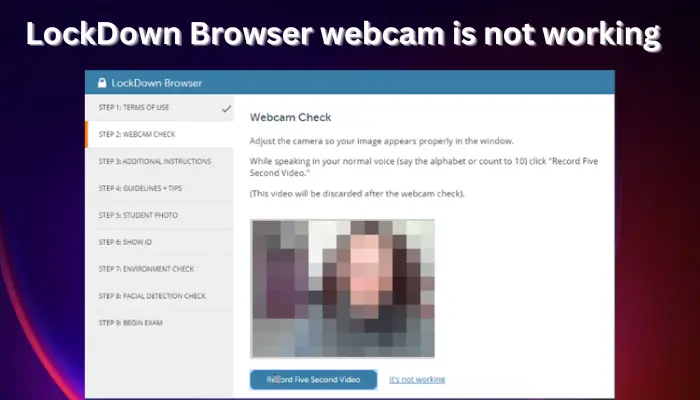 By default, the LockDown Browser is supposed to detect and use your PC's internal camera. If your institution or instructor requires you to use the webcam during exam time, you will need to test if the camera is working. If your internal camera is not working or your computer doesn't support webcams, you might be required to use an external USB webcam – it must work fine. Some concerns about the Respondus LockDown browser webcam include webcam permission denied by the system, no webcam check, LockDown browser stuck on webcam check, and a few others. This article will try to help you fix LockDown Browser webcam issues, including if it's not working.
Fix LockDown Browser webcam not working
The cause for the LockDown Browser webcam not working can be anything from browser bugs, camera settings on your computer, driver issues, privacy settings, and several others. As always stated, it's good to try to fix such issues by rebooting your PC, restarting your browser, or ensuring your OS is up to date. This gives you a way to move on to other advanced steps if the preliminary ones didn't work. It is also good to run the webcam check on the LockDown Browser. It's the first screen that appears before taking your exam. Follow the on-screen directions to run the start-up webcam steps.
If the LockDown Browser webcam is not working or it is stuck on Webcam check on your Windows PC,, you can follow these suggestions to fix the issue:
Check for the LockDown Browser updates
Exit all background apps
Run the webcam check
Disable antivirus temporarily
Update camera drivers
If you have other issues with the Respondus LockDown, you need to read about why you can't install the LockDown browser. The guide is based solve many issues affecting the browser.
Let's delve into these fixes in detail.
1] Check for the LockDown Browser updates
As stated before, some bugs or glitches might be causing your LockDown webcam not to work. To fix this, you need to ensure you have the latest version of the browser. Before that, ensure you download the Respondus LockDown browser using the link sent to you by your school. Don't search for download links from search engines like Google. This will only give links from other schools. To update your LockDown Browser, follow these steps:
On the LockDown Browser toolbar, click on the 'i' icon if you are using Windows PC. For Mac users, click on the Globe icon.
A new window will appear. For Windows users, select Check for new version. For Mac users, select Check for update.
If the system shows there is a newer version, install it and then try to take your exam again, once the update is completed.
2] Exit all background apps
Some applications running in the background can be the reason why your LockDown webcam is not working. Ensure you exit all background utilities such as Teams, Zoom, Facebook, Spotify, BitTorrent, Dropbox, or Megabackup. Basically, shut down all programs that might be accessing your camera because they might block LockDown Browser from configuring or detecting your device's internal or external webcam.
3] Run the webcam check
Ensure the camera image is visible by running a webcam check. This process helps you identify the webcams detected on your computer. You will then be able to change the default setting to your preferred one. Here is how to run a webcam test on the LockDown browser:
Launch your LockDown Browser and log in.
Go to any course and then select Help Center which is located at the top toolbar.
Select Run Webcam Check
If the browser detects a microphone and a camera and works correctly, then it should also work in the pre-exam webcam check.
If nothing is detected, then you need to select It's not working. Follow the on-screen steps to troubleshoot and see if the issue is resolved.
4] Disable antivirus temporarily
There are some users who reported that turning off their third-party antivirus fixed the LockDown browser webcam not working. At times, these antivirus programs may interfere with the camera settings on your devices. Temporarily turn off your antivirus and don't forget to turn it on when are done taking your online exams on the LockDown Browser. Here are some good articles to help you turn off your third-party antivirus:
5] Update camera drivers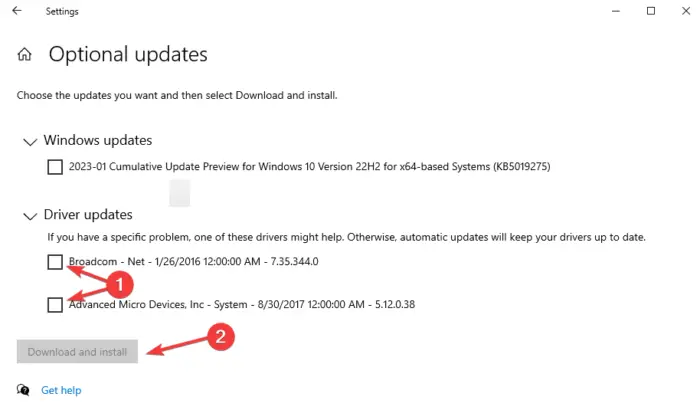 Windows has made it easy for users to find and update driver updates. Right now, you can see all the available driver updates in one place. Microsoft pushes the newest drivers automatically to users' devices through Windows updates once the manufacturers release new updates. However, it's advisable to install Driver and Optional Updates only when you encounter an issue related to such specific drivers. For instance, if the LockDown Browser webcam is not working because the camera drivers have issues, go ahead and update the drivers.
For integrated cameras, it's best to download them from the OEM sites.
We hope this article helps you fix the Lockdown Browser webcam not working on your PC.
How do I know if my Respondus LockDown is using my webcam?
To know if Respondus LockDown is using your webcam, you will be briefed by your instructor before you start an exam, or you can just see prompts on your screen. The first thing that will appear after logging in will be the webcam check. Here, you ensure your webcam has no issues. To know if the LockDown is recording you during exam time, a recording icon will appear at the top-right of the browser's window. Once you are done with the assessment, the icon will disappear, meaning that the recording has stopped.
How does Respondus LockDown detect cheating?
Respondus LockDown detects cheating by monitoring students' behaviors on the webcam, and non-proctored questions, and disabling any access to any program or browsers that might provide cheating resources. The LockDown Browser is an automated proctoring tool, which blocks any loopholes during exam sessions. The browser cannot function when there are other applications using the same PC like Zoom, Teams, etc.