When you can't install LockDown browser or get the message 'The installation failed', there is always a panic, especially during the exam period. Respondus LockDown Browser is a great tool that institutions use to manage assessments and exams. However, like any other tech tool, it's prone to technical problems. One example is being unable to install or update the browser on your devices, such as a Windows PC, Mac, or iPad.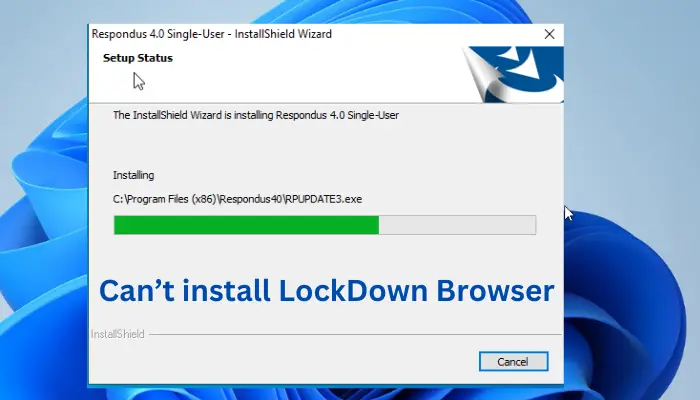 Most people who have taken online exams have used this browser. LockDown is used to improve assessment integrity by preventing digital cheating during exams. Institutions that embrace this browser issue special codes, mostly a 9-digit code, to log in with. What can you do if you can't install the LockDown browser on your PC? Read on to learn how to fix this problem within a few minutes and go back to your examination dashboard.
Can't install LockDown browser
There are several reasons why you can't install the LockDown browser. For example, some third-party antiviruses might affect how the browser functions. Another major reason is your current browser. It can be blocking LockDown due to a corrupted cache or browser cookies. Consider performing the following steps to fix the issue.
Temporarily turn off antivirus software
Try another browser
Reinstall Lockdown as an administrator
Let us now dig deeper into the steps above.
1] Temporarily turn off antivirus software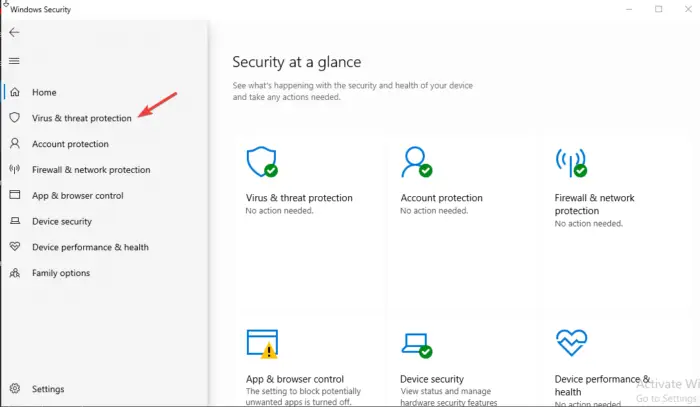 Disabling your Windows security software may resolve a failed LockDown installation hitch. Some security software or antiviruses may change the .EXE file, and the file cannot be run unless it's renamed back to the .exe file. This means that you need to switch off your antivirus security feature before you start the installation process and reinstate it once you are done. In many cases, real-time PC protection turns on automatically after some time. Here is how to disable your security software on Windows:
Go to the Start menu and search for Windows Security and press Enter. Alternatively, you can type Windows Security in the search box and click on the first result to open the security software.
On the left menu, click on the Virus & threat protection option
On the same window, navigate to where Manage settings and click on it.
Toggle the Real-time protection button off
Go ahead and install your LockDown browser on your PC.
If you use a third-party antivirus software, you will have to disable that one first.
2] Try another browser
Using another different browser like Chrome, Firefox, or the latest versions of Edge can greatly fix the issue of failed LockDown installation. Some browsers can block Respondus LockDown due to corrupted caches or other technical issues.
Related: LockDown Browser webcam not working
3] Reinstall Lockdown as an administrator
If the above steps didn't work, you could log in to your Windows PC, with full rights, as an admin. With these rights, you can now run the LockDown browser installer. Remember not to use Remote Desktop or Switch User options. Here is how to reinstall the Respondus LockDown browser as an admin:
Log into your computer using the Administrator account
Next, disable your antivirus and any other security software when the PC is on again.
Download the new LockDown browser installer aimed at your academic institution.
Right-click on and select Run as administrator.
Click install and follow the on-screen directions to complete the process. Accept any prompts to modify or repair the browser.
Now start the LockDown browser and click Exit. This process is intended to verify the installation.
The final step is to enable the security software or antivirus that you disabled in the previous steps above.
We hope the solutions helped you successfully install the LockDown browser.
What laptops are compatible with LockDown Browser?
All laptops are compatible with the LockDown browser including Macs, Chromebooks, and Windows PCs. Also, Respondus LockDown is compatible with iPads but the option can only be enabled by the instructor for some particular quiz sessions. However, the specific requirements for the LockDown browser are Windows 11 and 10, macOS 10.13 to 13.0+, ChromeOS available through the LTS channel, and iPadOS 11.0+ which must compatible with LMS integration.
Read: LockDown Browser is not working
Why is LockDown Browser closing?
Your LockDown browser might be closing because your internet service provider, your computer, or your network is blocking Respondus servers. You can fix this by temporarily turning off your antivirus, firewall, or any security software on your PC and trying to use the browser again. It's good to know that the blocking can happen in the router and you can bypass this by plugging your PC directly into the modem. This may help. Also, there are reports that the LockDown browser may not work properly for international locations, for example, students in China.