Is Soap2Day safe or a virus? If you have this question, then you are in the right place. Soap2Day is not a new name in the online media streaming world.  And if you love watching free movies and TV shows on the Internet, you know what I'm talking about. Despite several claims that Soap2Day is safe and never hijacks people's computers without permission, many users have reported that their PCs have been badly affected after using Soap2Day. If you're also concerned about Soap2Day and want to know if it's really dangerous for your PC, then read this post.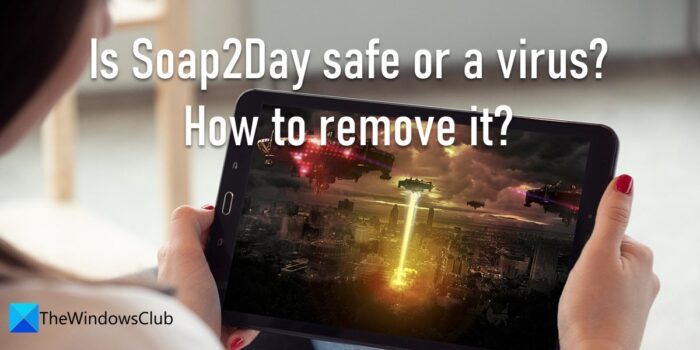 Soap2Day showcases an extensive collection of movies and TV shows that users can watch for free in HD quality. However, this 'free' comes with a cost!
Is Soap2Day safe or a virus?
While Soap2Day itself is not a virus, it links to several malicious and phishing websites that show popups that download viruses on your system. Soap2Day distributes pirated copies of movies and TV shows, which is considered illegal due to infringement of copyright content. While other media streaming websites demand pricing to keep up with the licensing cost, website security, etc., Soap2Day doesn't charge anything from the user. It generates revenue through advertisements of malicious websites. These advertisements could release PUPs (Potentially Unwanted Programs) such as adware, spyware, and browser hijacker, potentially harming your PC in many ways.
How does Soap2Day affect a Windows PC?
Soap2Day injects its content with a browser hijacker that modifies your browser settings and redirects you to a fake search engine whenever you open the browser. The browser hijacker collects information, including your IP address, geolocation, browsing history, etc., and shares this sensitive information with third parties for generating customized ads and pop-ups. When you click on these ads, you expose your system to viruses and other PUP threats.
Read: Remove PUP and PUA with AdwCleaner.
How to remove Soap2Day from your PC?
If you're a victim of Soap2Day and have unknowingly downloaded a virus through this website, the first thing you should do is scan your system for viruses or other threats using antivirus software. You may use Windows built-in Defender antivirus or some other stand-alone on-demand antivirus software, such as Kaspersky Free Antivirus or Dr. Web CureIt to run a deep scan and remove underlying infections.
Next, you should uninstall any suspicious programs or apps that may come as Bundleware through Soap2Day. Once you finish uninstalling, delete registry keys and temp files to remove any traces of these malicious software. You can also check the Registry for malware and manually remove the entries.
Finally, clear your browser cache and reset browser settings to ensure that nothing is left related to the hijacker software that may reinforce the infection in the future.
We conclude that Soap2Day is not a virus, though it's unsafe. Using such illegal media streaming platforms can put you at risk of browser hijacking, virus attacks, phishing scams, and more!
Read: Malware Removal Guide & Tools for Beginners
Soap2Day is an illegal video streaming platform that can push adware and malware on your PC or may direct you to websites that can extract your personal information to trick you to fall for scams or phishing schemes. In order to protect your PC, you must not click on any ads that you may see while watching free movies or TV shows on Soap2Day. You may install an adblocker extension to avoid these ads. However, you'll still be at risk of accidentally clicking on the ads and exposing your system to numerous malware entities that monitor your online activities to steal documents or other confidential information for ransom.
Read: Alternative to Soap2Day.is website
How do I remove Soap2Day virus from my computer?
To get rid of any PUPs that may be pushed to your system through Soap2Day, you must perform a full system scan using a good antivirus software. That should automatically remove all the viruses and threats from your PC. However, you also need to manually uninstall any suspicious third-party programs or apps and reset your browser settings to bring your PC back to its normal state.
Read Next: Is Wave Browser safe or malware? How do I uninstall it?