Browser Assistant from Realistic Media is an extension file that claims to help improve the functionality of Windows browsers like Chrome, Edge, and Mozilla. But what this tool actually does is inject malware code into your browser, compromising your PC. This threat is generated by a stand-alone extension and is spread by a Trojan. Without the user's permission, this malware installs itself on your computer and immediately begins to set up several processes and, occasionally, even changes settings like the Windows Registry. Furthermore, it exposes your browser to harmful websites and pop-up ads, which further damage your PC.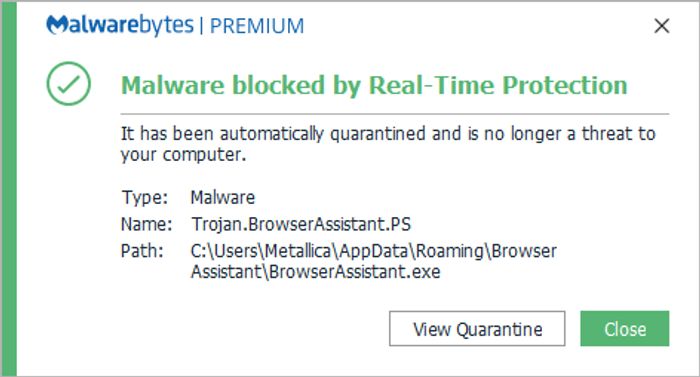 The so-called browser assistant also launches when Windows starts; since it's a PUP, it's advisable to get rid of it from your computer. In addition, a lot of people have tried uninstalling the software, but doing so without leaving the adware behind is difficult. Some files and activities in the background regulate how the browser assistant behaves. Therefore, you will need to terminate any processes started by this adware manually. However, you can completely remove it from your computer by running antivirus software. What you need to know about browser assistants and how to get rid of them on Windows machines are covered in this article.
Read: Windows Malware Removal Guide
Is Browser Assistant a virus?
Browser Assistant definitely contains malware. The Windows antivirus program for many people identifies BrowserAssistant.exe as malicious software. They still don't know what to do with the application because specific antivirus programs can be unreliable.
Moreover, the program, in certain ways, exposes your PC to numerous threats from cybercriminals. It does initiate unneeded procedures and make some changes to your PC's configuration that are not required. Despite having no use as a browser assistant, the application is nevertheless harmful to your PC.
By weakening your computer's security and granting access to your privacy, Potentially Unwanted Programs like this can lead to a major attack on your computer system. Therefore, it is highly advised that you delete all files connected to the browser assistant from your computer.
How to remove Browser Assistant from Windows 11/10
If you are looking for a way to get rid of browser assistance on your computer, here is how:
Uninstall the program
Remove the extension from browsers
Reset your browsers
Run Antivirus
1] Uninstall the program
The very first thing you should do to get rid of this adware is by uninstalling it on your computer. This can be done by:
Windows 11
Go to Settings on your computer
Select Apps and click on Apps and Features.
After that, scroll through the app list and click the three-dot icon in front of the app you want to Uninstall.
On the resulting drop-down menu, hit Uninstall.
Windows 10
Open Settings and click on Apps.
Select Apps and Features.
Then click the app you want to uninstall and hit the Uninstall button.
2] Remove the extension from browsers
Browser assistant adds an extension to your browser to get control of your internet activities. Hence you should remove the extension from your browsers. Here is how to do so:
Remove from Chrome
Open your Chrome browser, enter the following address, and press Enter.
    chrome://extensions/
Hit the Remove option next to the Browser Assistant extension.
Remove from Firefox
Go to Edge, enter the following address, and press Enter.
    about: addons
Click on the three-dot icon on the Browser Assistant extension.
Then hit Remove.
3] Reset browsers
Also, to clean up all extensions, cookies, caches, and other files created by this extension, you should reset each of your browsers by:
For Chrome
Open Chrome and click the vertical three-dot menu at the top of the page.
Click on Settings.
Then select Reset and Cleanup.
Choose the Reset Settings to their original defaults option.
Hit Reset Settings.
For Firefox
Go to Firefox on your computer and click the three-line icon at the top right corner of your screen.
Select Help and hit More troubleshooting information.
Then click on Refresh Firefox.
4] Run Antivirus
To finally remove every browser assistant file on your computer, scan your computer with an antivirus or antimalware. Then remove every suspicious browser assistant file indicated by the tools to save your computer from any threat.
You may want to use AdwCleaner. It scans your entire PC for AdWare, Potentially Unwanted Programs or PUPs, Unwanted Toolbars, Browser Hijackers, Crapware, Junkware and finally presents you with a list of malicious entries which need to be removed.
Related: How to check Windows Registry for malware
Is a Browser Assistant necessary?
Chrome, Edge, Firefox, and other browsers have everything you need to run them optimally. So the most direct answer to this question is that a browser assistant is not necessary, and this one, in particular, doesn't do anything to enhance your browser's performance.