There are many services and programs that run in the background while we use our PC. These services help run the PC smoothly and do various functions. They don't normally use high CPU or memory. They use only a minimal portion of it and leave the rest for the programs we use. Some users are seeing igfxext.exe module high CPU and Memory usage on their computers. In this guide, we have a few solutions that can help you fix the issue.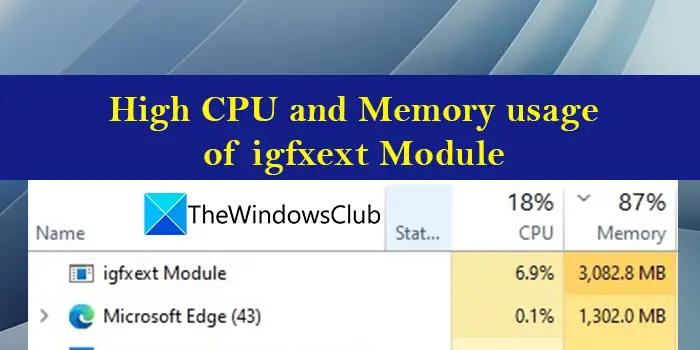 What is the Igfxext module?
Intel Graphics External Display Switching module or igfxext module is a necessary software component of the Intel Common User Interface developed by Intel. This module helps in using external monitors for a Windows PC by switching the graphic output from the original display to the external display.
igfxext.exe module high CPU and memory usage
If you are seeing high CPU and memory usage by the igfxext.exe module on your PC, these are the fixes you can employ to fix the issue.
Run a malware scan
Update Intel drivers
Uninstall recently installed programs
Install Intel Driver & Support Assistant
Run SFC Scan
Run System Restore
Disable it from the Startup list
Let's get into the details of each method to fix the issue.
1] Run a malware scan
Generally, igfxext.exe do not use much CPU or memory. If you are seeing a sudden spike in the CPU and memory usage, you should run antivirus and malware programs to detect it and remove it.
Read: How to use Avast Boot Scan to remove Malware from Windows PC
2] Update Intel drivers
There is a possibility that the issue is caused by corrupted or outdated Intel make drivers on your PC. They need to be updated to the latest versions. You can either update your drivers manually via the Device Manager, or you can get the driver updates on the Optional Updates section under Windows Update. You may also download the latest version of the driver from the manufacturer's website.
However, in this case, the best way would be to use Intel Driver & Support Assistant. Intel Driver & Support Assistant is a program by Intel that helps you install or update the intel drivers available on your PC and use support if you face any issues. It might find the cause of the issue and fix it by installing necessary components or updating the drivers.
3] Uninstall recently installed programs
If you are seeing the high CPU and memory usage of the igfxext.exe module after installing a program on your PC, uninstall that program to fix the issue. The recently installed program might be conflicting with the module and might be resulting in the usage of high CPU and memory.
5] Run SFC Scan
The error might also have been caused by missing or corrupted system files. You need to run an SFC scan to detect and fix them automatically. Chances are high that, this might fix the issue if it is caused by any missing or corrupted files.
6] Run System Restore
If none of the above solutions help you fix the issue, you need to perform a System Restore to take your PC back to the point where it is working perfectly without any issue.
Press Windows key + R. to open the Run dialog.
In the Run dialog box, type rstrui and hit Enter to launch the System Restore Wizard.
Click Next on the System Restore windows to move forward
At the next screen, check the box associated with Show more restore points.
Now, select a restore point prior to when you noticed the issue on your device.
Click Next to advance to the next menu.
Click Finish and confirm at the final prompt.
This will restore your PC to a good condition where everything was okay.
7] Disable it from the Startup list
Open Task Manager > Startup tab and check if you see igfxext.exe entry. If you do, then you may disable it from starting up.
These are the different ways you can use to fix high CPU and memory usage by the igfxext.exe module.
Is Igfxext exe a virus?
The igfxext.exe file is not a virus but a software component of Intel Common User Interface by Intel. It is a necessary component if you use external monitors on your PC. The legit file igfxext.exe is typically located in the following folders:
C:\Windows\System32
C:\Windows\System32\DriverStore\FileRepository
If located elsewhere it could be malware.
Read: How to fix 100% Disk, High CPU, High Memory usage in Windows.