The Steam Deck is technically a PC and as such some (especially gamers) are going to want to use the device as a full-blown Windows gaming PC. In this post, we will walk you through the steps on how to install Windows 11 on Steam Deck so you can be able to run all your Windows PC games or just do some other non-gaming-related tasks.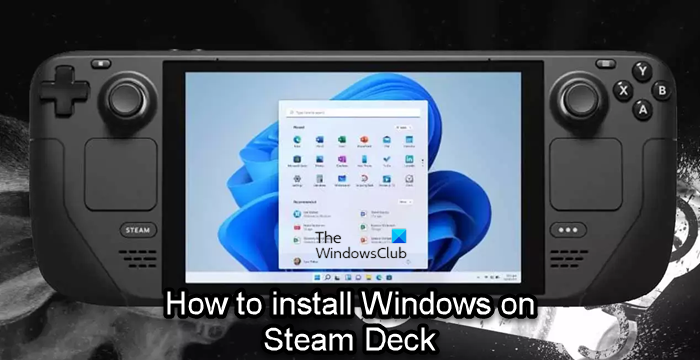 Can you dual-boot SteamOS and Windows 11?
Dual booting is complicated and can cause storage issues due to the Steam Deck's limited hard drive capacity, especially on the entry-level 64GB model. Windows 11 alone requires about 20GB of storage, and SteamOS requires about 10GB minimum disk space, so this is not a practical option. Instead of dual-booting, you can install and run Windows 11 from a microSD card on Steam Deck.
Read: Change Mac trackpad scrolling direction in Windows Dual Boot setup
How to install Windows 11 on Steam Deck
There are unofficial procedures for dual-booting Windows 11 and SteamOS on the Steam Deck, which is complicated and can lead to storage issues, and therefore not recommended. However, until Valve releases its official method for dual-booting, you can install and run Windows 11 from a microSD card on Steam Deck. The caveat here is that you will need two separate microSDs (one for your typical SteamOS games and a 2nd for Windows).
We will discuss the topic of how to install and run Windows 11 from a microSD card on Steam Deck under the following subheadings:
Prerequisites
Download Windows 11/10 ISO image
Create a bootable microSD card drive
Download Steam Deck drivers for Windows
Install Windows 11 on Steam Deck
Install Steam Deck drivers for Windows
Switching between SteamOS and Windows
Let's delve into the details.
1] Prerequisites
Before you begin, the following are the prerequisite:
Windows 11/10 PC for downloading/creating the Windows ISO image.
MicroSD (128GB or larger) depends on what you plan to install under Windows. In my opinion, a 128GB (or larger that is a U3/A2 for better performance).
7-Zip or any other file compression software.
Steam Deck.
USB-C Dock, USB Keyboard & Mouse (recommended) – You can use the D-Pad and buttons on the Steam Deck if needed. However, it's much easier with an external dock connected.
2] Download Windows 11 ISO image

Once you have ticked all the boxes for the prerequisites mentioned above, you can now proceed to download the Windows 11 ISO image file directly from the Microsoft official site, or you can use the Media Creation Tool by following the instructions in this guide.
Read: Download Windows 11/10 ISO Image directly in Chrome or Edge
3] Create a bootable microSD card drive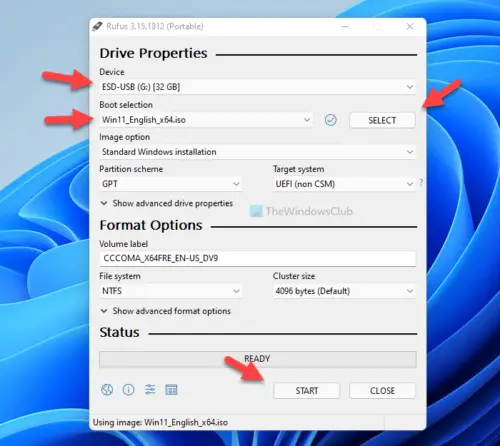 Next, if you currently have any additional external storage devices connected to your computer, disconnect them to avoid accidental imaging to the wrong drive, then follow the instructions in the guide on how to install Windows 11 from microSD Memory Card to create a bootable microSD card or you can use Rufus. If installing Windows 11, be sure to select the following options:
Disable data collection (Skip privacy questions)
Prevent Windows to go from accessing internal disks
Remove requirement for Secure Boot and TPM 2.0
Read: How to create a Windows Bootable USB on Linux or Mac
4] Download Steam Deck drivers for Windows
Next, download all the drivers listed at help.steampowered.com/en/faqs under the Windows Drivers section to a folder on your PC's local drive.
By now, the Windows image creation has completed, click the CLOSE button to close Rufus and then do the following:
In File Explorer, copy all the drivers you just downloaded and create a new folder in the root of the microSD card drive and paste the drivers.
Next, select all the .zip files from the download, right-click and select 7-zip > Extract Here.
Once the extraction is done, you can safely eject the microSD card from the Windows PC.
Read: No device drivers were found error during Windows Setup
5] Install Windows 11 on Steam Deck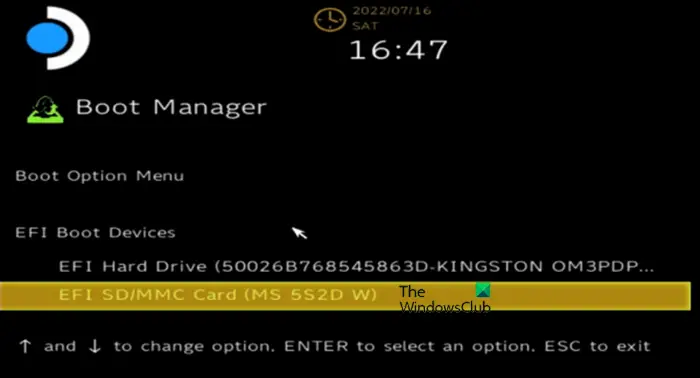 Now, to install Windows 11 on Steam Deck, proceed as follows:
Press the Steam button, and select Power > Shutdown to power off your Steam Deck.
Next, remove any microSD card and insert the new Windows microSD card you just created.
If you have a dock and keyboard/mouse, you may want to connect it at this time for an easier setup experience.
Next, hold the Volume down and then press the Power button to turn on the Steam Deck
From the Boot Manager, use the D-pad/keyboard arrow keys to highlight the microSD and then press A/Enter to select the bootable media.
Windows will now boot up.
After Windows boots, you will now have to complete the all too familiar OOBE (Out-Of-Box Experience).
Once done Windows is now installed on Steam Deck! However, you'll need a license key to activate Windows 11/10 on your Steam Deck.
Read: How to install Windows 11 without an Internet Connection
6] Install Steam Deck drivers for Windows
Next, you can now proceed to install all the drivers you downloaded in 4] above. Once done Windows is now fully installed with the official Steam Deck drivers! Now, you can check for Windows updates and install all available bits on the device. You can now also install any additional Windows apps you want on your Steam Deck!
In addition, you can install the SWICD driver to make Windows treat your Steam Deck as a game controller without the need to use Steam at all. This is a new driver available at github.com that makes the copy of Windows that you've installed on the Steam Deck recognize the Deck as an actual gaming controller without any need for Steam or other third-party programs. With the driver running, Windows 'thinks' that an actual Xbox controller has been physically plugged into the "computer" that it's running on. This eliminates the need to add the Windows copy of any game executable file to Steam as a non-Steam game, no playing through Steam, and no need to even install Steam. All you need do is launch the game — the game, like Windows, now recognizes the Steam Deck as an actual Steam gaming controller which now presents you with dialogs like Press the B button to exit, instead of Press ESC to exit.
You can turn on/off SWICD at any time, and you can customize the program layout per your requirement, including saving specific layouts for specific games. Furthermore, you can switch the L and R triggers, and assign functions to the STEAM and back buttons. The config is saved in your documents folder.
Read: Steam Games No sound or audio on Windows 11/10
7] Switching between SteamOS and Windows
You can now easily switch between SteamOS and Windows on the device by following these steps:
Boot into Windows
Shut down the Steam Deck.
Once powered off, insert the microSD card Windows is installed on.
Next, press and hold the Volume down button, then press the power button and release.
Now, select the microSD (EFI SD/MMC Card option, or similar) from the Boot Manager for Windows to boot.
Boot into SteamOS
Once Windows shuts down and powers off the Steam Deck, you can remove the microSD with Windows.
If you have a microSD formatted for use with the Steam Deck, you can insert it now.
Next, power on the Steam Deck by pressing the Power button.
It's far easier to use a Bluetooth/USB keyboard, but often that may not be practical. However, while running Windows on your Steam Deck, you can perform the following functions:
Easily move the mouse cursor on the right-touch pad.
Use the right/left trigger button for the mouse's right/left click.
To access the Virtual Keyboard, tap Settings > Devices > Typing and enable the option Show the touch keyboard when not in tablet mode and there's no keyboard attached option. You may need to use the touch screen to bring up the keyboard rather than the touchpad+click.
That's it!
Read next: Play Windows games on Steam Deck with Steam Proton
Should I install Windows on my Steam Deck?
If most of your games do work directly, or only need a different version of proton to run, is better to stay with SteamOS. Ultimately, this depends on your preference for gaming devices. On the other hand, Steam Deck is incredibly affordable when compared to an even half-decent desktop gaming PC or laptop. If you want to get into good-quality PC gaming, the Steam Deck is the cheapest way to do it.