YouTube is the most popular video-streaming website and one of the largest video-sharing networks. If you are here, it probably means that you do not hear sound or audio when playing YouTube videos. This is a common problem faced by YouTube users and is relatively easy to fix too. There are many reasons for this No Sound on YouTube problem, and in this post today, we will discuss some possible reasons and the fixes for those reasons. Most of the time, restarting the device is the best option to fix these temporary issues.
No Sound on YouTube
Try these suggestions if you hear no Sound on YouTube and see if they help with audio issues:
Check Volume settings
Update your browser
Close running programs
Update Flash Player
Clear browser cache
Update your Sound Card driver
Turn off Bluetooth and Check for Headphones Connected
Security Software interference
You may need to use admin permission for some of these suggestions.
YouTube sound not working
1] Check Volume Settings
The first thing to check is the volume settings of your device. Check and make sure that your device speakers are not muted or at the lowest volume setting. It is one of the common problems behind the sound issue. Also, check the configuration settings of your device speakers. Sometimes the Volume Mixer slider is at the lowest possible setting, and thus we don't see a mute button or icon on the speaker.
To open sound settings, you can right-click on the volume icon on the taskbar and click on—Open Sound Settings—option in the menu.
Sometimes the YouTube built-in voice controller is also muted or at the lowest volume setting. It is available in the left corner of the player next to the pause button. Also, ensure that the speaker icon in the browser tab playing the video is not muted.
2] Update your browser
The second reason for this error could be your web browser. Such an error occurs when your browser is not updated to the latest version. So, if you are facing this no sound error, try updating your browser and check if the issue is resolved. Usually, an update notification is available in the top-right corner. You can also try playing that video in another web browser to check if the problem is with your browser. If it is, then resetting or reinstalling the web browser is an option you may want to consider.
Related reads: No sound in Chrome | No sound in Firefox.
3] Close running programs
Sometimes, the other multimedia programs open on your device may cause this error on YouTube. Try closing all the running programs and check if the issue resolves. It is because the audio driver is already in use, and YouTube might not be able to use it.
Read: YouTube video freezes but audio continues
4] Update Flash Player
Flash Player can also be a culprit at times. It is seen in many cases that updating to the latest Flash Player version creates some problems with the audio on your devices. If you have recently updated the Flash Player and getting this no sound on YouTube error, go back to the previous version and see if it helps.
Read WinX HD Video Converter Deluxe review.
5] Clear browser cache
While this is not the reason, most of the time, the cache files, cookies, and temporary internet files stored on your device may also lead to this error. Clear all cache files and temporary files, and it may help resolve this issue. Use Disk Cleanup Tool to achieve this.

6] Update your Sound Card driver
If you are generally facing no sound issues on your Windows PC, update your Sound Card driver and see. Also, run the Playing Audio Troubleshooter. You can access it via the Settings Troubleshooters page in Windows 10. Once you update the driver, it is a good idea to restart it.
Some other common reasons for no sound on YouTube include poor connectivity, copyright restrictions, etc. Make sure you check the video on some other video streaming website before proceeding with any other fix because many videos are uploaded without any audio.
7] Turn off Bluetooth and Check for Headphones Connected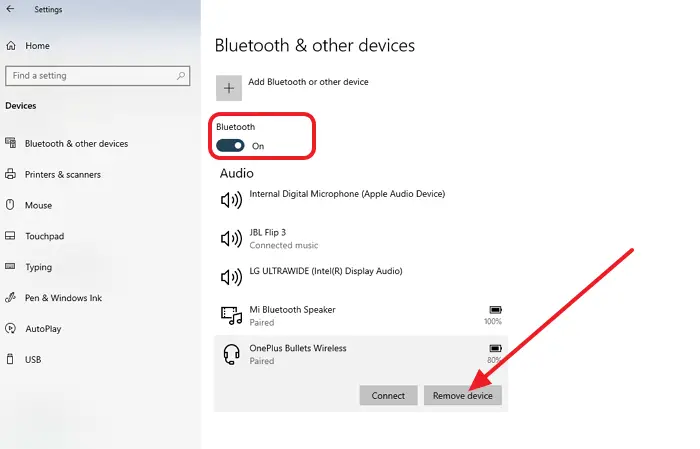 If you are trying to listen to it over Bluetooth and there is no sound, it could be a typical Bluetooth issue. The easiest way is to turn off Bluetooth or restart it and reconnect. If this doesn't help, you can need to unpair the headphones and then pair them again.
You can do all this by going to Settings > Devices > Bluetooth and other devices. A toggle button allows you to on and off, while the listed device can help you unpair.
Select the headphone in the list, and select Remove Device. If it is not connected, you can click on the Connect button and follow the on-screen instruction.
8] Security Software interference
Security Software is there to make sure we can work on the computer with peace. But at times, they become the source of the problem. It would be a good idea to disable any security software you are using on the computer and check if the sound problem gets resolved. If that works, it means the software is interfering with the audio output or sound driver, and you will check with the support or dig it yourself to find the problem.
YouTube is the largest video-sharing website. It is one of the sources where a lot of learnings can be made. I hope the post was easy to follow, and the instructions helped you resolve the missing sound on YouTube.
PS: Please also see the Featured Comment below.
How do I get my YouTube sound back?
Clear your browser cache, check your sound setting, and update your Sound Card driver. These steps are sure to help you get your YouTube sound back.
How do I unmute audio on YouTube?
Use the YouTube Volume Mute Button. You will see its icon in the bottom corner of the video. Next, use your computer's taskbar icon or keyboard shortcut to unmute your PC'c volume.
TIP: If you are an avid YouTube user, check out these YouTube tricks posts, which will enhance your video-watching experience.