We can't deny that Google Chrome is the most popular web browser available today. That doesn't mean Chrome is without its problems. Having no sound or audio is one of them!
Why is my Google Chrome not playing sound?
In Google Chrome, you can mute any tab or website. Hence, if you are not hearing sound in Chrome, check if that particular tab is muted or not. Also, check the Volume Mixer settings. It may be possible that you have muted Chrome in Volume Mixer. Sometimes, issues occur due to a problematic extension. Hence, disable all extensions to check if this is the case with you or not.
No sound in Chrome
You see, many Chrome users have come across a problem where the browser fails to play sound. For most, the easiest way to fix this problem is by restarting the browser or the computer. But that does not always work! The issue can be extremely frustrating, especially when one considers that other apps have sound, and only Chrome alone is acting up.
If you are facing no sound issues in Chrome, here are a few things you might want to try. But before you begin-
Make sure that your Windows OS, Sound drivers and Google Chrome are up-to-date
Make sure that you have not muted the speaker sound on your PC
Run the Playing Audio Troubleshooter from the Troubleshooters Page.
Run AdwCleaner to check if your browser has been hijacked.
1] Check the speaker volume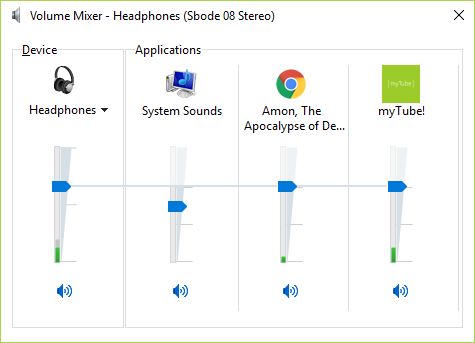 Well, wouldn't that be something? To find out if that's indeed the case, right-click on the Speaker icon, then Open Volume Mixer. Right there you should see Chrome and whether or not it's turned down.
This post will help you if the application is missing from the Volume Mixer.
2] Clear the cache and cookies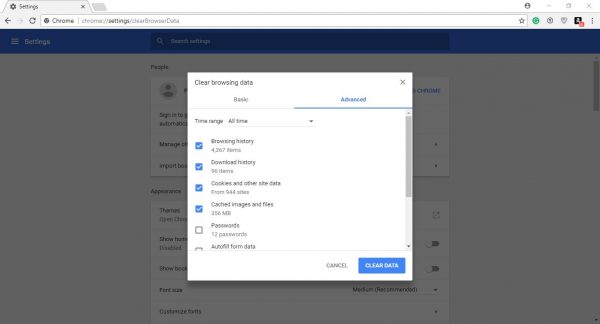 Not everyone knows this, but for clearing the cache and or the cookies is a great way to clear up most problems Chrome might face.
To do this, click on the vertical dots at the top-right corner. Select More tools > Clear browsing data. Finally, select the amount of data you're satisfied with clearing, then work your magic.
3] Reset settings in Chrome
If you're not interested in going through all the trouble of uninstalling and reinstalling the web browser, then how about reverting the settings to its factory default stance? That's easy enough, lazy.
To reset Chrome settings, click on the dots at the right-hand corner of the web browser. Select 'Settings,' 'Advanced' and then 'Reset.' That should do the trick wonderfully, but if not, there are other ways.
4] Reinstall Chrome
Finally, if nothing works, you might have to reinstall Chrome. Begin by closing Google Chrome and all of its instances. You can do this by clicking the "X" at the top-right corner, or to make sure everything is closed, right-click on the Taskbar., then select the Task Manager.
From here, simply search for all Chrome instances and click on End Task to close them.
Additionally, click on 'Start' > 'Setting' > Apps. After that, Select Google Chromes under 'Apps and Features' and click the Uninstall button.
Finally, download Chrome from the web, and then install it.
5] Unmute the website tab
If you want to unmute the audio on a particular page, right-click the tab at the top of the Chrome window and select Unmute Site from the menu that appears.
Alternatively, click on the lock icon and change the Sound option to Allow.
6] Check Chrome Sound settings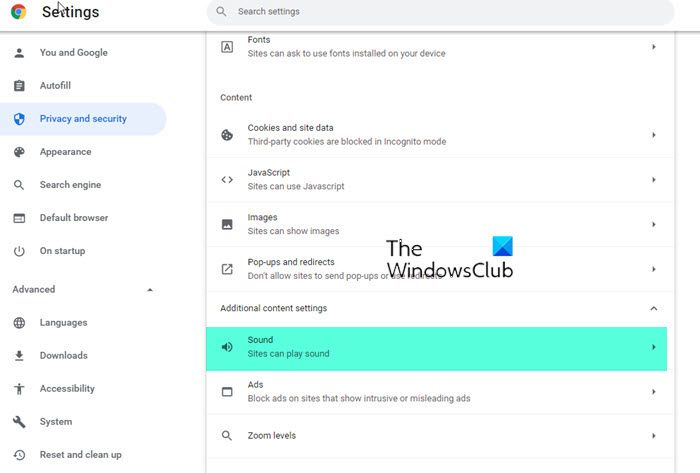 Open Chrome settings > Privacy and security > Site settings > Additional content settings > Sound. Check the settings here.
7] Disable Chrome extensions
You could disable Chrome extensions and see if the problem goes away. If it does, then identify the problematic extension and disable it.
It doesn't matter the amount of problems Chrome faces, it's still the best web browser out there, and I recommend it until a better option comes up on the radar in the near or distant future.
How to fix Chrome Incognito no sound issue?
If you find that there is no sound when you run Google Chrome in Incognito mode, then first ensure that the sound in the tab is not muted. Next, you need to check the Chrome Sound settings under Additional content settings. Both these have been explained above in Points 5 and 6 above in the post.
That's it. I hope this helps.