Volume Mixer in Windows is a setting in the Sound section that allows you to control the volume of the connected devices and applications. However, if you find applications missing from the Volume Mixer, this post will help you fix the problem.
What is a Volume Mixer in Windows 11/10
The Volume Mixer & Control in the Windows operating system offers better graphics displays & the ability to control the sound levels of all the applications, which call for audio support from Windows 11/10/8/7. This mixer effectively lets you control the volume for each application separately.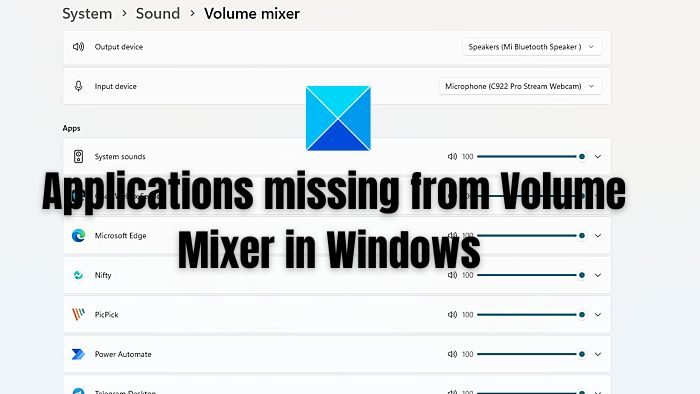 Applications missing from Volume Mixer
If you wonder why the applications are missing, they cannot control the output device, so it goes missing. To fix this, follow the steps below:
Open Windows Settings (Win + I)
Go to System > Sound
Click on More sound settings to view the classic control panel for sound devices.
Double-click on the Speaker/Headphone icon to open the properties window
Switch to Advanced Tab, then ensure that Allow applications to take exclusive control of this device is checked.
If not, select it, click Apply > OK, and exit.
Restart your computer, and the device should be listed.
In Windows, go to Settings > Sound > Volume Mixer > Apps. Your app should be a part of the list now. You can expand the listing and choose the default Output and input device.
Apart from this, you can run System File Checker to fix any corrupt system files that could be the reason.
I hope this helps!
Why do none of my games have volume?
If everything is working as expected apart from the game, check if the volume is muted. Most of the games have internal volume settings that can be configured. If the game has a higher volume than usual, lowering it helps those who find it annoying.
How do I restart Windows audio service?
Open Windows Services, and locate the Windows Audio service by scrolling down and double-clicking to open its menu. If the service has been halted, the system's audio won't work correctly. To restart the service, double-click on it and select Start. Check if you can hear audio from any of the devices.