Millions of users have learned to make their navigation faster and easier with Google Maps but unreliable networks can make this experience unpleasant. As such, you may find Google Maps sometimes showing individual tiles only. It fails to load maps and the entire screen simply turns blank. Worse, the problem may only appear in Google Chrome and not in other browsers like Mozilla Firefox. If you are facing this problem, here are a few steps you can try to beat this problem.
Google Maps is a widely popular web mapping service that offers satellite imagery, street maps, 360° panoramic views of streets (Street View), real-time traffic conditions (Google Traffic), and route planning for traveling by foot, car, bicycle (in beta), or public transportation.
Unknown glitches can interfere with the smooth functioning of the service. For example, Google Maps screen turns blank due to a bugged cookie Google is known to leave in your browser. To restore its functions and enable it again, delete it.
Google Maps not showing
If Google Maps not showing and displays a blank screen, here are some suggestions to help you resolve the issue:
Clear google.com Cookies
Disable browser extensions
Reset Google Chrome
Use an alternative browser
Use alternative Maps service
1] Clear google.com Cookies
First, click on 'Menu' (3 Dots) menu visible in the upper right corner of your computer screen.
Next, select 'Settings' from the list of the options displayed there.
Thereafter scroll down to the bottom and choose 'Advanced'.
When directed to a new page, look for an option that reads 'Content Settings'.
There, click on 'Cookies' and on the next page click "See all cookies and site data."
Here, in the empty search bar type www.google.com and hit 'Enter' key.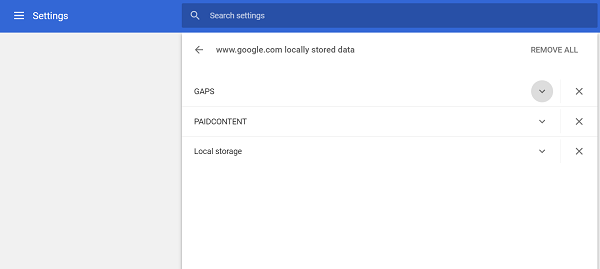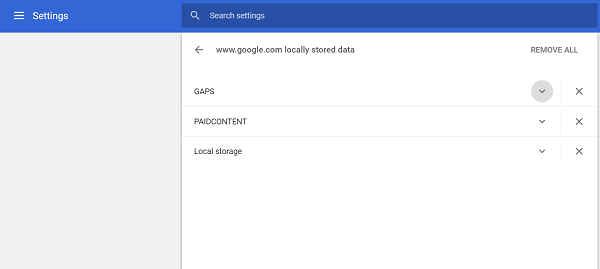 The browser will list dozens of cookies specific to your browser and your Google account. The one that's reported to be causing the issue is labeled "gsScrollPos." but there are many of these so, you cannot pinpoint the specific cookie which is causing the trouble. Therefore, you'll need to delete them all. Do this, by clicking the "X" icon on the left side of the settings column. Do this for all cookies with the gsScrollPos label.
If this bug might appear again, just load Google Maps in an Incognito tab mode to make the map for a location visible without clearing any cookies.
2] Disable browser extensions
You'll need to locate the extension that is causing this issue, and the best way to do this is to disable browser extensions, then fire them up again one after the other.
To get the job done, click on the Menu icon, then Tools, and finally, Extensions. From here, the user should see a list of all the installed extensions for Google Chrome. Look out for a blue switch beside each extension, and simply click on it to disable. Now, what you'll need to do now, is launch open Google Maps to see if it works. If it does, please activate one extension, reload the Maps page, and repeat this process for each until you've come across the culprit.
3] Reset Google Chrome
Resetting the Chrome web browser should be one of the last roads to take, and we hope you'll never have to drive on it. Now, if there is no other choice, we suggest clicking on the Menu icon, then select Settings > Advanced > Reset Settings, and finally, hit the button that says Reset.
When finished, launch Google Maps service again. It should now open normally.
4] Use an alternative browser
If your browser does not support Google Maps API then you may see an error message – You are using a browser that is not supported by the Google Maps JavaScript API. Consider changing your browser. Chrome users too have, for some startnge reason, see this message. If you are a Chrome user. you can resetd the browser and see.  Else simply fire up Microsoft Edge and open Google Maps and see if that helps.
5] Use alternative Maps service
You can use alternatives to Google Maps like Bing Maps as a last resort.
Why is my map not loading anything?
One of the causes of this issue is a weak internet connection. Make sure that your internet connection is working fine. Sometimes, the problem only occurs on a particular web browser. When you encounter such an issue, open Google Maps on another browser on your PC and see if the problem persists. In some cases, corrupted cache and cookies are responsible for this problem. You should clear your browser cache and cookies. If this does not help, reset or reinstall your browser.
Why does Google Maps go black on Firefox?
There can be many reasons why Google Maps go black on Firefox on your PC, like installed extensions, corrupted Firefox cache or cookies, etc. Launch Firefox in Troubleshoot mode to check if this issue is caused by an extension or not. If this does not work, delete Firefox cache and cookies. If nothing helps, we suggest you reset or refresh Firefox.
Related read: Google Maps not working on Chrome.