Millions of users have learned to make their navigation faster and easier with Google Maps but unreliable networks can make this experience unpleasant. As such, you may find Google Maps sometimes showing individual tiles only. It fails to load maps and the entire screen simply turns blank. Worse, the problem may only appear in Google Chrome and not other browsers like Mozilla Firefox. If you are facing this problem, here are a few steps you can try to beat this problem.
Google Maps not showing
Google Maps is a widely popular web mapping service that offers satellite imagery, street maps, 360° panoramic views of streets (Street View), real-time traffic conditions (Google Traffic), and route planning for traveling by foot, car, bicycle (in beta), or public transportation.
Unknown glitches can interfere with the smooth functioning of the service. For example, Google Maps screen turn blank due to a bugged cookie Google is known to leave in your browser. To restore its functions and enable it again delete it.
First, click on 'Menu' (3 Dots) menu visible in the upper right corner of your computer screen.
Next, select 'Settings' from the list of the options displayed there.
Thereafter scroll down to the bottom and choose 'Advanced'.
When directed to a new page, look for an option that reads 'Content Settings'.
There, click on 'Cookies' and on the next page click "See all cookies and site data."
Here, in the empty search bar type www.google.com and hit 'Enter' key.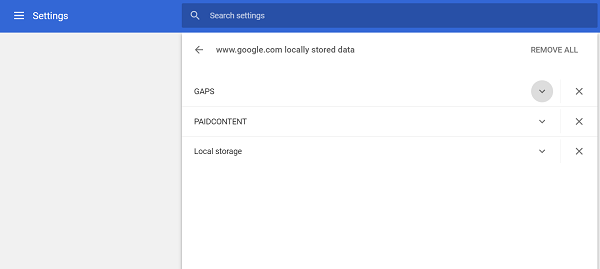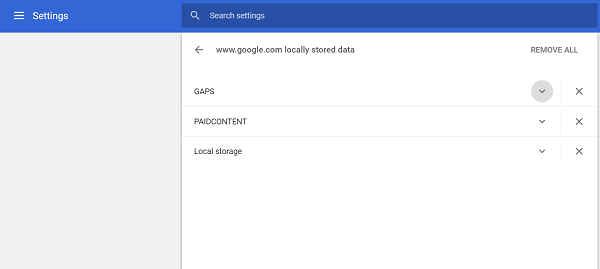 The browser will list dozens of cookies specific to your browser and your Google account. The one that's reported to be causing the issue is labeled "gsScrollPos." but there are many of these so, you cannot pinpoint the specific cookie which is causing the trouble. Therefore, you'll need to delete them all. Do this, by clicking the "X" icon on the left side of the settings column. Do this for all cookies with the gsScrollPos label.
When finished, launch Google Maps service again. It should now open normally.
Please note, this bug might appear again. So, just load Google Maps in an Incognito tab mode to make the map for a location visible without clearing any cookies.
Related read: Google Maps not working on Chrome.