Do you have trouble logging into your Google Drive account? If you constantly get into a loop while trying to sign into Google Drive, then this post may be able to help you. Google Drive is one of the top options for cloud storage services for backing up files thanks to its abundance of features, excellent sync with other services, and simplicity of use. However, as with all programs, Google Drive sometimes displays an error message that reads, "You are not signed in," when users attempt to start the application on their devices.
The error keeps reoccurring even after users click the "Retry" button on the error message. Whereas their account is already signed in on the device, and this means the error is due to a glitch. It goes without saying that until the error is fixed, you won't be able to access your storage, but individuals have had trouble finding a workable fix for this problem. Due to this, we've gathered some proven fixes to help you out.
Reasons why you may see You are not signed in error in Google Drive
The web app is the best way to use Google Drive, but sadly, users who use the application in a web browser are the ones who encounter this "You are not signed in" loop error the most frequently. Malicious software, corrupted caches, problematic extensions, and disabled cookies frequently cause this issue.
However, there are some straightforward and effective solutions to this problem, though, and we'll go over them in more detail in the next section of this article.
Fix Google Drive You are not signed in loop error
The You are not signed in error in Google Drive can be fixed in different ways depending on what caused the issue, and here are the ones we've compiled for you:
Allow Cookies for Google Drive.
Clear browser data and resign to Google Drive.
Remove some extensions from your browser.
Temporary disable.
Reset or Reinstall the browser.
Use another browser.
Now, let's discuss more details about the solutions
1] Allow Cookies for Google Drive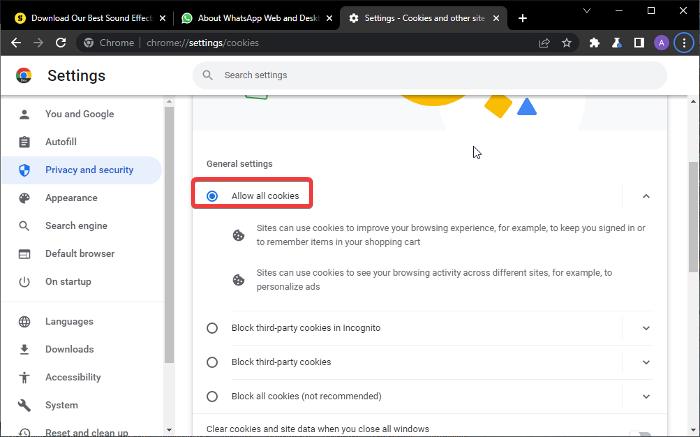 Cookies are basically small data files saved on your device to keep your browsing details like logins and other relevant data saved to ensure a smoother browsing experience. At your first login to Google Drive on your computer, as long as you accept the cookies pop-up, your details get saved on your browser files to remember your information the next time you access Google Drive on the browser and eliminate the need for you to go through the stress of logging in again.
However, if the cookies aren't allowed, it may interfere with your browsing experience, and you may start getting the You are not signed in error when trying to log in to Google Drive via Chrome. Hence, you should allow cookies on your browser manually by following these steps in Chrome:
Open your Chrome and click the three-dot menu at the top-right corner of the browser.
Click on Settings and select Privacy and Security.
Tap on Cookies and other site data.
Check the Allow all cookies box.
Scroll down to the Sites that can never use the cookies and Always clear cookies when windows are closed options and make sure you remove any Google-related sites there.
Allowing Cookies will give the change Chrome to save your Google Drive details and should allow a smooth login anytime you want to. However, you should use this link to sign in after following the steps above.
2] Clear browser data and re-sign in Google Drive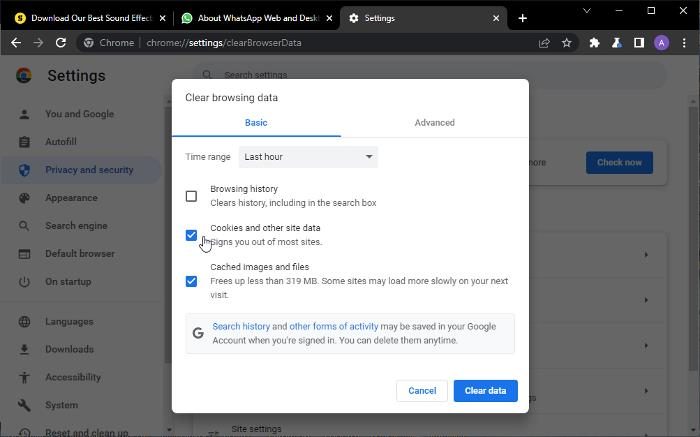 Corrupt browsing data and cache could be the reason behind this error on your browser, and what you can do to resolve the issue, in that case, is to clear your browsing data. Here is how to do it in Chrome:
Click on the three-dot icon at the top-right corner of the Chrome browser.
Select More tools and tap on Clear browsing data…
Check the data you wish to delete and press Clear data.
However, you should turn off sync in your browser to clear browsing data on your PC alone.
3] Remove extensions like Privacy Badger from your browser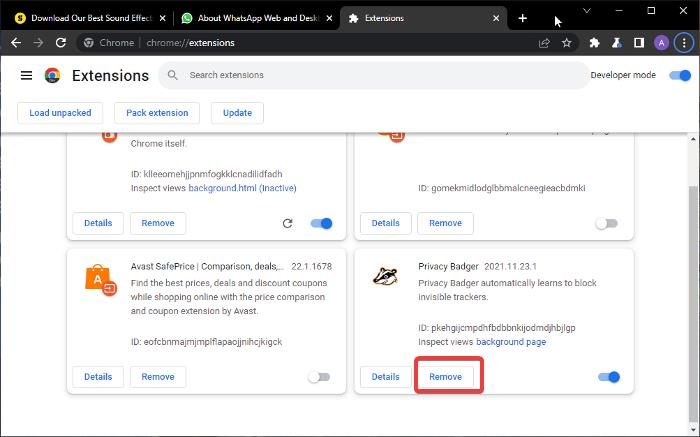 Extensions like Privacy Badger have been known for blocking cookies and other site settings, which could be why you are having issues logging into Google Drive. You should therefore remove this extension from your browser by following these steps:
Open Chrome, type Chrome://extensions in the address box, and press Enter.
On the extension, you want to remove, click on Remove.
4] Temporary disable Antivirus on your computer
The antivirus program on your computer can sometimes block access to use the full functionality of your browser. This can be the root cause of the Google Drive issue and can be fixed by closing the program. This can be done by opening Task Manager and selecting the End Process option for the Antivirus app running on the computer.
5] Reset or Reinstall the browser
Reset the Edge, Chrome, or Firefox browser and see if that helps.
If not, then uninstall and reinstall it. It can be helpful to uninstall the browser you are having issues with and reinstall it since the issue can be due to the browser. Besides, you'll be installing an updated version of the browser, which means any issue with the browser will most likely have been fixed. To do this:
Go to the Control Panel and set the View by option at the top right corner of the screen to Small icon.
Click on Programs and Features.
Right click the program you wish to uninstall and select Uninstall 
Then click Yes to confirm the action.
6] Use another browser
If none of the solutions mentioned above work, which is almost impossible, you should try to use another browser like Firefox or Edge to open Google Drive.
Read:
Why does Google Drive keep saying I'm not signed in?
In most cases, when you get the You are not signed in error on Google Drive, it's because Cookies are not turned on on your browser or malicious software is deleting your browser's cookies. So you should check the cookies settings on your browser and ensure it's enabled and not corrupt.
Is the Google Drive password the same as Gmail?
Like other Google services, Google Drive and Gmail are linked to your Google account. This means that they all require the same login details to access them. Once your Google account is signed in, you must choose the account to sign into other Google services on that device.
You have been signed out, You must sign in again to save changes to this file in Google
If you receive You have been signed out, You must sign in again to save changes to this file in Google Sheets or any Google Docs product; you need to clear your browser cache and disable problematic extensions like Instagram maybe. The best would be to check in Incognito Mode if the problem goes away.