Google Drive is one of the top cloud services available on the web right now, and guess what? The official software runs perfectly fine on Windows 11/10. We're huge fans of OneDrive, but that's not going to stop us from taking a spin out of this bad boy.
Google Drive for Windows Desktop
Google Drive software is all about synchronizing files from the cloud to your computer and from your computer to the cloud. It is similar to how the Microsoft OneDrive software works on Windows 11/10. Once downloaded from the official Google website and installed, users will be required to sign-in with their Google credentials.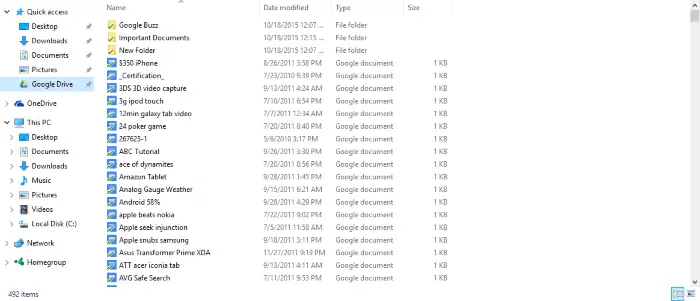 After the installation, Google Drive immediately begins to synchronize all files from the cloud to your computer in a folder called "Google Drive." Depending on the amount of files available on your online storage account, synchronizing data could take a few minutes or up to a few hours or more.
To get the settings area to make certain changes to how the software operates, there's an icon that shows up on the taskbar. Right-click on it and then click "Preferences" to find your way to the settings area. Right-clicking should also show the latest files that have been synchronized. For us, it showed the latest 5, and also the amount of space left on Google Drive along with the connected or disconnected status of the program.
In the Preferences section, users can choose only to synchronize selected folders. This is great for preserving space on the local drive, or to prevent "that one folder" from being viewed by someone important. Yes, we know how your minds operate, dear reader.
It is also possible to limit the upload and download bandwidth along with using a custom proxy.
In all honesty, the Google Drive software for Windows 10 brings nothing unique to the table that stands over the OneDrive software, but does it matter?? No, it doesn't. The most important thing here is that files synchronize without a hitch, and users have the option to choose the folders to sync. Everything else is just gravy in our minds. However, that doesn't mean Google could not have done a better job.
At the end of the day, if you are a Google Drive user who is looking for reliable desktop software to sync files, this program will do the job just fine.
Go get it from the official Google website.
Related: Google Drive for Desktop not syncing on Windows PC
Google Drive offline installer
Speaking generally, if you are looking for the Google Drive software offline installer, replace 'X' with the latest version number of this tool in the following URL:
http://dl.google.com/drive/X/gsync.msi
This post will help you if Google Drive keeps crashing and this one if you can't launch Google Drive for Desktop on Windows PC.