If you've upgraded to new computers at your workplace and they came with Windows 10, or if you've entirely changed your work environment to use Windows 10, some of your employees might face some difficulties while switching or upgrading to the latest Windows 10 OS. To help you and your employees get used to Windows 10, Microsoft has designed and released a guide called 'Getting to know Windows 10 – for Employees'. This guide is available in Presentation format and is a nice quick guide that can get your employees started. The guide is brought to you by Microsoft IT Showcase.
Getting to know Windows 10 Guide for Employees
The guide starts with a brief introductory slide discussing the features of the all-new Windows 10. Then the new start menu with all its features is explained in multiple slides.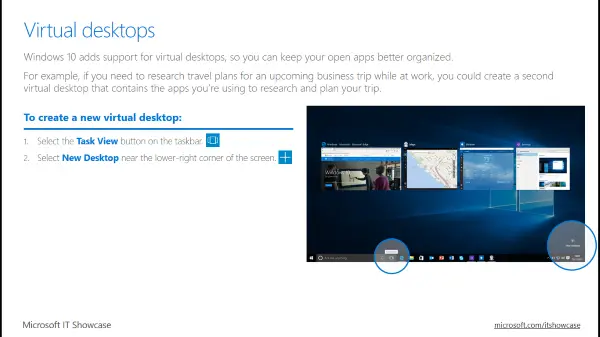 Moving on, features like Task View and Virtual Desktops are also discussed briefly. The following features are touched upon:
Security Features: People upgrade their computers to Windows because of the latest security technology included in the updates. So, this guide also covers some of the latest security advancements in Windows 10. It introduces Windows Defender Security Centre and guides upon how to run it.
Windows Hello: It is the latest addition to Windows. Windows Hello lets you sign-in to your computer using a fingerprint sensor or faces recognition. You can also pair a companion device like a smart band or a smartphone. The tap-to-pay feature is also available but not supported in all countries. The guide also covers some other advanced security features in the following slides.
Cortana: Cortana was another most emphasized feature on Windows 10. The guide covers some basic details about Cortana and how can it help people at work. The slides also include a short list of things you can say to Cortana and can you utilize her notebook.
Microsoft Edge: Edge being the latest addition, most users are unaware of its features. The guide comprehensively covers Microsoft Edge and its features. The guide also makes a point on the security features and discusses how Edge can collaborate with Microsoft Office 365.
Office 365: If you are an enterprise user, probably you are going to get Windows 10 to Office 365. And this guide does cover Office 365 and how to use it with Windows 10. Using this guide, you can also get started with OneDrive for Business. A few features from Office 365 and OneDrive features are covered in this part.
Other features: The last part of the presentation introduces some other new features like the new Settings app. And the new Windows Ink. You can learn more about other applications like the new Sticky Notes and Paint 3D.
The last few slides are about the latest Microsoft Devices. You get to know about devices from the Surface Family. And how to use them in different modes that are available. And the guide also talks also about Windows Mobile features such as Continuum.
The guide is pretty amazing, and it will surely help some people get started with their new computer.
Download this guide, created by Microsoft by clicking here: Getting_to_know_Windows_10_for_employees.