Do your Tabs crash frequently in Firefox? Does it happen for all the website? When it does crash, you may see a message – Gah, Your tab just crashed message. If yes, then it is possible that your Firefox Profile is having issues with the existing Firefox installation. In this guide, we help you resolve this issue.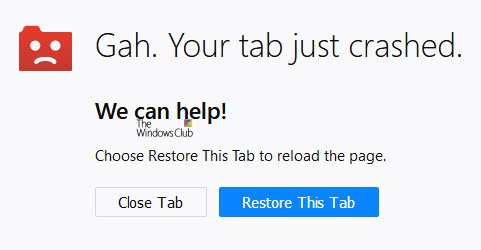 Gah, Your tab just crashed message in Firefox
Well if this happens rarely, you could always click on the Restore This Tab button. But if this happens frequently, here are a few thigs you could try.
1] Disable multi-process tabs in Firefox
Mozilla has one process for Firefox itself, and one process which handles all the Tabs. You can choose to disable this multi-process tabs in Firefox.
Type about: config in the address bar, and hit enter.
Search for these two configurations, and set them to false.

browser.tabs.remote.autostart = false
browser.tabs.remote.autostart.2 = false
You need to double-click to quickly toggle between true and false.
2] Check your Add-ons
Start Firefox in Safe Mode and see if the problem disappears. If it does, then you may need to check your Firefox add-ons and extensions. Maybe one of them is causing the crashes.
3] Downgrade Firefox Version
It is possible that the current version has a problem. You can choose to downgrade. Go to the directory of other versions and languages, and choose an older version which worked for you. Post that, make sure to disable automatic Firefox updates.

Click the menu button and choose .
In the Firefox Updates section.
panel, go to the
Choose the radio button which says "Check for updates but let you choose to install them."
This will make sure that until you are sure the new update will not have the same issue, it will not update Firefox. This can only be a temporary measure since one must always use the latest versions with all the security and performance updates.
4] Send Crash Reports
Type about: crashes. It will list of crash reports. Send it to Mozilla using the built-in interface
This will not solve your problem instantly, but if a lot of people are reporting or its something unique, it will get fixed in future releases or with minor updates.
Let us know if these tips helped you resolve the Gah, Your tab just crashed message in Firefox.
If you have any alternate solution, share with us in the comments.