There are many different grammar, style, and spell checking extensions and plugins available on the web, but not all of them are good. If you are looking for some good and useful style, spelling, and grammar checker plugins or extensions, your search might end here.
After taking the time to use and analyze some of the most popular grammar checking plugins, we have enlisted a few best of them below. These may help you bring up flawless articles and write-ups. These free grammar checkers and spell-checking extensions are very useful for students, business writers, authors, bloggers, and content writers.
Grammar Checker Plugins & Software
Narrowing down the search, we have compiled the top 3 free Spelling, Style, Grammar Checker Plugins on the web. They are After The Deadline, Grammarly Lite, and Ginger.
1] After The Deadline
After The Deadline was earlier available only as a Firefox add-on and WordPress Plugin, but it has now launched a Google Chrome extension as well. It is a powerful grammar and spelling checking tool with its amazing text-fixing powers.
Unlike the other spell checking tools Speakie, the Spell Checking Tool for Internet Explorer, and Tinyspell, the Spell-checker for Windows, After the Deadline solves some of your complex grammar issues like passive voice usage, misused words, double negatives, clichés, and much more. Moreover, you can select your own Proofreading Options here. You can also use this spell-check tool in your browser while posting a tweet, writing an email, blog comments, or while composing private messages. This spell checking tool supports English, French, German, Portuguese, and Spanish.
Features of After the Deadline
Checks Spelling
Detects Misused Words

Checks

writing style and locate errors
Finds complex phrases and suggests simple ones
Locates passive voice
Checks grammatical errors in the text
Finds Confused words (a/an, it/it's, there/their, to/too, you/you're, etc.)
Explains Errors
Download After the Deadline for Chrome or Firefox.
UPDATE: You can now download Grammarly for Chrome, Firefox browsers as well as for Windows PC.
2] Grammarly

Lite

Grammarly Lite is an online spell-checking tool available both as a Firefox add-on and Google Chrome extension. It helps you write error free content anywhere on the web, may it be your compose mailbox, Facebook status update, comments, blog post, or even chat window.

Grammarly Lite includes a dictionary, synonym suggestions as well as thesaurus which helps you build a better vocabulary. Downloading and adding this extension in your Google Chrome browser settles an icon at the bottom right corner of the text field.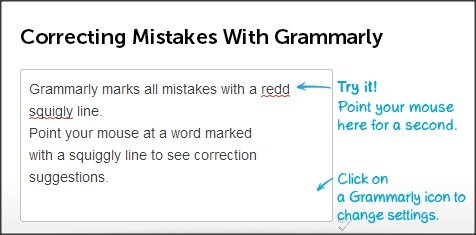 Features of Grammarly Lite
Checks spelling mistakes
Locates punctuation mistakes
Has a dictionary
Locates contextual spelling mistakes
Gives synonym suggestions
Checks basic grammar mistakes
Shows definitions
Showing the definitions while browsing the web, is my personal favorite feature of Grammarly Lite. Double-clicking on any word and you can see its definition. I haven't noticed this feature in any of the popular spell check freeware so far, may it be Phrase Express, Word Expander or WordWeb. Grammarly Lite extension is highly recommended for those who are not native English speakers.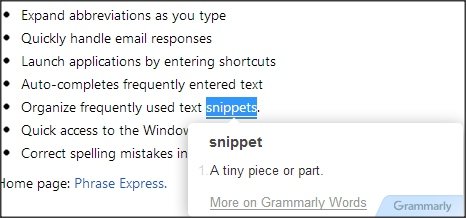 Download Grammarly Lite for Chrome or Firefox.
Read: Best Grammarly alternatives
3] Ginger
Ginger is another very popular spell and grammar checking tool and is available as both a Firefox add-on as well as Google Chrome extension. A feature that makes the Ginger Spell Checker tool stand out in the crowd is to detect the correctly spelled words used in the wrong text.
It is one of the most popular Spelling, Style, Grammar Checker Plugins used by bloggers and content writers, as it is integrated with desktop and web applications. Ginger Spell Checker identifies and marks both grammar and spelling mistakes while considering the context. It corrects typo, misused words, and severe spelling mistakes often unidentified by the other spell checkers. It corrects your mistakes while you type or can also scan the whole document and the best part is that you can get it for your MS Word for free.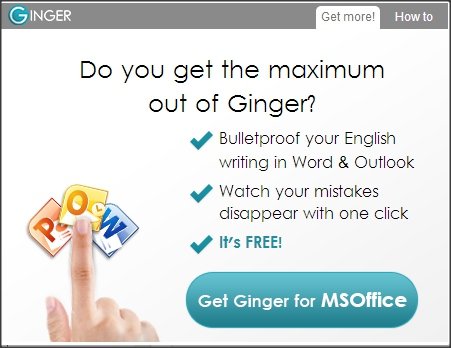 Features of Ginger
Corrects Severe spelling mistakes and Phonetic spelling mistakes
Corrects Typos
Irregular verb conjugations
Misused words correction
Similar sound words
Related words confusion
Consecutive nouns
Prepositions correction
Verb correction
Subject-verb agreement
Corrects the usage of Nouns and Pronouns
Download Ginger.
TIP: Take a look at Microsoft Editor.
4] LanguageTool
LanguageTool is yet another free Grammar, Style & Spell Checker, Desktop Software & Online Tool we have covered here.
Also, have a look at Get it Right Spell Checker.
I am using Grammarly Lite Spell Checker for the last few months,  but after analyzing a few other ones, I guess I would like to use Ginger Spell Checker from now. I would also like to know which are your preferred Grammar Checker Plugins.