Writing and editing are easier said than done and if English is your second language, you really need to use some good grammar and spell-check tools. Students and professional writers often need to use spelling and grammar-checking tools to pen-down their thoughts without any grammar or spelling errors. In fact, everyone needs a grammar checking tool for one or the other use.
A good grammar checker can help you check any type of writing, may it be a casual email message or some kind of formal research paper. It can also help you with your online discussions, online communications, newsletters, and business correspondence.
Free Grammar, Style & Spell Checker
There are many free grammar checkers available and today I am reviewing LanguageTool. This Language Tool is one of the very popular open-source proofreading, grammar & spell check software. It is said to be more than just an English grammar-checking tool that can improve your writing skills considerably which ultimately leads to greater confidence in your writing abilities.
While you are required to download their grammar checker software to your computer system, you can also use their online grammar checking tool first, so that you know what exactly you can expect from the software when you download it. If you need to check your writing style occasionally, use their online tool, but if you use it often, then downloading their desktop software would be a better idea.
The program has grammar correction available for multiple languages. The program checks grammar and does proofreading in English, French, German, Dutch, Polish and Romanian, and many other languages.
It can detect many errors which are usually not detected by other free language-checking tools online. For example, the difference between their/there or know/no. This application can detect errors on the basis of rules defined within their language-specific configuration files.
The Language Tool is available in the LibreOffice version, as a Standalone desktop version, and as a language tool browser extension for Firefox too. It comes in a zip file. You can download it and extract the files in the desired folder. Copy-paste the text you want to check and the program will come up with the errors in your text.
How to use LanguageTool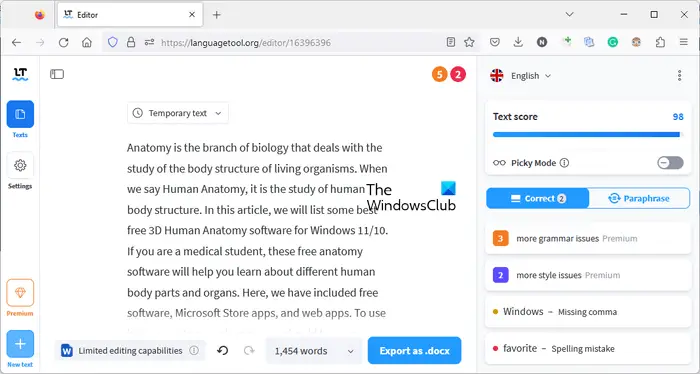 Using this tool is easy. You have to sign up on its official website. Signing up is free. After that, either enter the text in the required field or upload a Word document by clicking on the Browse Files button. It displays all the grammar mistakes on the right side. Click on the mistakes and then correct them or ignore them. You can also add words to your personal dictionary.
Apart from correcting grammar mistakes, this tool can also paraphrase your text. To use this feature, you have to switch to Paraphrase.
Verdict
I am using a Windows PC, and I downloaded the standalone version of the Language Tool. After using it for a while, all I want to say is that it is just an average grammar checker tool. I made some grammatical errors intentionally, but the program couldn't detect them. All it detected was a spelling mistake of the word 'Other'. I've marked my errors in a red square, in the screenshot below.
Grammarly has always been my favorite grammar & spell checking tool, and I find that LanguageTool needs to improve a lot.
LanguageTool download
You can go here to download LanguageTool software for Windows. I would like to hear from the users of LanguageTool, about how they like it and rely upon its efficacy.
Is there a free online grammar and spelling checker?
There are many free online tools that let you check grammar and spelling errors. Grammarly and Ginger are some popular grammar checker tools. Both of them have free and paid plans.
How can I use Grammarly for free?
Grammarly has both free and paid versions. If you want to use it for free, you just have to create a free account on its official website. You can add it as an extension in your web browser. If you are using a browser that does not support the Grammarly extension, you can use its online editor by visiting the official website.
More Free Spelling, Style, and Grammar Checker Plugins & Software here.