The coherency and quality of your writing can take a beating and most likely frustrate readers when complex or abstract words are used unnecessarily. Such an arrangement of words can never convey the desired meaning. If you have a Microsoft 365 subscription, adding some cloud-enhanced features can help you produce better results. That's where the role of Microsoft Editor comes into play.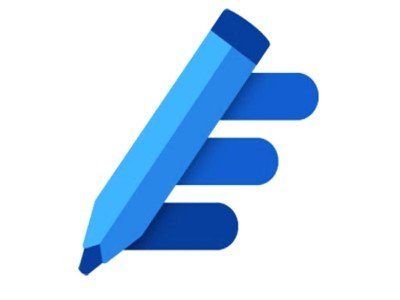 How to use Microsoft Editor
Microsoft Editor helps you improve your writing in Word and Outlook for the web by identifying words and phrases that might need more attention. The tool acts as your intelligent writing assistant by analyzing text as you type and suggest changes whenever it comes across misspelled words or places where improvement in syntax is required.
If you are using Microsoft 365 Personal and Family subscription, you get access to advanced grammar and style refinements. It includes clarity, conciseness, formal language, vocabulary suggestions, and much more. There are three ways to access the Microsoft Editor
Microsoft Office Documents ( Word on web and desktop)
Outlook .com and Outlook Client for Emails
Everywhere else through a browser extension.
You can use Microsoft Editor as:
Browser Plugin
Microsoft Word add-in
So, whether you are writing a Word doc, composing an email message, or posting on a website like LinkedIn or Facebook you can benefit from Microsoft Editor's utility. A salient feature about Microsoft Editor is that it can communicate clearly in more than 20 languages. Every language and market is unique. As such, Microsoft offers suggestions for each language in partnership with native speakers and local linguists.
1] Microsoft Editor as a browser plugin
The Editor browser extension checks for grammar and spelling mistakes. It also makes suggestions for refining your writing, like addressing passive voice or wordiness.
Before installing Microsoft Editor as a browser extension, we would recommend you turn off other grammar-checking extensions. Doing so will help Editor to work best! So, go to your browser's extension settings and switch off other browser extensions that check your spelling and grammar.
In Edge, choose 'Settings and more' (three-dot) menu, and then 'Extensions'.
For Chrome, go to the three-dot 'Customize and control Google Chrome' menu, and then 'Settings' > 'Extensions'.
When done, go ahead and add Microsoft Editor as an extension on Edge or Chrome. You can easily get it from the browser's app store.
Once added, a dimmed Editor icon gets added to the browser's toolbar. Click the icon and sign in with the account you use for Office or sign in with your free Microsoft account.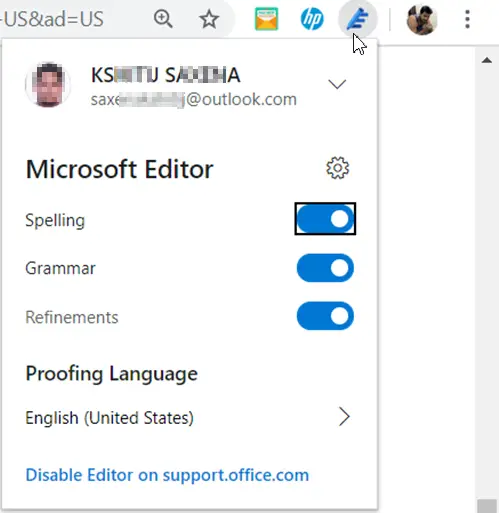 When you choose to sign in with a free Microsoft account, the editor limits you to fixing basic spelling and grammar issues only. Refinements and advanced grammar checking features are enabled only when you sign in to Editor with your Office 365 or Microsoft 365 subscription account.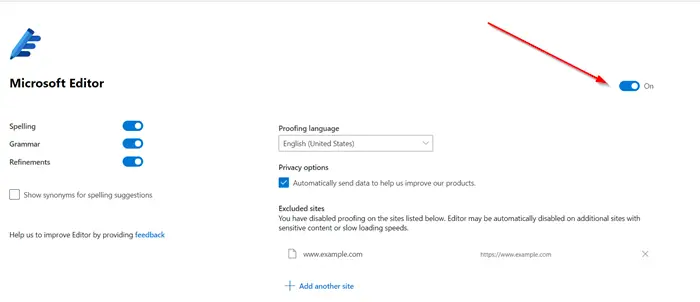 Editor's 'Settings' let you choose what Editor checks for, and you can switch Editor off for websites where you don't want the service.
UPDATE: Microsoft Editor is now built-in into the Edge browser.
2] Microsoft Editor Word add-in
Once you install Microsoft Editor Word add-in, it will be added to the Ribbon menu and will be readily visible under 'Home' tab of the application.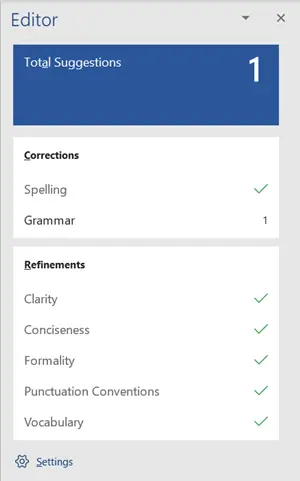 Begin writing. If the tool comes across any mistakes, it will flag them. For example, the Editor flags,
Misspellings with red wavy underlines
Grammar mistakes with blue and plain double underlines
Style issues with purple dashes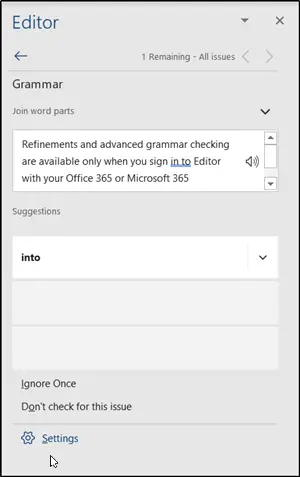 Click an underlined word to see a list of suggested revisions.
In case, you require additional assistance, simply open the Editor pane by clicking on the pen icon in the ribbon. The Editor will quickly analyze your writing and provide you statistics on
Readability
Use of distinct words
The time needed to read the document
Microsoft Editor promises to enhance its utility furthermore by introducing some more important features in the future. These include,
Similarity Checker
It is both, challenging and time-consuming for every writer to verify and do citations properly, owing to a huge amount of reference material. Understanding this, a feature called 'Similarity checker' in Editor will help users identifying potentially unoriginal content and make it easy to insert relevant citations only. We will likely see this feature in the coming months in Word for the web.
Rewrite suggestions
The Rewrite suggestions will make it easier for Microsoft Editor users to optimize their writing for fluency, conciseness, or readability. We have already covered this feature in detail in our earlier post – How to use Rewrites Suggestions. The feature, however, is limited to Word for the web application only.
Final words
During our use, we found that Microsoft Editor will not only quickly catch mistakes but also help you write with confidence.