Whatever you write, needs to be clear without grammatical errors. The spellings must be correct. The piece should be as you intended it to be. There are many tools that can aid you in writing on the web or on your PC. Grammarly is one such tool that gained prominence for correcting grammatical errors in our writings. It is available for free as well as in the premium range. It works well in correcting our mistakes while writing and there is nothing to complain about it. If you want to explore or shift to other such tools, in this guide, we list the best alternatives to Grammarly.
Best free Grammarly
alternatives
Text, the following tools will serve you.
Microsoft Editor: Spelling & Grammar Checker
LanguageTool
Hemingway Editor
ProWritingAid
Readable
WhiteSmoke
Wordtune
Ginger
Slick Write
Outwrite
Let's get into the details of each alternative to Grammarly.
1] Microsoft Editor: Spelling & Grammar Checker
Microsoft Editor is developed and released by Microsoft in March 2020 as both a free and paid tool to check and correct your writings. It is one of the finest Grammarly alternatives that you can use to edit and correct your writing. It works in almost as many as 20 languages like Spanish. You can find its extensions on Microsoft Edge, Firefox, and Chrome browsers as well as apps for Android and iOS. First, use the free version and upgrade to the paid version if you like its work.
2] LanguageTool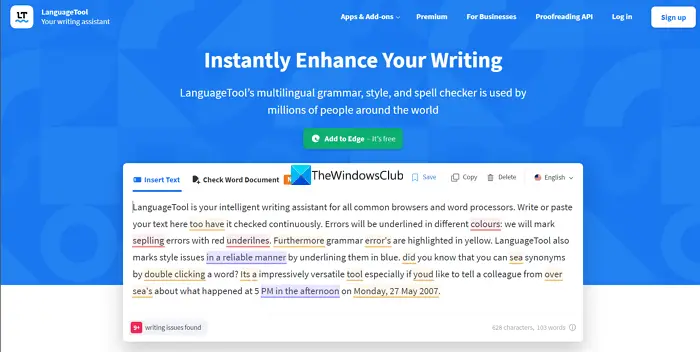 LanguageTool is similar to Grammarly in many aspects in correcting grammar and setting the tone. It corrects grammar, spelling, and punctuation and also offers suggestions in style, active and passive voice usage, and repetitive and useless words. It has both free and paid versions. You get features like tone reviews, style checks, synonym suggestions, misspelled names detection, and incorrect numbers in the paid version. The tool has the ability to check and review many languages and dialects. It is available as web browser extensions, programs for Windows and Mac, and plugins for Word, Google Docs, OpenOffice, and LibreOffice.
3] Hemingway Editor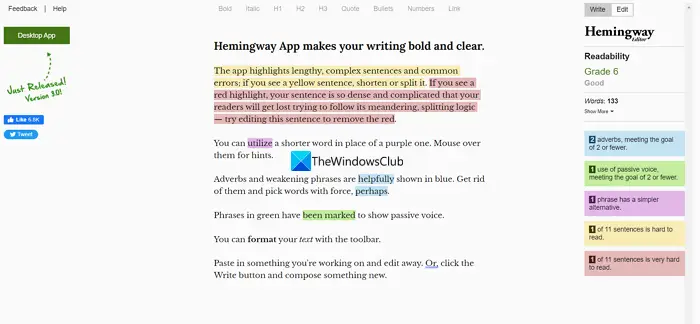 Hemingway Editor developed on the name of famous writer Ernest Hemingway who is famous for his simple writing style without any decorations. Hemingway editor corrects your writing style and highlights the complex sentences. You can see the readability score of your writing as well as suggestions to cut out unnecessary words. It is only available as desktop apps for Windows and Mac. You can also use its web version where you can paste your writing and correct your writing. The web version is available is free whereas the desktop version is paid.
4] ProWritingAid
ProWritingAid is one of the top contenders as an alternative to Grammarly. It has almost all the features of Grammarly. ProWritingAid provides a few style suggestions even in the free version which Grammarly doesn't. it is available as a web extension for browsers and can be integrated into Microsoft Office, Google Docs, Scrivener, etc.
5] Readable
Readable as the name suggests checks the readability of your writing and provides suggestions. It detects grammatical errors, style changes, active and passive voice usage, writing cliches, and unnecessary adverbs. In addition to all of them, it also provides keyword density details. It can even check the published web pages for errors using the URL. The only flipside of Readable is that it is only available for a trial of 7 days and then as a paid version. It falls short of other alternatives of Grammarly in that aspect.
6] WhiteSmoke
WhiteSmoke has features to check grammar, spelling, plagiarism, style, and translations. It is better than Grammarly in some aspects like translation, email, and document templates, and does basic checks in other aspects. WhiteSmoke doesn't have a free version which makes most of the users stay away from it. It is only available as a paid tool as of now. We have to wait and see if the developers offer a free tier like others in the future.
7] Wordtune
Wordtune helps you in improving grammar and style in your writing. It provides suggestions to rewrite whole sentences as compared to Grammarly or other tools. Wordtune suggests different ways you can rewrite a sentence to convey what you are intending to in a simple way. This Grammarly alternative is available as a free and paid tool that has a web extension and web editor.
8] Ginger
Ginger is nothing but Grammarly with the rewriting feature of Wordtune. It seems like an amalgamation of both. It only does basic grammar checks and suggests sentence rewrites and synonyms of the words you use. It has a 600-word limit using its web extension on the free version. The paid version does not have such limits and can help you write in almost 40 languages like Spanish, etc. It is available on both desktops and mobiles as standalone apps.
9] Slick Write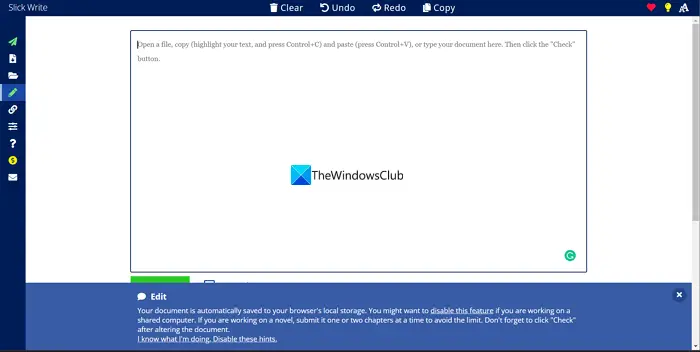 Slick Write is a free alternative to Grammarly. There is no paid or premium version to it. It has many great features that you can get for free. It breaks down the complex sentences and suggests you rewrite, and check grammar, spelling, and style. Slick Write cuts out the use of adverbs excessively too. It provides feedback like readability, average sentence length, reports, and analysis of your writing.
10] Outwrite
Outwrite focuses mainly on writing style, readability, and sentence structures. It was earlier known as GradeProof. You will get accurate style and readability suggestions. It breaks down your sentences and suggests you rewrite them in a simple way. The grammar and spelling check is not as accurate as Grammarly. It is available in both free and paid tiers for some additional features.
Read: Grammarly has stopped working
What is the best free alternative to Grammarly?
There are many alternatives like ProWritingAid, Microsoft Editor, Ginger, Hemingway Editor, etc. They all have their own pros and cons. They work pretty well in correcting your writing style, grammar, spelling, and checking readability. You can decide on your own after using their free versions.
These posts may interest you:
What is better than Grammarly but free?
First thing first – Grammarly is one of the best spell-checking apps and a great companion to every kind of writer. However, if you do not need all those options, you can certainly opt for Microsoft Editor, Ginger, Hemingway Editor, etc. These tools are pretty good in terms of features, wide range of options, etc.
Related read: Best essential & useful apps & services for Students.